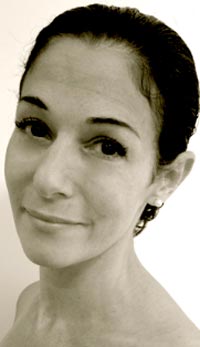 (New Brunswick/Princeton, NJ) – American Repertory Ballet and Princeton Ballet School has announced  that, after an international search, Pamela Levy has been selected as the school's director. Levy will be the fourth director in its 62-year history. 
According to Chuck Metcalf, Chair of the organization's Board of Trustees, "I am very pleased to extend a warm welcome to Pamela Levy on behalf of the Board and the entire school. Princeton Ballet School is at the forefront of ballet schools nationally and having a world-class leader is imperative to maintaining continuity and teaching the next generation of students."
"Pamela Levy is unequivocally the right person to serve as the next director of Princeton Ballet School," says Vanessa Logan, Executive Director of American Repertory Ballet and Princeton Ballet School. "From her initial interaction with the school as a student, and continuing through her education at Rutgers University where she earned a BFA and at New York University earning an MA, and on to her teaching roles at American Ballet Theatre and Mason Gross School of the Arts, Pamela's experience and immersion in the dance world is unsurpassed."
Levy began her dance career at Princeton Ballet School, attending classes from 1978 through 1987. Her course work took her through Advanced Ballet Training, she was a member of Princeton Ballet II (now the American Repertory Ballet Workshop), and studied under school founder Audrée Estey, Dermont Burke, Judith Leviton, Alexei Yudenich and others.
"The Princeton Ballet School is where I received an excellent dance education, and where the strong foundation was laid for my career as a professional dancer and teacher," says Levy. "It is an honor to return to PBS as Director and carry on the legacy created by Audrée Estey. Under Mary Pat Robertson's tenure, the school was brought into the national spotlight, as she cultivated an outstanding faculty and instituted exceptional training programs. I am passionate about carrying forward the mission of the school to open the doors of dance to all who wish to study as well as continuing to build the outstanding international reputation of PBS as a training ground for professional dancers."
---
The article continues after this ad
---
---
"I'm am delighted to welcome Ms. Levy to our organization," says Douglas Martin, American Repertory Ballet's Artistic Director. "She brings a tremendous wealth of dance knowledge and curriculum expertise to Princeton Ballet School as well as an intimate understanding of our organization, its history and values. She is a world class teacher and artist and we are all excited to work with and support her in her new role as Director of Princeton Ballet School."  
Ms. Levy continued her studies at Mason Gross School of the Arts at Rutgers University, New Brunswick, N.J., earning a BFA in Dance Performance. She was a Van Pelt Scholar and a grant recipient in the Grant Program to Advance Our Common Purposes. She studied under Don Redlich, Laura Glenn, Sherry Alban, Pat Mayer and others. Continuing her higher education, Ms. Levy graduated from New York University with a Master's Degree in Dance Education (American Ballet Theatre pedagogy Track). She studied French, Russian, Italian and Danish syllabi as well as American Ballet Theater's National Training Curriculum (Pre-Primary through Level 7), Choreography, Variations, Teaching Methods and Materials, Alexander Technique, Dance Research, Arts Administration, History of Jazz Dance and Hip-Hop. Ms. Levy studied under Raymond Lukens, Franco DeVita, Mary Jo Zeisel, Molly Schnyder, Dr. Susan Koff, Dr. Richard Magill, Patricia Cohen, Deborah Damast, Dr. Barbara Bashaw, Frederick Curry, Irina Kolpakova and Kimberly Elliot. Additional dance training was received at Mark Morris Dance Center, Nikolais/Louis Dance Lab, Paul Taylor Dance School and The Rock School.
Her current teaching positions include roles at Princeton University, Mason Gross School of the Arts and American Ballet Theatre. Past positions have been held at Mark Morris Dance Center, Mark Morris Student Dance Company II, Berkeley Ballet Theater, Teachers College—Columbia University, Rider University, Princeton Ballet School and Washington Rock Ballet. Teaching competencies include the areas of Modern and Ballet Technique (Primary through Professional Level); Pointe, Pre-Pointe; Partnering; Variations; Ballet Master; Corps de Ballet work; Dance Reconstruction; Choreography; Improvisation and Creative Movement; and Dance History.
Professional dance credits include roles with Metropolitan Opera Ballet, NYU Steinhardt Distinguished Faculty Concert, Murray Louis and Nikolais Dance, Simona Bucci's Imago Dance Theatre, Don Redlich Dance Company and others.
Princeton Ballet School has gained a national reputation for its excellent dance training since its founding in 1954 by Audrée Estey. It currently serves approximately 1,200 students, starting at age three, and includes a large open enrollment division for adults. Princeton Ballet School has studios in Cranbury, New Brunswick, and Princeton and offers classes in ballet, modern dance, jazz, hip-hop, CardioBallet and CoMBo (Conditioning for the Mind and Body). Students from the school have gone on to dance in professional ballet and contemporary dance companies in the United States and abroad. Graduates have danced with such diverse organizations as New York City Ballet, Paul Taylor Dance Company, Miami City Ballet, Complexions, Mark Morris Dance Company, Twyla Tharp, Pittsburgh Ballet Theatre, Ballet West and on Broadway.
For more information about Princeton Ballet School, please visit: http://www.americanrepertoryballet.org/PBS/Princeton-Ballet-School
For more information about American Repertory Ballet, please visit: http://www.americanrepertoryballet.org/ARB/American-Repertory-Ballet