originally published: 10/27/2017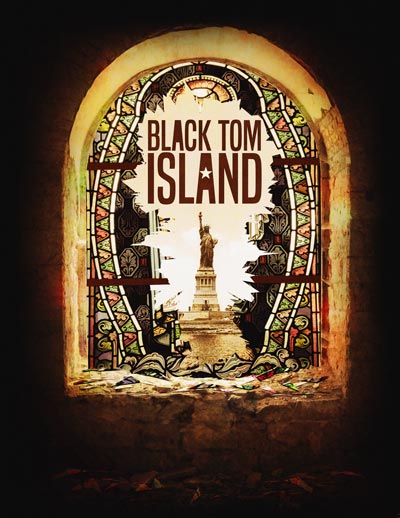 (UNION, NJ) -- Premiere Stages will present three free readings of the 2017/2018 Liberty Live Commission, Black Tom Island by Jersey City resident Martin Casella, November 17th through 19th in the Miron Student Center Little Theatre at Kean University. Based on an actual incident that took place in Jersey City in 1916, Black Tom Island explores the first documented terrorist attack on American soil through the lens of a fictionalized Slovak immigrant and his wife who may or may not be involved in the attack. The reading will be helmed by producing artistic director John J. Wooten, and feature actors Michael Stewart Allen, Damian Buzzerio, Katrina Michaels, and Niccolò Walsh.
The Liberty Live Commission, Premiere's first commissioning program, has supported writers over two-year development cycles continuously since 2011. The Liberty Live Commission is a partnership with the Liberty Hall Museum at Kean University, and supports the development of new plays about the rich and complex history of New Jersey. Over the course of two years, New Jersey writers are given dramaturgical and artistic support, along with a $1,000 commission, to create an original play that will be staged at Liberty Hall's historic Carriage House. Past commissions have included plays by Deborah Brevoort, James Christy, and E. M. Lewis, showcasing New Jersey history from the American Revolution to the eve of World War II.
As the founder and producing artistic director of Premiere Stages, John J. Wooten has developed and directed numerous new plays, including The Beautiful Dark, The Good Counselor and Follow Me to Nellie's, all of which were honored by the American Theatre Critics Association. Earlier this season, Mr. Wooten directed a developmental reading of Nicole Pandolfo's Brick City, recipient of a 2017 NJPAC Stage Exchange Commission, and the New Jersey Premiere of Dominique Morisseau's acclaimed Skeleton Crew.
"While the attack on Black Tom Island happened 100 years ago, the play's subject matter is surprisingly topical," stated Mr. Wooten. "And what makes Marty's study of an immigrant couple's acclimation to America all the more fascinating is that it is based on a true story, and is effectively dramatized against the backdrop of a lost New Jersey island."
Playwright Martin Casella is an actor and writer perhaps best known for his role as Dr. Marty Casey in the 1982 classic, Poltergeist. He served as director Steven Spielberg's assistant on Raiders of the Lost Ark, and his writing for film and television includes projects for HBO, CBS, ABC, Disney, Universal, and Warner Brothers. Mr. Casella's plays include The Report, Beautiful Dreamer, and the GLAAD-nominated The Irish Curse, published by Samuel French. He recently completed the teleplay for the upcoming film The Land of Sometimes, starring Ewan McGregor and Helena Bonham Carter.
---
The article continues after this ad
---
---
Black Tom Island runs Friday, November 17 at 7:00 pm, Saturday, November 18 at 3:00 pm, and Sunday, November 19 at 3:00 pm.  All readings take place in the Miron Student Center Little Theatre, located on the Kean University campus at 1000 Morris Avenue in Union. Admission is free, and reservations are highly recommended. All unclaimed seats at the time of curtain will be released to the waitlist. To reserve seats, please call the box office at 908-737-7469 or email ticket@kean.edu. For more information, please visit Premiere Stages online at www.premierestagesatkean.com.
Liberty Live is made possible in part by a HEART (History, Education, Arts Reaching Thousands) Grant from the Union County Board of Chosen Freeholders.
Premiere Stages offers affordable prices, air-conditioned facilities and free parking close to the theatre. Premiere Stages also provides free or discounted tickets to patrons with disabilities. All Premiere Stages facilities are fully accessible spaces, and companion seating is available for patrons with disabilities. Assistive listening devices and large print programs are available at all times; publications in alternate formats are available with advance notice. Please call 908-737-4077 for a list of sign-interpreted, audio-described or open-captioned performances. For more information, please visit Premiere Stages online at www.premierestagesatkean.com.
Premiere Stages is made possible in part through funding from The New Jersey State Council on the Arts, The Geraldine R. Dodge Foundation, The Shubert Foundation, The Northfield Bank Foundation, The Wallerstein Foundation for Geriatric Life Improvement, The Hyde and Watson Foundation, The Union Foundation, E.J. Grassmann Trust, The New Jersey Theatre Alliance, Investors Foundation, The Union County HEART Grant, and through the generous support of individual patrons and local organizations. Discover Jersey Arts is our marketing partner. Visit www.JerseyArts.com for more information about other arts programming happening around the Garden State. 
Art by Chris Holden.