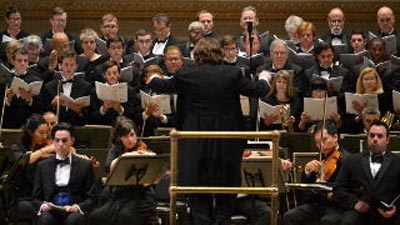 (SOUTH ORANGE, NJ) -- Seton Hall University's School of Diplomacy and International Relations and College of Communication and the Arts will premiere the second cycle of their "Prayer for Peace" Concert Series at New Jersey Performing Arts Center (NJPAC) in Newark. Inspired by Leonard Bernstein's artistic mandate, the classical music concert is dedicated to music's role as an instrument of peace, and will take place Friday, October 27, 2017, at 8:00pm at NJPAC's Prudential Hall.
"Prayer for Peace: The Power of One Voice" will reunite members of the Seton Hall University Chorus and the greater Seton Hall community with the Mid-Atlantic Opera Orchestra, under the baton of noted conductor and Assistant Professor Jason Tramm. Renown international guest soloists soprano Allison Charney founder and host of NYC classical concert series "PREformances with Allison Charney at Merkin Concert Hall at Kaufman Music Center," baritone Mark Delavan, tenor Adam Klein and mezzo soprano Karolina Pilou of the Metropolitan Opera, and acclaimed violinist Kelly Hall-Tompkins from Broadway's Fiddler on the Roof will perform. Concert narration will feature veteran actor Jordan Charney, star of stage, screen and television.
"The Power of One Voice" is the second of the Prayer for Peace classical concert cycles, which Maestro Tramm debuted at Carnegie Hall in 2015.
Inspired by Leonard Bernstein's statement, "This will be our reply to violence: to make music more intensely, more beautifully, more devotedly than ever before," the concert seeks to celebrate peace messengers worldwide. In keeping with this spirit, the concert will honor lifetime messenger of peace, Luna Kaufman, and raise scholarship funds for refugees.
"Prayer for Peace: The Power of One Voice" will feature the music of Peteris Vask's Dona Nobis Pacem, for choir and strings, and Moshe Knoll's Psalm 133. Central to the concert will be a unique performance of A Survivor from Warsaw by Arnold Schönberg paired with Beethoven's Ninth Symphony, Opus 125.
---
The article continues after this ad
---
---
"Through this musical experience, and the generosity of many supporters and concert-goers, we hope to shine a light on the important role of music in diplomacy," explains Andrea Bartoli, dean of the School of Diplomacy and International Relations. The School of Diplomacy, along with the College of Communication and the Arts, are co-sponsors of Prayer for Peace.
 "Our goal," Bartoli adds, "is to reflect on the contribution that the arts have made to peace in conflict situations, and to raise funding for scholarships that will enable young men and women affected by conflict to attend Seton Hall." Proceeds from the concert will fund a scholarship to aid refugee students to pursue a degree from Seton Hall.
The concert will honor long time New Jersey arts champion Luna Kaufman as a lifetime Peace Messenger. Luna Kaufman who is Holocaust survivor, educator, activist, author and lecturer served as the New Jersey Opera Board President and was responsible for bringing Hans Krasa's Brunidbar to North American audiences in 1988 and played a crucial organizational role in the creation of the Liberation Monument, in New Jersey's Liberty Park. A trustee and chairperson emerita of the Sister Rose Thering Fund for Jewish-Christian Studies at Seton Hall, Kaufman is the recipient of an honorary doctorate from the University in 2009 as well as the Knight's Cross of the Order of Merit, given to her by the president of Poland in 2011.
"The power of one voice to make a change is a powerful force in art and international affairs," shared Deirdre Yates, dean of the College of Communication and the Arts. "The musical works will highlight the need for all of us to actively pursue peace and mutual understanding."
Tickets are on sale at the NJPAC box office and at https://www.NJPAC.org - NJPAC is located at One Center Street in Newark, New Jersey.