By Gary Wien
originally published: 06/23/2017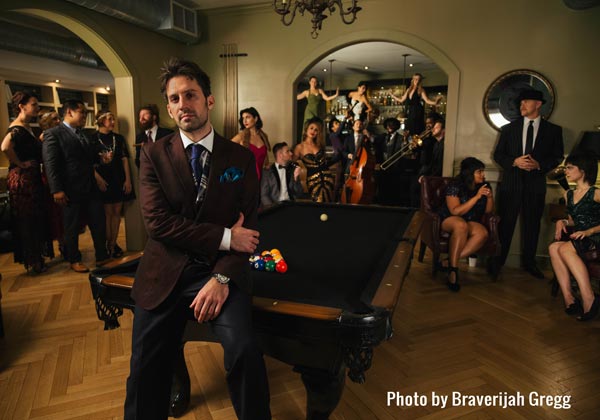 "A song can be detached from its genre pretty easily," explains pianist and bandleader Scott Bradlee, the man behind Postmodern Jukebox, a band that gives modern songs a retro twist.  "I think we're used to hearing songs covered in a certain style because the original artist did it that way.  I decided to take the opposite approach and do it completely different.  You find that a great song can transcend genre."
Music fans throughout the world apparently agree as Postmodern Jukebox not only performs to packed houses in major venues and music festivals, but has had several albums chart on Billboard's list of Top Jazz Albums.  After returning from a European tour, Postmodern Jukebox will co-headline a series of dates with Straight No Chaser, including Friday, July 21st at PNC Bank Arts Center in Holmdel and Tuesday, July 25 at BB&T Pavilion in Camden. 
Born and raised just outside Clinton, New Jersey in Hunterdon County, Bradlee grew up with a love of musical genres that weren't found on the radio.  His parents (who dabbled as musicians themselves; mother played violin and father played trumpet) installed a love of music in him from an early age by playing him records.  They also got him started with piano lessons, although Bradlee says it wasn't love at first sight.
"For whatever reason, I had taken piano lessons but didn't quite take to it," said Bradlee.  "And then I heard this piece called 'Rhapsody in Blue' by George Gershwin.  It just inspired me. It was a total lightbulb moment.  I heard it and said, 'This is the kind of stuff I want to play.'"
As luck would have it, Bradlee's career came around in the era of YouTube and the two became a perfect combination.  In 2009, when Bradlee released his first video, he was still a struggling jazz musician. The video went viral and gave him the confidence to release more.  His early mashup takes on 80s hits like "Come On Eileen" (Dexy's Midnight Runners) and "Don't You Want Me Baby" (Human League) not only proved that the songs could work in dramatically different settings, but showed that there was a huge audience of people interested in the mix.  In 2011, Postmodern Jukebox was born - a band that would flesh out his vision with a plethora of rotating lead singers and cover after cover revealed via music videos.
---
The article continues after this ad
---
---
Amazingly, Postmodern Jukebox records and releases a new music video every week.  Bradlee says there has only been a couple of times when they've missed a week since starting the practice several years ago.  More than 2.8 million people have subscribed to the band's YouTube channel and their videos have been seen over 755 million times.  The videos have helped develop the Postmodern Jukebox brand - one that includes a wonderfully cool vibe, musical twists, and retro clothing.  The branding has been so successful that many fans dress up in retro clothes for the concerts.  In fact, the shows become more than a concert; they are a night out on the town, an opportunity to get all dressed up.  But until the band's first tour in 2014, Bradlee still had his doubts as to how big things were getting for the band.
"I don't think that it ever hit me until we started touring," said Bradlee.  "Prior to that I had seen view counts and user comments and things like that.  But it doesn't feel real until you see actual people at a show, dressed up, singing along, and dancing.  That's when it felt real. Looking back, Postmodern Jukebox is perfect for YouTube because of the way we create these little performances - single takes that are done Motown style with us all in the same room," he adds.  "As much as it is a musical thing, it's also visual with the outfits and all of the different throwback references.  YouTube definitely came around at the perfect time.  It also allowed us to bypass all the record labels and go direct to fans and that has been so crucial."
The band now has more than 200 songs in its repertoire with shows that vary from city to city. Each tour features about 5 or 6 different singers that rotate in and out.  "That's kind of how we keep the jazz spontaneity and make every show a little bit different," he explains.
Even though Bradlee's favorite genre is New Orleans styled jazz, Postmodern Jukebox explores a much larger musical universe.  Some of their most recent videos include a torch song remake of "Say It Ain't So" by Weezer; a reggae-style version of Smash Mouth's "All Star"; and a 1940s big band version of Gotye's "Somebody That I Used To Know."
When asked how he comes up with the musical styles for each song, he says he usually has the overall concept in mind, but is always ready to start over and try a different direction.  "If you're an artist you have to be prepared to throw everything away if you think something's not quite working.  In general what I like to do is pick apart a song, look at the lyrics, look at what the meaning of the song is, and determine if the song was written long ago what would be the style it would be recorded in.  A song like 'Seven Nation Army' for instance has clearly got the old blues New Orleans quality to it and that's what informs my choices."
If the idea of hearing popular songs of today approached in different ways sounds appealing to you, you'll love the co-headlining tour with Straight No Chaser, a band that reimagines hit songs in a cappella style. Their latest release, Six Pack Volume 3, contains interpretations of songs by artists like Bruno Mars, Jon Bellion, Fitz and the Trantrums, Eurythmics, and Beyonce.  
Straight No Chaser and Postmodern Jukebox complement each other's sound nicely. While both bands have been successful, they aren't the first artists to cover songs in different genres.  Even artists who have sold tens of millions of albums on their own have released records in the genre. Paul Anka released a wonderful album called Rock Swings in 2005 which found him tackling songs by artists like Nirvana, The Cure, and Soundgarden in a lounge setting.  Even Pat Boone took on hard rock artists like Judas Priest and Metallica in 1997's In a Metal Mood: No More Mr. Nice Guy, but Postmodern Jukebox has sort of mastered the process. 
"Certainly there are a lot of groups who have done retro remixes or things like that," said Bradlee.  "I think what we do is build a whole universe around it.  That's been the difference with us.  It's not a fixed band; it's a whole universe with 70 different singers that rotate around, tap dancers, and special guests like Puddles the Clown.  You find that a great song can be recorded in lots of different genres and still work and you can probably take something different from it every time. So that's what I aim to do.  I'm somebody who got to take what they're passionate about and make a career out of it."
---
Gary Wien has been covering the arts since 2001 and has had work published with Jersey Arts, Elmore Magazine, Princeton Magazine, Backstreets and other publications. He is a three-time winner of the Asbury Music Award for Top Music Journalist and the author of Beyond the Palace (the first book on the history of rock and roll in Asbury Park) and Are You Listening? The Top 100 Albums of 2001-2010 by New Jersey Artists. In addition, he runs New Jersey Stage and the online radio station The Penguin Rocks. He can be contacted at gary@newjerseystage.com.
---