---
Did you know NJ Stage offers FREE Event Listings? Nearly 100,000 listings were viewed in January. Be sure to add your events to our calendar and get your shows noticed!
---
PODCAST: "For Sale!" at Camden Repertory Theater
By Christopher Benincasa, JerseyArts.com
originally published: 02/16/2017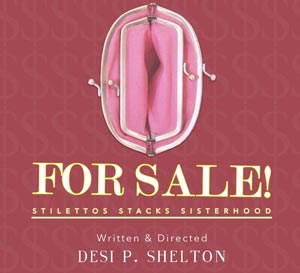 This year marks the 10th anniversary of Camden Repertory Theater, and to celebrate, founder Desi P. Shelton has brought one of her signature plays back to the stage – or, in this case, a house.  "For Sale!" is the name of the play, and it's a site-specific theatrical experience happening at 445 Mechanic Street in Camden, New Jersey.
Christopher Benincasa met up with Shelton earlier this week to talk about the play, Camden Rep's mission to represent the "urban female voice," and 10 years of creating innovative theater in Camden.  "For Sale!" runs through February 26th. 

---
About the author: Christopher Benincasa is an Emmy Award-winning arts and culture journalist.


Content provided by

Discover Jersey Arts

, a project of the ArtPride New Jersey Foundation and New Jersey State Council on the Arts.






Circle Players Presents "After The Revolution"
(PISCATAWAY, NJ) -- Circle Players presents After the Revolution by Amy Herzog, weekends from February 1st to February 17th. The production is directed by Alicia Harabin. In the play, Emma Joseph is a bright, hard-working, law school graduate continuing her family's business of fighting for progressive ideals. 
---
Black Box PAC Presents "Significant Other"
(TEANECK, NJ) -- Black Box PAC's first main stage show of 2019 is Significant Other by Joshua Harmon. BBPAC is no stranger to Harmon's work, as one of the first hits at the Black Box Performing Arts Center was Harmon's hit Bad Jews. Significant Other follows the perpetually single Jordan Berman and his trio of girl friends as they navigate dating, relationships, and supporting those you love. Performances run from January 24 to February 10th.
---
The Theater Project Presents 5th Annual One-Act Play Competition
(MAPLEWOOD, NJ) -- Which play will be voted Audience Favorite – the romance, the thriller, or the comedy?  And which author will take the $500 Judge's Award?
---
Dreamcatcher Presents World Premiere of "Psychodrama"
(SUMMIT, NJ) -- Dreamcatcher Repertory Theatre will present the World Premiere of Psychodrama by Montclair playwright Phoebe Farber. This seriocomedy unfolds in a divorce support group where a new leader introduces unorthodox methods that just might work. Psychodrama runs February 14-March 3.
---
Centenary Stage Presents Henrik Ibsen's "Enemy Of The People"
(HACKETTSTOWN, NJ) -- Randall Duk Kim and Anne Occhiogrosso headline Centenary Stage Company's production of Henrik Ibsen's An Enemy of the People, February 15 through March 3 in the Sitnik Theatre of the Lackland Performing Arts Center, Hackettstown, New Jersey. Adapted by John Alan Wyatt and directed by Anne Occhiogrosso, the production will feature Randall Duk Kim as Doctor Thomas Stockmann supported by an acting company of professional and local talent from the tri-state area and Centenary University. The full-scale production marks the culmination of the 2018 Gates Ferry Lecture Series: "What is Truth?"
---


Emmy-Winning South Oranger, Andre Braugher
​​​​​​​"I'm Andre Braugher and I'm here at the South Orange Performing Arts Center, SOPAC, rehearsing a new play by Julia Doolittle called 'Tell Them I'm Still Young.'"
---
Laiona Michelle Talks About "Little Girl Blue: The Nina Simone Musical"
This might be the right time for Nina Simone—15 years after her death. That's what Laiona Michelle thinks, and, in a way, Michelle will be testing that idea by bringing the singer-activist to life in a world-premiere musical show at George Street Playhouse. Michelle wrote the show—"Little Girl Blue: The Nina Simone Musical"—and she will appear in the title role at the New Brunswick theater from January 29 through February 24.
---
It's "Apple Season" at NJ Rep
Every family has stories. Some are funny. Some are sweet. Some are sad. And some are never shared. Those are often the most powerful.
---
Rise of the Goatman
Theater For The New City presents Beltsville/Rockville, Part 1: Rise of the Goatman, an original play by Englewood resident Matt Okin (Artistic Director of Black Box Studios), from December 27 through January 13. In this pseudo-Southern Gothic dark comedy, a vibrant group of teens from two very different suburban neighborhoods clash over class differences, drugs, and sex - and the existence of the legendary 'Goatman' in 1986. Cut to 2013, and the adolescent kids of those very same teens are struggling to make sense of their family histories - and the same "mythological" creature - that could be holding them back in life.
---
PHOTOS from "The Winter's Tale" at Shakespeare Theatre of New Jersey
(MADISON, NJ) -- The Shakespeare Theatre of New Jersey's concludes its 56th season with its sixth and final Main Stage production, The Winter's Tale. Last seen at The Shakespeare Theatre in 2008, Artistic Director Bonnie J. Monte directs this production of Shakespeare's tragicomedic romance. Veteran company members Jacqueline Antaramian, Jon Barker, Erin Partin, John Keabler, Raphael Nash Thompson,Seamus Mulcahy, Patrick Toon, and Ames Adamson are among a cast of 20 actors. Performances run now through December 30. 
---
Event calendar
Thursday, Jan 24, 2019
---
THEATRE

---
---
---
Some Girl(s)

@ Studio Playhouse Upper Montclair, Upper Montclair - 8:00pm
---
MISC

---
---
View all events
---