---
For great Jersey music and much more, tune into our radio station at AsburyMusic.com
---
PODCAST: "For Sale!" at Camden Repertory Theater
By Christopher Benincasa, JerseyArts.com
originally published: 02/16/2017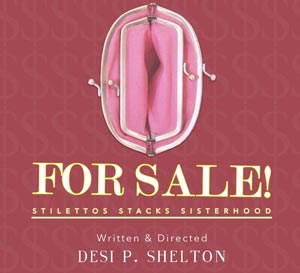 This year marks the 10th anniversary of Camden Repertory Theater, and to celebrate, founder Desi P. Shelton has brought one of her signature plays back to the stage – or, in this case, a house.  "For Sale!" is the name of the play, and it's a site-specific theatrical experience happening at 445 Mechanic Street in Camden, New Jersey.
Christopher Benincasa met up with Shelton earlier this week to talk about the play, Camden Rep's mission to represent the "urban female voice," and 10 years of creating innovative theater in Camden.  "For Sale!" runs through February 26th. 

---
About the author: Christopher Benincasa is an award-winning producer of arts and culture programming, and a founding member of PCK Media. He's won six regional Emmy Awards (Mid-Atlantic and New York) for his work on the series State of the Arts, plus a CINE Golden Eagle Award. Most recently, he produced stories about Pulitzer Prize-winning poet Stephen Dunn, silversmith and MacArthur Genius Award-winner Ubaldo Vitali, and gypsy jazz guitarist Stephane Wremble. A graduate of the Mason Gross School of the Arts at Rutgers University, Christopher has a BFA in Visual Art and a minor in Religion.


Content provided by

Discover Jersey Arts

, a project of the ArtPride New Jersey Foundation and New Jersey State Council on the Arts.






J CITY Theater Returns With "Bakersfield Mist"
(JERSEY CITY, NJ) -- J CITY Theater launches their first full season in four years with their Fall show: Bakersfield Mist by Stephen Sachs at their new location – The Barrow Mansion, 83 Wayne Street.  The production runs Thursdays through Sundays from September 28th through October 13th. Set in a downtrodden trailer park in California, Bakersfield Mist is the story of Maude Gutman (Sandy Cockrell) who has recently purchased an ugly painting at Daisy's Junk Shop for three dollars.  Turns out, the painting may actually be a lost masterpiece by Jackson Pollock.   
---
Old Library Theatre Presents "Parade"
(FAIR LAWN, NJ) -- Old Library Theatre, Fair Lawn Recreation Department's resident theater company, presents Parade. Six performances only: October 12, 13, 19 & 20 at 8:00pm and October 14 & 21 at 2:00pm.  Parade tells the story of Leo Frank, a Brooklyn-raised Jew living in Georgia in 1913, who is put on trial for the murder of thirteen-year-old Mary Phagan, a factory worker under his employ.
---
The Lord Stirling Theater Company Presents "Treasure Island"
(BASKING RIDGE, NJ) -- The Lord Stirling Theater Company will present Treasure Island in the English Barn Theater at the Farmstead Arts Center October 5-7 and October 12-14. Adapted for the stage by award-winning playwright Ken Ludwig (Lend Me a Tenor, Crazy for You) from the classic novel by Robert Louis Stevenson, Treasure Island follows the adventures of a boy named Jim Hawkins who comes into possession of a treasure map.
---
Premiere Stages to Present World Premiere of Liberty Live Commission "Black Tom Island"
(UNION, NJ) -- Premiere Stages at Kean University will present Martin Casella's Black Tom Island from October 11-21 at Liberty Hall Museum (1003 Morris Avenue, Union, N.J.). Originally commissioned over a two-year cycle through Premiere's Liberty Live Commission, Black Tom Island will feature actors Damian Buzzerio, Mason Hensley, Jenna Krasowski and Bart Shatto. Producing artistic director John J. Wooten directs.
---
American Poetry Theater Presents "Gun Love"
(LONG BRANCH, NJ) -- The American Poetry Theater presents Gun Love from October 5-7.  The play, written by cast and community members, runs about one hour and is a collection of monologues and a skit dealing with gun violence in America.  
---


Two River Theater Presents The World Premiere of "Pamela's First Musical"
If anyone ever doubts that New Jersey is home to great theatre, just point them to the world premiere of "Pamela's First Musical" at Two River Theater. The cast and creative behind this show by Wendy Wasserstein and Christopher Durang includes a combined total of more than 25 Tony Award nominations and seven wins. It's a cast that would look impressive at any theatre – Broadway  or otherwise. According to one of the stars, the opportunity to work with the 10-time Tony Award nominee director/choreographer Graciela Daniele and to be part of a new musical was too good to pass up.
---
The Jersey Devil on stage: An interview with playwright Brandon Monokian
Up-and-coming New Jersey native Brandon Monokian has worked as an actor, writer, director, producer, and popcorn sample distributor. He wrote and starred in the film Happy Yummy Chicken and co-founded the production company Love Drunk Life with Katie Frazer. Together they have produced plays, films, books, and, to support their creative work financially, a product line: lovedrunklife.com. Monokian received national attention through Revolutionary Readings (his TEDx talk at Princeton Library), which was used to fight the banning of the book Revolutionary Voices from two New Jersey libraries. 
---
An Interview With Nicole Pandolfo
Nicole Pandolfo is a talented playwright from New Jersey whose work has been produced on four continents along with readings and productions throughout the Garden State. Her play, Brick City, is currently being presented at Premiere Stages at Kean University now through September 23rd. The play was commissioned and developed via the NJPAC Stage Exchange program. Premiere's production features Rafael Benoit, Jacqueline Correa, Madison Ferris and Chris Grant under the direction of Jessi D. Hill.
---
Ritz Opens Season With "Incorruptible"
Fun seems to be the operative word for "Incorruptible," the production that opens the fall season at  the Ritz Theatre Company on Thursday, September 13.
---
"Bright Star" at Surflight Theatre
Steve Martin and Edie Brickell's Broadway musical "Bright Star" has come to Surflight Theatre in Beach Haven. The comedian and the songwriter created the show after collaborating on a Grammy-winning bluegrass album called "Love Has Come For You." "Bright Star" is set in the American South in the 1920s and '40s, and it's on a similar musical wavelength. We recently spoke with Surflight's Artistic Director Steve Steiner, actor Adrianne Hick and director Elizabeth Lucas about bringing "Bright Star" to Long Beach Island.
---
Event calendar
Tuesday, Sep 25, 2018
---
MUSIC

---
---
---
Joan Baez

@ Count Basie Center For The Arts, Red Bank - 8:00pm
---
---
KIDS

---
---
View all events
---