---
Tune into Radio Jersey with Lee Mrowicki every Monday through Friday from 6pm to 8pm
Broadcast on Asbury Music!
---
PODCAST: Express Newark
By Susan Wallner, JerseyArts.com
originally published: 11/30/2017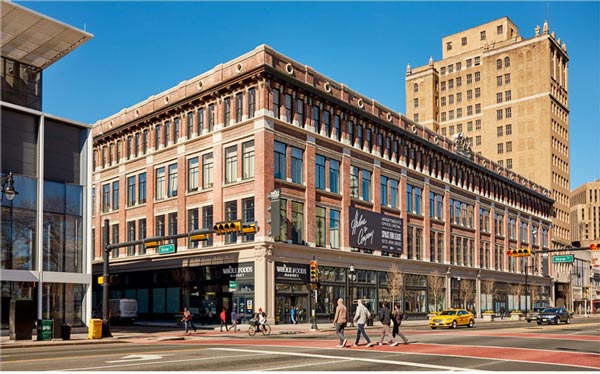 Producer Susan Wallner spoke to the co-directors of Express Newark, Anne Schaper Englot and Victor Davson. They call it a "third space" – where public scholarship and community engagement are opening up an exciting new chapter in Newark's cultural history.

The elegant old Hahne and Co. Department Store in Newark, shuttered for 30 years, is now home to a new experiment in the arts. Along with the first Whole Foods in the city, apartments and a new restaurant, it's home to Express Newark – an "arts incubator" conceived by Rutgers University-Newark in collaboration with community arts leaders. 
Popular programs include the weekly open studio at the Newark Print Shop, the free facilities at Shine Portrait Studio and the changing exhibitions at the Paul Robeson Gallery.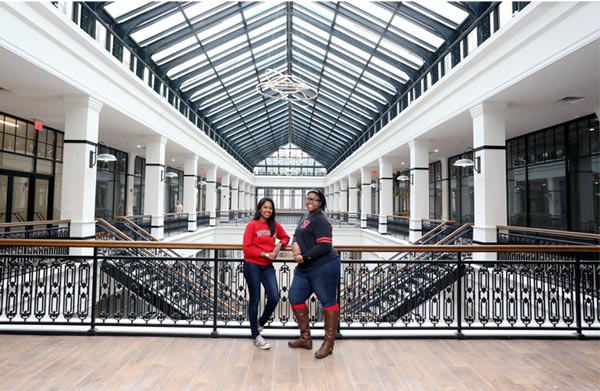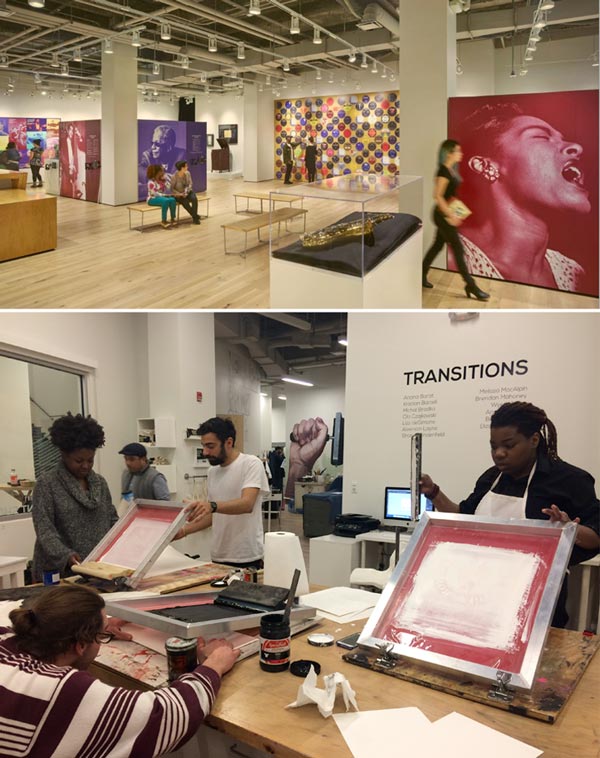 ---
About the author: Susan Wallner is a principal of PCK Media, an independent production company. She is the co-series producer of the public television program 'State of the Arts,' a job that has introduced her to a wealth of talent and artistic diversity over the years. Susan's documentaries and performance specials have aired nationally. Most recently, her profile of the writer, aviator and celebrity, 'Anne Morrow Lindbergh: You'll Have the Sky,' won the 2017 Mid-Atlantic Emmy for Best Feature Writing (it was Susan's 15th regional Emmy win). Narrated by Judith Light and Lily Rabe, it aired throughout the country on PBS and PBS World, and is available on DVD. Currently, Susan is working on a documentary about the self-taught city planner, builder, and artist, Kea Tawana.


Content provided by

Discover Jersey Arts

, a project of the ArtPride New Jersey Foundation and New Jersey State Council on the Arts.






Youth-Led Art Exhibit Tackles Mass Incarceration in New Jersey
(NEWARK, NJ) -- The Gem Project, a Newark-based not-for-profit organization, is hosting its inaugural youth-led Art Activism exhibit, "Reincarnation of Jim Crow" at Kelcher Hubb in Newark on Friday, December 14 from 5:00pm to 7:00pm. The culminating event arrives after two cohorts of Newark High School participants earned up to 64 hours of service-learning hours across 11 weeks
---
Jim Amon Wildlife Photo Exhibit to Open Jan 5th at the East Amwell Museum
(RINGOES, NJ) -- The East Amwell Historical Society and the Sourland Conservancy will present An Exhibition of Photographs of Plants and Animals Native to the Sourlands by Jim Amon at the East Amwell Museum in Ringoes.  The opening reception will be held on January 11th at 7:00pm. Admission to the East Amwell Museum and exhibit will be free and open to the public on weekends from 1:00pm - 4:00pm.  The exhibit will be on display from January 5 through February 15, 2019.
---
Herb & Milly Iris Gallery Hosts "The Price Of Sugar" by Jenny Flexner Reinhardt
(SOUTH ORANGE, NJ) -- The Herb & Milly Iris Gallery at the South Orange Performing Arts Center hosts a new exhibition by Jenny Flexner Reinhardt December 10, 2018-February 22, 2019.  In The Price of Sugar, Reinhardt has woven the theme of the bright and seductive appeal of sugar and confectionary, along with its dark side; the addiction, the excess and the disease. Sugar is both sweet and dangerous.
---
Newark's Gladys Barker Grauer To Receive 2019 Lifetime Achievement Award From The Women's Caucus For Art
(NEW YORK, NY) -- Gladys Barker Grauer, a pillar of the Newark, New Jersey, arts community, will be one of four recipients of a 2019 Lifetime Achievement Award from The Women's Caucus for Art (WCA) during an awards celebration on Saturday, February 16, 2019 at the New York Institute of Technology (NYIT). Fellow recipients include Olga de Amaral, Mary Beth Edelson, and Mira Schor. The recipients for the 2019 President's Art & Activism Award are L.J. Roberts and Aruna D'Souza.
---
Studio Montclair Presents "Art-To-Go," a Holiday Sale and Exhibit
(MONTCLAIR, NJ) -- Studio Montclair (SMI) is holding a Holiday Sale and Exhibit from November 27 through December 21 at the Studio Montclair Gallery, 127 Bloomfield Avenue, Montclair, NJ. An opening reception with light refreshments and artists' demonstrations will be held on Saturday, December 1st from noon to 4:00pm.
---


Peter Max Remembers Frank Sinatra
(HOBOKEN, NJ) -- As fans of Frank Sinatra across the world remember the legendary entertainer on what would have been his 103th birthday (December 12th), pop artist Peter Max provides a series of portraits of 'Ol' Blue Eyes' at different points throughout his career. Max, with a 5 decades-long career of his own, created these signature, vibrantly colored portraits, working with the Sinatra family to celebrate the Sinatra Centennial in 2015. They remain a fan favorite at gallery shows across the country.
---
Jerry Gant 1961-2018
Jerry, There is no bio that will seem complete for you. Where would it be listed, amongst your numerous and diverse accomplishments, that you talked to people, always seemed to find time for the younger artists, to talk to them and look at their sketchbooks? Your use of language as a material, testing limits, associations, and possibilities.
---
PODCAST: An Artist Asks "The 20 Most Important Scientific Questions Of The 21st Century"
In this podcast, we speak with them about art, activism and how women invented Postmodernism. "The 20 Most Important Scientific Questions of the 21st Century" runs through December 14th at Douglass Library.
---
Artist Mel Leipzig At 83
We recently met up with artist Mel Leipzig at Artworks in Trenton. He was there to do what he does every day – create big paintings of people he likes. While the Artworks staff went about their business getting the space ready for this year's Art All Day event, happening this Saturday, Mel pulled a few of them aside to capture them in their natural habitat in acrylic.
---
Heather Ujiie Explores "Terra Incognita" At Rowan University Art Gallery
"My life's mission is to challenge myself to go to new places," said Heather Ujiie, a Bucks County, PA, multimedia artist whose latest work, "Terra Incognita," is on display at the Rowan University Art Gallery now through November 17, 2018.
---
Event calendar
Thursday, Dec 13, 2018
---
MUSIC

---
---
JERRY BLAVAT

@ Lobby Bar at Hard Rock Hotel and Casino Atlantic City, Atlantic City - 12:00pm
---
---
---
---
---
---
THEATRE

---
---
---
---
---
FILM

---
On the Map

@ Pollak Theatre @ Monmouth University, West Long Branch - 7:30pm
---
MISC

---
---
View all events
---