---
BIG NEWS! New Jersey State Council on the Arts Approves Over $15.7 Million in Grants -- Click here
---
PODCAST: 2 Guys From Jersey - Episode 19
originally published: 02/07/2018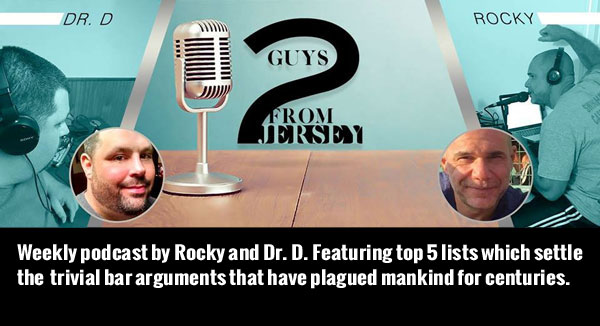 For more on the podcast click here.  Follow the podcast on Facebook and Twitter.
---
If you have a podcast and would like more exposure for your show, email us at info@newjerseystage.com - let us know where the podcast is and we'll check it out.  If we like it, we'll run it on our website and in our magazine!
---


Penn & Teller To Perform At Atlantic City's Hard Rock Hotel & Casino
(ATLANTIC CITY, NJ) -- Legendary magic duo Penn & Teller bring their mystical charm to Hard Rock Hotel & Casino Atlantic City's Sound Waves on Saturday, December 15 at 8:00pm. For over 40 years Penn & Teller have defied labels, and at times physics and good taste, by redefining the genre of magic and inventing their own very distinct niche in comedy. Tickets range from $55 to $90.
---
truTV's Impractical Jokers Are Headed To The Prudential Center
(NEWARK, NJ) -- Critically acclaimed, world renowned comedy troupe, and stars of TruTV's hit series Impractical Jokers, The Tenderloins have announced a brand-new world tour titled "The Cranjis McBasketball World Tour – Starring The Tenderloins."  On the heels of the group's hugely successful "Santiago Sent Us" tour, "The Cranjis McBasketball World Tour" will feature completely new material and hi-jinx for audiences across the globe. This comedy filled event will make a stop at Prudential Center on Wednesday, March 20, 2019 at 7:00pm.
---
Mayo Presents Wayne Brady On August 25
(MORRISTOWN, NJ) -- Multitalented comedian, actor and singer Wayne Brady returns to MPAC for an evening of comedy on Saturday, August 25 at 8:00pm. Five-time Emmy winner and Grammy nominee Wayne Brady is a true show-biz renaissance man. Tickets range from $49-$79. 
---
The Big Apple Comedy Club Returns To The Newton Theatre On September 21
(NEWTON, NJ) -- The Big Apple Club returns to The Newton Theatre with four of New York City's hottest comedians for a show on Friday, September 21 at 8:00pm.  The lineup includes Phil Hanley, Rodney Laney, Kerri Louise, and Matt Ruby. Tickets start at $19.
---
NJPAC Presents Tom Papa
(NEWARK, NJ) -- New Jersey Performing Arts Center (NJPAC) presents a hysterical stand-up with New Jersey's own Tom Papa, currently the head writer and a regular performer on Live from Here, on February 23rd, 2019. 
---


"Hysterical!" Gallagher LIVE! at The Strand Lakewood
Gallagher is joking with patrons in the lobby of Lakewood, NJ's historic Strand Theater this Thursday, May 24, 2018 evening. In his audacious style, he's grabbing cameras out of the hands of patrons who want to take great selfies with him, while also taking the time to sign T-shirts for stand-up comedy fans waiting for him at the merch table.
---
So You Want To Be A Comedian?
"I feel I have the kind of life where people think I'm making things up all of the time, but weirdness is kind of attracted to me," said Jess Alaimo, a comedian from Monmouth County.  "So, I just go with whatever happens to me."
---
The United States of Russia
Rutgers alum, Ben Rosenfeld released his third comedy album in January.  Entitled, The United States of Russia, the album was released by Comedy Dynamics and continues the Russia born, American raised comedian's style of mixing tales of his immigrant parents and outsider childhood with topics ranging from millennials, terrorism, politics, and adjusting to life as a newlywed.  We caught up with Ben to talk about the album.
---
"We Came in as Strangers, but Now We're Good Friends" Taylor Mason LIVE! at Ocean Grove's Great Auditorium
It's a beautiful summer night in Ocean Grove, NJ. As we stroll the boardwalk, folks are leaving the beach after a day of fun in the sun, whereas others are just arriving to enjoy the cool evening breeze.
---
Bad Hombres Comedy
Bad Hombres Comedy is a comedy group created by Brian Nichols, Paul Salazar Jr. and Bernardo Cubría.  The trio all studied together at the University of Houston and have kept in touch ever since.  Together, they create a weekly podcast and a video web series that satirizes the world we now live in thanks to Donald Trump.
---
Event calendar
Wednesday, Aug 22, 2018
---
MUSIC

---
---
Allah-Las

@ Asbury Lanes, Asbury Park - 7:30pm
---
---
STASIS

@ The Saint, Asbury Park - 7:30pm
---
---
THEATRE

---
---
---
---
---
FILM

---
---
---
View all events
---