By Gary Wien
originally published: 01/31/2019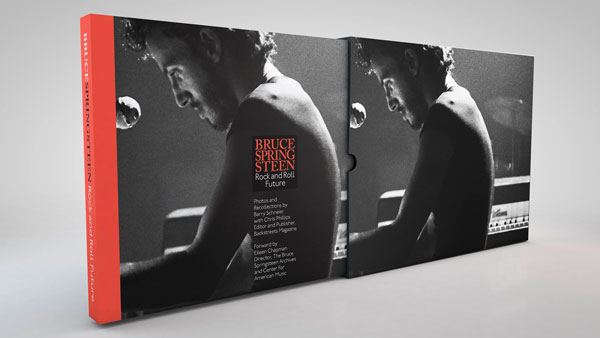 On May 9, 1974, Bruce Springsteen performed a show that basically changed his life and rock and roll history. He opened for Bonnie Raitt at the Harvard Square Theatre and Jon Landau, a music critic for Rolling Stone magazine and Cambridge-based The Real Paper, just happened to be in the audience. When Landau's report on the show came out, the words "I saw rock and roll future and its name is Bruce Springsteen" jumped out on the page. Landau was hired by Springsteen, and is noted as co-producer on Springsteen studio records from 1975's Born to Run through 1992's duel release of Human Touch and Lucky Town.
Another person who was in the audience that night was photographer Barry Schneier. In fact, he was instrumental in getting Springsteen the opening spot for a show that originally was not planning to have an opening act. Schneier had seen Springsteen perform before and suggested his name to concert promoters at Windowpane Productions. For decades, his photos from that legendary night have been unseen. That will change in a big way with the release of Bruce Springsteen: Rock and Roll Future - a book by Backstreets Publishing that includes photos from that night along with interviews of three original E Street band members who were performed at that show.
Schneier will discuss his new book and have a book signing on Saturday, February 9th at Danny Clinch's Transparent Gallery in Asbury Park and Sunday, February 10th at the Princeton Public Library where he will be part of a conversation with Sean Wilenz. When New Jersey Stage learned of the book, we wondered why and how photos from such a pivotal moment in rock and roll history were just emerging now, decades after the show. So, we went to the source and asked Schneier for the story.
Why now? What led to the book coming out decades later? Did you recently find the photos? Were you keeping them for personal reasons?
I moved to California in the summer of 1974. I continued doing photography, a lot with music, but eventually migrated over to film and video production. I continued to take photos, but more as a side interest. Years later, after getting married and having our first son we moved back east to raise a family. I continued to work in media, both in education and commercial work. By the time my kids were in high school, they came across my portfolio, that was tucked away. They couldn't believe I had photographed such luminaries as Van Morrison, Patti Smith, Bonnie Raitt, Jackson Browne...and Bruce. They said I should get these images "out there." My wife was equally on board and soon I launched a web site. It was the Bruce photos from 1974 that caught the attention of many, including the Grammy Museum, The Rock and Roll Hall of Fame and Eileen Chapman at Monmouth. I had sent some images, unsolicited to Eileen as I had heard about the Archives at Monmouth. She was amazed that these photos existed and she had no idea there were any photos from Bruce's famous Harvard Square Theatre show of May 9, 1974. She introduced my work to Bob Santelli, Executive Director of The Grammy Museum and the next thing I knew I was exhibiting with Danny Clinch, Pam Springsteen, Frank Stefanko, Eric Meola and Ed Galucci. I had also submitted the shot of Bruce at the piano to a contest The Boston Globe was holding called "Your Best Shot" in which photographers were asked to submit their best concert photo from the region. I won the contest and Chris Phillips from Backstreets reached out to me to ask if he could re run the photo with a piece about it. Suddenly I'm realizing there's great interest in my work and when I'm exhibiting it and talking about it I'm finding people want to hear the stories behind the photos. So I started writing a series of "one-off" essays about the photos, the era and my experiences. People seemed to want more. So about five years ago Chris Phillips approached me about doing a book about that night and my work. So we started the process which was basically me writing, re visiting my work, and looking for the story arc. Four year later we decide its ready, launch a Kickstarter to fund the publication and it turns out to be a big hit. We reached our funding goal on the sixth day and at the end had exceeded our goal by 342%. We ended up being the #2 most popular Kickstarter photo book in the US in 2018 and #5 globally. So...to say there was an interest out there in my work...well, let's just say my kids and wife were right!
---
The article continues after this ad
---
---
You had seen Bruce Springsteen perform before and suggested him as the opening act. Where had you seen him perform prior to the Harvard Square show? Did you see greatness in him or just saw someone that did a good live show?
I saw him at Charlies Place in Cambridge on the suggestion of a friend who brought over "The Wild, Innocent...." album to my place to check out. I loved the song writing and music he created, I had never heard anything quite like that. When I saw him live in he club I was literally blown away. I left that night saying I had never seen or heard music like that before and I had to see him again.
I imagine you were taking concert photos at several places at the time. How did you help land him the opening spot for a show that wasn't supposed to have an opening act? Was it a venue that knew you well from you taking photos there often?
After seeing him at Charlies Place I called my friend, Ira Gold, promoter for Windowpane Productions who I was shooting shows for. I told him he had to book this guy in a show and I admitted, it was for personal reasons. I just wanted to see him live again. Ira came over to my apartment and I played him Bruce's two albums. He borrowed them to play for his partner, Jeff Hersh, who was part of Bonnie Raitt's management team. They then went and saw Bruce at Charlie's and offered him a spot opening up for Bonnie at her upcoming Harvard Square Theatre show. They had recently done a show there with Van Morrison They had planned on no opening act as they wanted to give the night to Bonnie. Ira was one who always liked to bring in lesser known acts to open for the headliners they booked. So Bruce was a natural fit. (Windowpane actually continued to book Bruce in shows in the New England area on the Born to Run tour including the opening night for that tour in Providence RI.)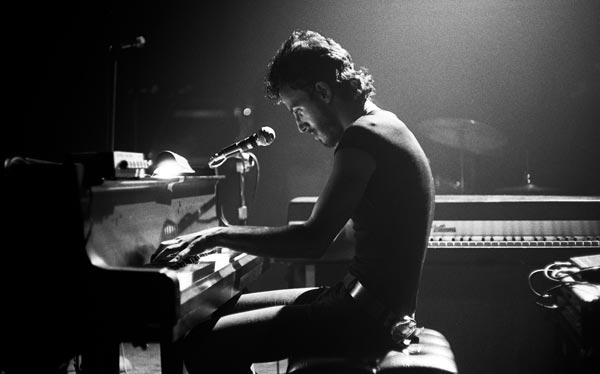 On your site it has photos of Springsteen over the years, so I imagine you've encountered many Bruce fans in the past and hooking up with Chris Phillips shows you knew a good place to turn. Were people hounding you to do something with the images from that night? Or was it pretty much a secret that you had photos from the show?
Meeting people through exhibiting and getting to know Chris, made me realize that the depth of interest in Bruce's work was beyond what I knew. When I moved to California in the summer of 1974 I became a one man evangelist for his music. But he was relatively unknown there at the time. Music has always been a great passion of mine, and like anyone who loves music, you want to share your love with others. I always felt his music was unique and special and it held a special place for me. When I started to exhibit the work I was blown away by the interest in the work. So I started to write as I think, at the heart of it all, I like to think of myself as a story teller. Being asked to tell stories about the work, found me not just revisiting the photos, but the era as well. That's a big part of the narrative in the book. About an era in music where we as the audience, the observers, the ones who witnessed it as well as the artists on stage , were all discovering who we were at the same time. It was an incredible time where the separation between artist and audience was little. And I could hang around at sound check, or at the edge of a stage during a show and take photos.
Also contributing to the narrative are three of the original members of the E Street band, Garry Tallent, Ernest "Boom" Carter, and David Sancious. Did you or Chris interview these three? If so, are they recently done interviews or from long ago?
We interviewed all three of them exclusively for the book. The interviews were done last fall. They were all very gracious. Each one had a different take and when we weaved them together it created a great narrative about a band working their hardest to be the best they could in a time when they didn't know where it was all heading. But knowing all along that Bruce was something special. They also admitted that they had felt to some degree, that they had talked enough about that night in the past. But they really liked our approach to the book and the fact we were very focused on their music and the era. Boom actually said that talking to us was so great he doesn't need to talk about it any more. That was an honor to hear that. Chris and I think this is the only time the band members have collectively discussed that night. Which to us is a real win for the reader.
Looking back on it, have you ever shot anything else that was such a pivotal moment in music history?
Definitely not. There are a couple of shows I shot with other artists that were considered landmark shows in their career. Patti Smith at The Boarding House in SF, her first show on the west coast after she formed her band to tour in support of "Horses" ( which had yet to be released) or Van Morrison's return to Cambridge at the Harvard Square Theatre. But as Bruce's career was gaining momentum, I would often tell friends that that night was one of the most important nights in his career, and this guy is going to be huge. That was my "moment" as photographer. And thankfully I got some good shots as well.
---
For more on the book, read our initial story here or visit the photographer's site.
---
PHOTO: For You, Barry Schneier, May 9, 1974, Harvard Square Theatre, Cambridge MA
---
Gary Wien has been covering the arts since 2001 and has had work published with Jersey Arts, Elmore Magazine, Princeton Magazine, Backstreets and other publications. He is a three-time winner of the Asbury Music Award for Top Music Journalist and the author of Beyond the Palace (the first book on the history of rock and roll in Asbury Park) and Are You Listening? The Top 100 Albums of 2001-2010 by New Jersey Artists. In addition, he runs New Jersey Stage and the online radio station The Penguin Rocks. He can be contacted at gary@newjerseystage.com.
---