By Gary Wien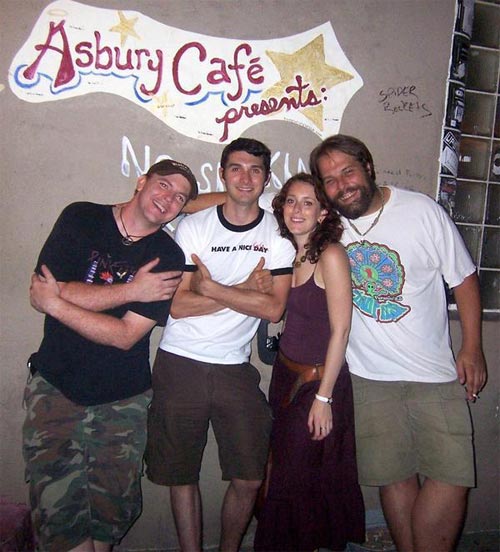 Every music scene has them. They're the people who basically make the engine run; they're the talent scouts, the marketing gurus, and the music fans who love music so much that they make it their jobs. It's their passion that makes them successful and it's great to see them get bigger and bigger. Drew Wajnert and Phanphest Entertainment are the perfect example.

Drew Wajnert moved to the Jersey Shore about a decade ago and banged around at various jobs. He started going out to live shows on a regular basis and eventually started Phanphest Entertainment a few years later. Unlike most promoters, Drew was neither a musician nor a friend of the bands. He just recognized the jam bandniche and had a knack for spotting talent.

"It's been pretty much learning on the fly," said Drew Wajnert. "Just thinking outside the box, looking at what was wrong with the festival industry and the music industry in general. Things like high ticket prices and convenience factors. I used to go to festivals all of the time and I'd open up a portajohn and they would be digusting. So, one of the things we said was let's get an ample amount of portajohns and get some signs on them so there are ones just for women and ones for mothers and children only. People said they had never seen that at a festival before. We'd get enough of them so people would know we cared and they'd tell others that it was a great festival.

"I saw specific festivals kind of degrading as more and more people came out each year. Instead of making the sound system great or improving the facilities people were slacking on it. That's what we're trying to fight against."

Phanphest Entertainment started out as a backyard tradition in late 2002 as Phan Phest 1.0; an intimate group of friends from The Gathering of the Vibes message boards were encouraged to gather on one acre of property for a barbeque, some keg beer, and some great music. Attendees were invited to camp out overnight on the property. Everybody had a great time, and the feedback encouraged the group of friends to do it again six months later but this time with two days of music.

Phan Phest 1.5 was held in May of 2003. Featuring two bands on both days, as well as many other acts, the backyard party maxed out the little acre with 62 tents. A larger, extended group of friends gathered for the event and were pleased with the results. But, it was pretty clear that the event had to move.

Friends helped make Phan Phest 2.0 happen in October of 2003, and realize the dream of a three-day music festival, so the event was moved to 2 acres. Thirteen bands played over 3 days on a stage that the company constructed.

The following May, Phanphest put together a festival featuring 22 bands over a 4 acres area. This was the show that truly launched the company and solidified its future. The festival was such a success that Phanphest began searching for a larger location to work with. They began producing indoor festivals and regular weekly shows in Asbury Park, NJ. Steadily, they were assembling a roster of acts dedicated to the Phanphest mission. Acts that will now be rewarded by a spot in Phanphest 3.0 this August.

Phanphest 3.0 will be held at Indian Lookout Country Club in Mariaville, NY. This was the location for The Gathering of the Vibes for the last several years. When that festival decided to move on, Phanphest eagerly moved their festival to the location.

"It's 200 plus acres of property," said Wajnert. "We're shooting for 3000 people. Our vision for it is to be family friendly. We're going to welcome Deadheads and Phishheads with kids who want to bring them to a safe environment. There's a great security solution that's already built in and they have existing facilities. This is the total package. It allows me to be the talent buyer and just focus on the production."

The festival features jam bands from several different markets. There are acts from Vermont, Massachuesetts, Connecticut, and New Jersey - especially those who have worked with Phanphest Entertainment before from either previous festivals or their weekly shows.

"We wanted to stay loyal to the bands who have been loyal to us and give them their due on that property," he added. "Where Juggling Suns has played the last two years at The Gathering of The Vibes, they've played at 4 o'clock. Some of their fans and people who wanted to see them for the first time were stuck in hours of traffic and missed them. We figure that if we shoot for 3,000 people instead of 15,000 coming and creating traffic we can have everyone into the festival much easier."

Some of the local bands for Phanphest 3.0 include Turtle Soup, Karmic Juggernaut, Unexplained Bacon, One Eyed Jack, Natural Breakdown, Scarecrow Collection and Juggling Suns. And one of the coolest things Phanphest is doing this year is providing a battle of the bands starting every Wednesday in June at the Saint in Asbury Park. The winner of each round (out of 16 bands) will move on to the finals on Wednesday, July 18th at the Saint and the ultimate winner will get to open the festival.

Wajnert admitted hitting some resistance from band managers and agents towards this year's festival. As Phanphest sought bigger and bigger names, the people being contacted wanted to see a killer festival lineup before committing. Thankfully, they had plenty of local talent more than willing to be part of the festival.

"I wouldn't necessarily call it a struggle, it's taking a leap of faith every day," said Wajnert. "It's waking up early, keeping my nose to the grindstone. We haven't had a huge success yet but we're doing it for the sake of the live music fan. In a couple of years, I'd love to be a major player on the scene."

With 200 acres to work with, ads in major jam band publications like Relix, and another solid lineup of artists Phanphest already is a major player on the scene and they're only going to get bigger.

---
Gary Wien has been covering the arts since 2001 and has had work published with Jersey Arts, Elmore Magazine, Princeton Magazine, Backstreets and other publications. He is a three-time winner of the Asbury Music Award for Top Music Journalist and the author of Beyond the Palace (the first book on the history of rock and roll in Asbury Park) and Are You Listening? The Top 100 Albums of 2001-2010 by New Jersey Artists. In addition, he runs New Jersey Stage and the online radio station The Penguin Rocks. He can be contacted at gary@newjerseystage.com.
---