This article is from our magazine. To view it in its original format, click here
Peter Max: A Life In Art
originally published: 10/23/2017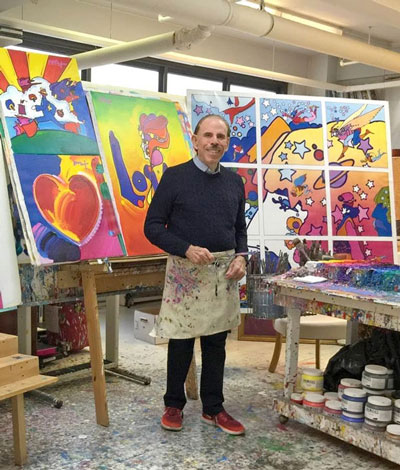 When honoring iconic, global artists, no other humanitarian spirit, career or artistic expression emulates Peter Max. For the past six decades, Max has been part of the fabric of American pop culture, spreading peace, love and his universally recognized art across generations, cultures and eras. His work was and is for all - a democratization of art.  In October, Max celebrated his milestone 80th birthday, making him one of the last living pop artists of this generation.
"I'm grateful for so many things in my life," said Max. "I dreamed of coming to America when I was a child growing up in China. I saw America as a beautiful land of freedom and creativity. And then my parents and I came here!  I'm grateful for studying with wonderful art, yoga and astrology teachers throughout my life. They taught me so much."
 Acclaimed for his bold, cosmic art from the '60s and '70s and colorful, expressionist paintings to this day including portraits and celebrity commissions, Max has been the official artist for six GRAMMY Awards, five Super Bowls, the NHL All-Star Game, the U.S. Winter Olympics, World Cup USA, the Indy 500, the Rock & Roll Hall of Fame, and many other notable events in sports and music. His portraits have honored U.S. Presidents, foreign dignitaries, rock stars and jazz musicians, movie stars and sports icons. Max's impressive resume goes far beyond his world-famous bold, colorful artwork, as he is acknowledged for his global charity work – being an active environmentalist and defender of animal and human rights.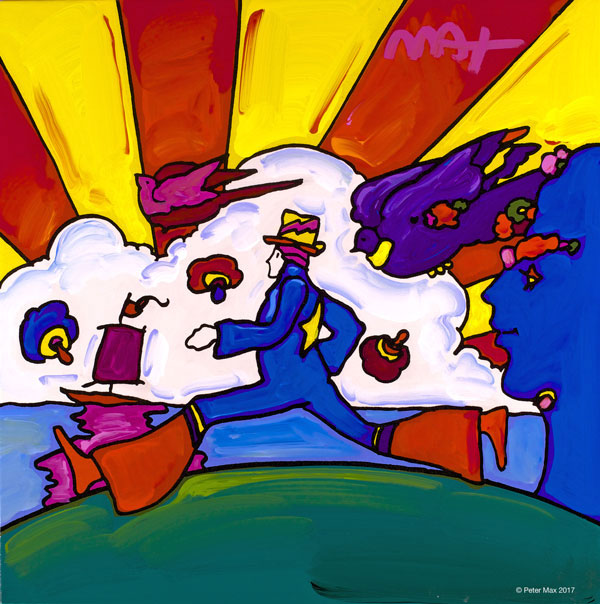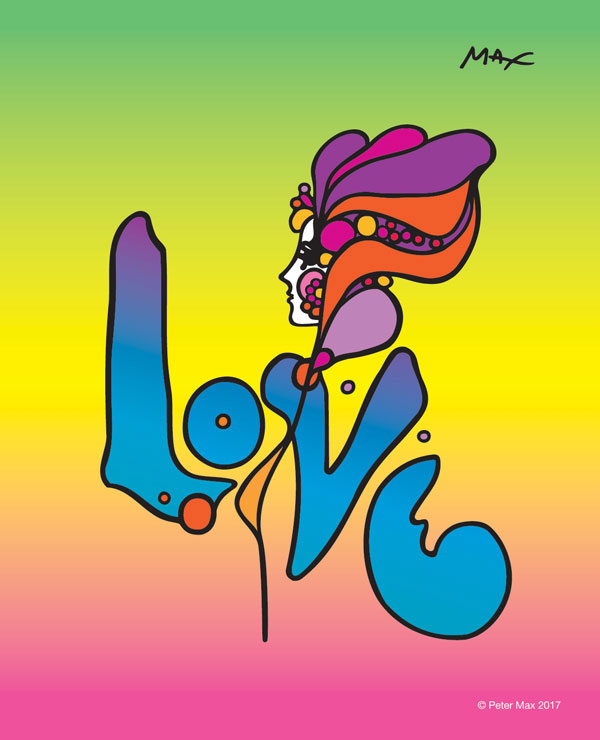 "I have loved creating art throughout my life and sharing it - in galleries, museums, with my poster art, on music stages, presidential libraries and on the body of a Boeing super jet and a Norwegian cruise ship!" exclaimed Max. "One of the most important things I'm grateful for is my relationship with my fans. I love meeting them at my gallery shows and seeing them enjoy my work - it's so special to me."
For more on Peter Max or to find out where the artist will be next visit www.petermax.com
All Photos © Peter Max 2017
---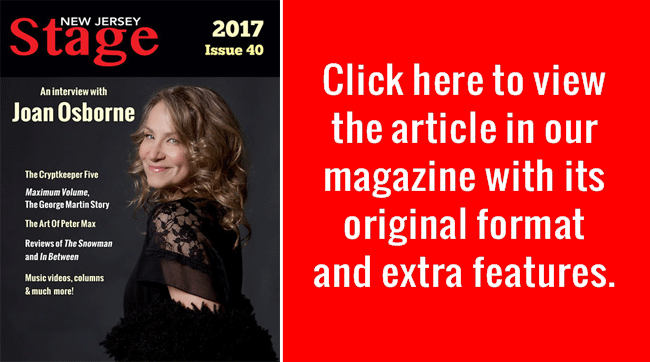 Jim Amon Wildlife Photo Exhibit to Open Jan 5th at the East Amwell Museum
(RINGOES, NJ) -- The East Amwell Historical Society and the Sourland Conservancy will present An Exhibition of Photographs of Plants and Animals Native to the Sourlands by Jim Amon at the East Amwell Museum in Ringoes.  The opening reception will be held on January 11th at 7:00pm. Admission to the East Amwell Museum and exhibit will be free and open to the public on weekends from 1:00pm - 4:00pm.  The exhibit will be on display from January 5 through February 15, 2019.
---
Herb & Milly Iris Gallery Hosts "The Price Of Sugar" by Jenny Flexner Reinhardt
(SOUTH ORANGE, NJ) -- The Herb & Milly Iris Gallery at the South Orange Performing Arts Center hosts a new exhibition by Jenny Flexner Reinhardt December 10, 2018-February 22, 2019.  In The Price of Sugar, Reinhardt has woven the theme of the bright and seductive appeal of sugar and confectionary, along with its dark side; the addiction, the excess and the disease. Sugar is both sweet and dangerous.
---
Newark's Gladys Barker Grauer To Receive 2019 Lifetime Achievement Award From The Women's Caucus For Art
(NEW YORK, NY) -- Gladys Barker Grauer, a pillar of the Newark, New Jersey, arts community, will be one of four recipients of a 2019 Lifetime Achievement Award from The Women's Caucus for Art (WCA) during an awards celebration on Saturday, February 16, 2019 at the New York Institute of Technology (NYIT). Fellow recipients include Olga de Amaral, Mary Beth Edelson, and Mira Schor. The recipients for the 2019 President's Art & Activism Award are L.J. Roberts and Aruna D'Souza.
---
Studio Montclair Presents "Art-To-Go," a Holiday Sale and Exhibit
(MONTCLAIR, NJ) -- Studio Montclair (SMI) is holding a Holiday Sale and Exhibit from November 27 through December 21 at the Studio Montclair Gallery, 127 Bloomfield Avenue, Montclair, NJ. An opening reception with light refreshments and artists' demonstrations will be held on Saturday, December 1st from noon to 4:00pm.
---
D&R Greenway Land Trust Presents The Juried Exhibition "Lovely as a Tree"
(PRINCETON, NJ) -- D&R Greenway Land Trust's juried exhibition, Lovely as a Tree, includes the work of more than 80 artists responding to the words of poet Joyce Kilmer: "I think that I shall never see  a poem lovely as a tree." The artwork is on view November 19, 2018 through January 25, 2019 at D&R Greenway's Johnson Education Center, 1 Preservation Place, Princeton. 
---


Peter Max Remembers Frank Sinatra
(HOBOKEN, NJ) -- As fans of Frank Sinatra across the world remember the legendary entertainer on what would have been his 103th birthday (December 12th), pop artist Peter Max provides a series of portraits of 'Ol' Blue Eyes' at different points throughout his career. Max, with a 5 decades-long career of his own, created these signature, vibrantly colored portraits, working with the Sinatra family to celebrate the Sinatra Centennial in 2015. They remain a fan favorite at gallery shows across the country.
---
Jerry Gant 1961-2018
Jerry, There is no bio that will seem complete for you. Where would it be listed, amongst your numerous and diverse accomplishments, that you talked to people, always seemed to find time for the younger artists, to talk to them and look at their sketchbooks? Your use of language as a material, testing limits, associations, and possibilities.
---
PODCAST: An Artist Asks "The 20 Most Important Scientific Questions Of The 21st Century"
In this podcast, we speak with them about art, activism and how women invented Postmodernism. "The 20 Most Important Scientific Questions of the 21st Century" runs through December 14th at Douglass Library.
---
Artist Mel Leipzig At 83
We recently met up with artist Mel Leipzig at Artworks in Trenton. He was there to do what he does every day – create big paintings of people he likes. While the Artworks staff went about their business getting the space ready for this year's Art All Day event, happening this Saturday, Mel pulled a few of them aside to capture them in their natural habitat in acrylic.
---
Heather Ujiie Explores "Terra Incognita" At Rowan University Art Gallery
"My life's mission is to challenge myself to go to new places," said Heather Ujiie, a Bucks County, PA, multimedia artist whose latest work, "Terra Incognita," is on display at the Rowan University Art Gallery now through November 17, 2018.
---
Event calendar
Saturday, Dec 15, 2018
---
MUSIC

---
---
---
JOHNNY O

@ Lobby Bar at Hard Rock Hotel and Casino Atlantic City, Atlantic City - 10:00pm
---
WEIRD SCIENCE

@ Hard Rock Cafe at Hard Rock Hotel and Casino Atlantic City, Atlantic City - 10:00pm
---
---
---
---
Holiday POPS!

@ Richardson Auditorium in Alexander Hall, Princeton - 3:00pm and 6:00pm
---
---
---
---
---
---
THEATRE

---
Elf, The Musical

@ Surflight Theatre, Beach Haven - 2:00pm and 7:00pm and 7:30pm
---
---
---
---
Peter Pan

@ Axelrod Performing Arts Center, Deal Park - 7:30pm
---
---
---
---
---
---
---
---
COMEDY

---
Louie Anderson

@ Mainstage @ Union County Performing Arts Center (UCPAC), Rahway - 8:00pm
---
DANCE

---
---
---
FILM

---
---
View all events
---