This article is from our magazine. To view it in its original format, click here
Peter Max: A Life In Art
originally published: 10/23/2017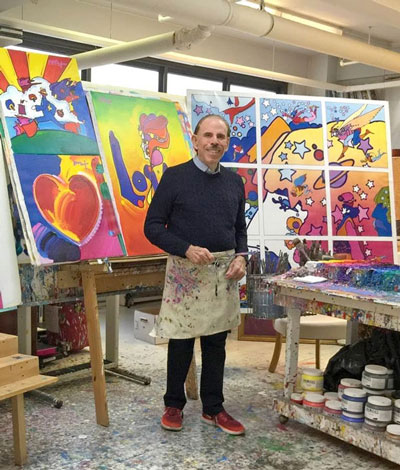 When honoring iconic, global artists, no other humanitarian spirit, career or artistic expression emulates Peter Max. For the past six decades, Max has been part of the fabric of American pop culture, spreading peace, love and his universally recognized art across generations, cultures and eras. His work was and is for all - a democratization of art.  In October, Max celebrated his milestone 80th birthday, making him one of the last living pop artists of this generation.
"I'm grateful for so many things in my life," said Max. "I dreamed of coming to America when I was a child growing up in China. I saw America as a beautiful land of freedom and creativity. And then my parents and I came here!  I'm grateful for studying with wonderful art, yoga and astrology teachers throughout my life. They taught me so much."
 Acclaimed for his bold, cosmic art from the '60s and '70s and colorful, expressionist paintings to this day including portraits and celebrity commissions, Max has been the official artist for six GRAMMY Awards, five Super Bowls, the NHL All-Star Game, the U.S. Winter Olympics, World Cup USA, the Indy 500, the Rock & Roll Hall of Fame, and many other notable events in sports and music. His portraits have honored U.S. Presidents, foreign dignitaries, rock stars and jazz musicians, movie stars and sports icons. Max's impressive resume goes far beyond his world-famous bold, colorful artwork, as he is acknowledged for his global charity work – being an active environmentalist and defender of animal and human rights.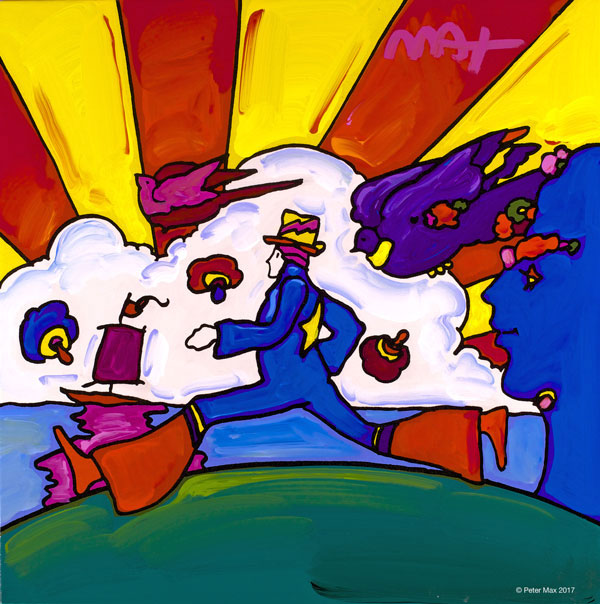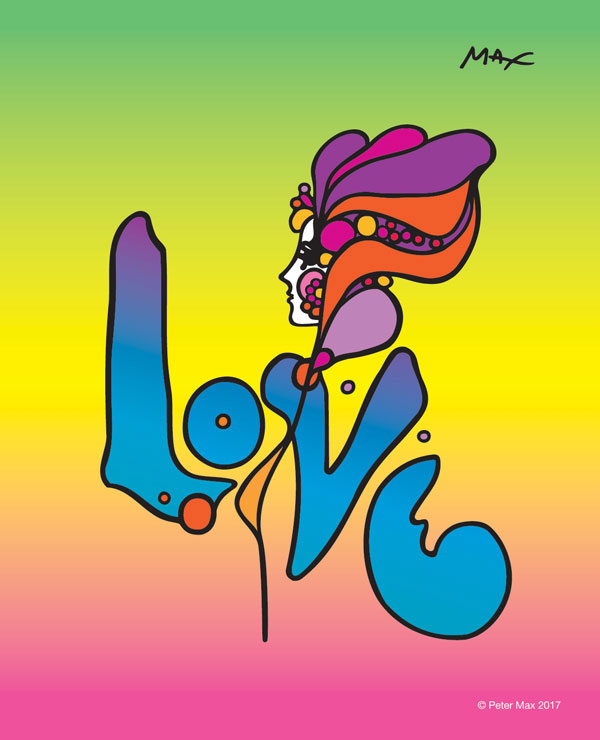 "I have loved creating art throughout my life and sharing it - in galleries, museums, with my poster art, on music stages, presidential libraries and on the body of a Boeing super jet and a Norwegian cruise ship!" exclaimed Max. "One of the most important things I'm grateful for is my relationship with my fans. I love meeting them at my gallery shows and seeing them enjoy my work - it's so special to me."
For more on Peter Max or to find out where the artist will be next visit www.petermax.com
All Photos © Peter Max 2017
---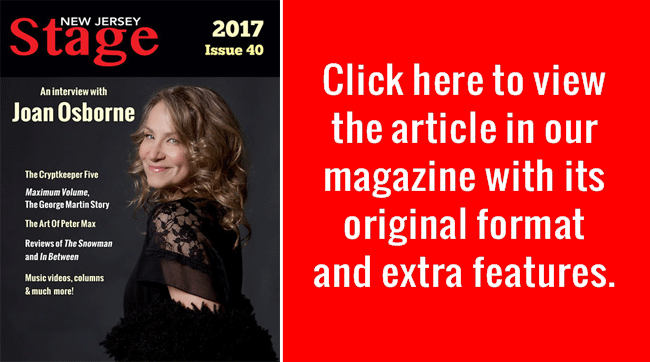 "Trumpets, Weird and Wonderful" opens at the Morris Museum October 7
(MORRISTOWN, NJ) -- The Morris Museum in partnership with the National Music Museum (Vermillion, South Dakota) presents the exhibit Trumpets, Weird and Wonderful: Treasures from the National Music Museum — 44 fascinating instruments from five continents, on view at the Morris Museum from October 7 to March 17, 2019. Dating from the late 17th to the late 20th centuries, the instruments are on loan from the National Music Museum's Joe R. and Joella F. Utley Collection of Brass Instruments, and most of them have never been on public exhibit.
---
JCTC's Connection Series Explores How We Do & Don't Connect in Today's World
(JERSEY CITY, NJ) -- Technology connects people all over the world, yet why do we so often seem disconnected to our communities, families and each other? Jersey City Theater Center (JCTC) launches its 2018/2019 season with Connection, a series of visual arts, theater, dance and readings that explores the truly modern conflict of pervasive isolation in an era of hyper-communication.
---
GlassRoots Honors The Horizon Foundation for New Jersey & Laureen Meehan at Annual Gala
​(NEWARK, NJ) -- GlassRoots announced that its annual Gala and Auction, this year entitled Glowing + Growing will be held on October 18, 2018, and will celebrate the nonprofit's 17 years of impact by paying tribute to the deep connections among organizations invested in arts education by honoring Horizon Foundation for New Jersey and Lauren Meehan of the Newark Arts Education Roundtable.
---
Monmouth University to present week-long arts event series honoring Veterans
(WEST LONG BRANCH, NJ) -- Monmouth University is hosting a week-long series of arts events from October 1-5 honoring veterans. The events celebrate the veteran experience and story through visual, literary and theatre arts and are of no cost to veterans and their families.
---
Bergen Performing Arts Center and The BulLion Foundation Present Photos by Debi Jackson
(ENGLEWOOD, NJ) -- See photography from around the world, including a Havana courtyard, a French Chateau and ruins in Panama, when Debi Jackson exhibits her works in the Sandy Bennett Art Gallery in bergenPAC.  The exhibit runs from September 25 through October 28.  There will be a special reception on Thursday, September 27 from 7:00pm to 9:00pm.
---


City Without Walls and Aljira To Shine At Newark Arts Festival
Two long-running art spaces, City Without Walls ("cWOW") and Aljira, A Center for Contemporary Art ("Aljira"), will house pop-up exhibits during the Newark Arts Festival, October 4-7, 2018.  Though both spaces are now in a period of transition, through the support of Newark Arts, they will activate with fresh exhibits during Newark's citywide annual festival of the arts. 
---
The Healing Power of Art
Entering the office to see a neurologist can be a terrifying experience.  I know because I've had to do it for years.  Thankfully, when I see my doctor I am surrounded by his photographs on the walls. It's more than a hobby for Dr. Noah Gilson, it's a lifelong passion.
---
What Is The Artist's Role In Gentrification?
About a year ago, I attended a local community meeting here in Newark for citizens concerned about the changing face of the city. You see, Brick City, after 50 years of neglect, economic disenfranchisement, and disproportionate criticism fueled by racism, xenophobia and class discrimination, is going through a revitalization. Or a "renaissance" if you're the poetic type.
---
Fossils And Boomers At Morris Museum
You won't find many places where Billy Joel and Erin Brokovich rub shoulders with ancient shark teeth and fossilized raindrops. But such is life — for at least the next few weeks — at the Morris Museum in Morristown, where you can take two very different trips through American history in two separate exhibits.
---
"Tastefully South Jersey" at Perkins Center For The Arts
"You learn something new every day…" Well, maybe not EVERY day but, while researching for JerseyArts.com features, I regularly learn something new. For example, I have known about Perkins Center for the Arts for a very long time. I've been to many exhibitions, participated in classes, and enjoyed several of the DeCafe Concerts over the years. But, prior to talking with Perkins' Associate Director Diane Felcyn and Folklife Center Director, Karen Abdul-Malik (better known to many as Queen Nur), I had no idea that Perkins has a Folklife Center.
---
Event calendar
Friday, Sep 21, 2018
---
MUSIC

---
---
---
---
---
---
---
---
---
---
---
THEATRE

---
Souvenir

@ Surflight Theatre, Beach Haven - 8:00pm
---
---
The Shuck

@ Cape May Stage, Cape May - 7:30pm
---
---
---
---
Evita

@ Broadway Theatre of Pitman, Pitman - 8:00pm
---
---
---
---
---
---
Brick City

@ Premiere Stages at Kean University, Union - 8:00pm
---
COMEDY

---
---
FILM

---
---
---
LECTURE

---
---
View all events
---