By Gary Wien
originally published: 07/21/2016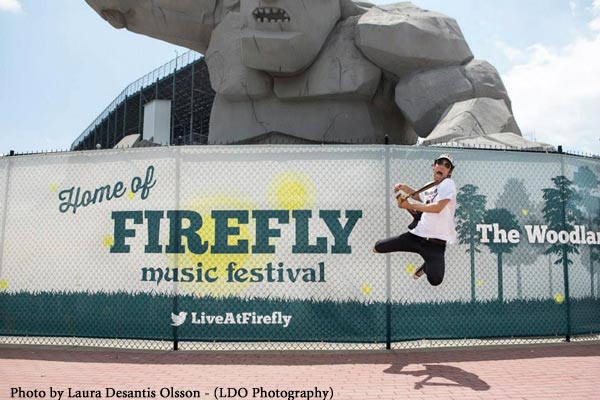 Indie musicians often work hard to get heard, but few have the drive and persistence of Mike Rocket.  His persistence paid off in June when he performed at the Firefly Music Festival in Dover, Delaware.  Officially it was his first time playing the festival, but unofficially thousands have seen him perform outside the festival since it first began in 2012.
Performing outside of big events has been a strategy of his for some time. Mike grew up outside of Philadelphia and began performing in the mid 1990s. Growing up, he bore a rather uncanny resemblance to Bruce Springsteen.  In a way, this helped him break into the Jersey Shore music scene and led to a following from performances outside of the stadiums before Springsteen shows.  Unfortunately, while the resemblance helped people remember who he was, it distracted from his original songs.  But he kept plugging away with club dates mixed with live sets outside of concerts and in busy city areas like Times Square.  His friend, Nick Clemons, gave him the idea to try morning television shows, which have been successful.  And he began performing outside the gates of festivals.
He expected this year at the Firefly Festival to be like the last five, but something unexpected happened.  A fan wrote a letter to the festival in support of Mike.  The letter told about Mike's dedication to play for hours each day, performing under the hot sun and during the rain - to a crowd that doesn't know him as the festival opens to ones that know his songs by the close of Firefly.  It was written by someone who was there the very first time Mike performed at Firefly in 2012.
"People have no idea who I am on Thursday or Friday," Mike said in the piece, "but by Sunday people are cheering me on. It's kind of a Rocky thing."
The people behind the festival were so touched by the letter that they posted the letter online at a page dedicated to Mike Rocket.  The festival wrote, "There are thousands of stories that happen at Firefly, not all of them inside the festival. The following is an inspirational story submitted by one of our fans about a remarkable individual that you may have walked right by and not even realized it; a fan that embodies the very spirit we all want to possess when we come to a festival like Firefly."
---
The article continues after this ad
---
---
And they invited him to perform on stage during the festival for the first time.
"It felt like a towering accomplishment and victory especially to some of those small bar managers who said I wasn't good enough for them," said Mike.  "It was a dream come true! I really believe that if you stick with something — it could take years -- you'll eventually take it to where you're trying to go."
Whether he's on stage or outside the gates, Mike says he treats every performance as 'the one great concert that can change the world' (inspired by Dewey Finn as Ned Schneebly in School of Rock).  He doesn't expect to make many tips, but will have his guitar case open in case people want to throw him a buck or two.  His CDs are also for sale when he plays.
You might expect Mike's story to include a constant battle between festival security and his guitar, but he says he has rarely encountered any difficulties.  The first time he performed at Firefly they asked him not to play by the entrance.  He complied, but instead of leaving completely, he simply moved away from the entrance — close enough to the festival that the festival attendees still passed him on their way in.
"It's about trying a different approach, kinda like golf or a maze," explained Mike. "In one of the songs on my upcoming album I say, 'The fame labyrinth is not easy; hold on with tenacity.'"
Long-time fans of Mike Rocket may wonder when that next album will actually come out.  He says he is finally finishing up a project that he's been working on for several years.  The goal is to complete it by the end of the summer. He's got a GoFundMe campaign going to help fund the album and raise money for the ASPCA to help stop animal abuse.
Mike is an elementary school teacher in North Jersey, but still dreams of playing music full-time.  He gets inspired when he hears stories about artists like Rachel Platten who he recently saw on the Today Show.  She talked about playing in front of 20 people at bars, just hoping to get one song to hit big.  Mike believes he might have that song with "I'm Dreaming Of A Better World" which should be on his next album.
"I was especially inspired in 2013 when I met Clive Davis during a Q & A for his book," recalled Mike. "I gave him my music; he then introduced me and asked me about how I got the name Mike Rocket. Right after another artist asked what it takes to make it. Clive responded to the artist, 'As Mike Rocket points it out, hard work, tenacity, belief, and you just keep doing it.'"
That's all he's ever done and he's got no reason to stop now.  As the Firefly page said, for "one brief but gratifying moment, Mike Rocket, the man who in five years has been happy playing outside the gates, will be the biggest star of the weekend." 
And that he was.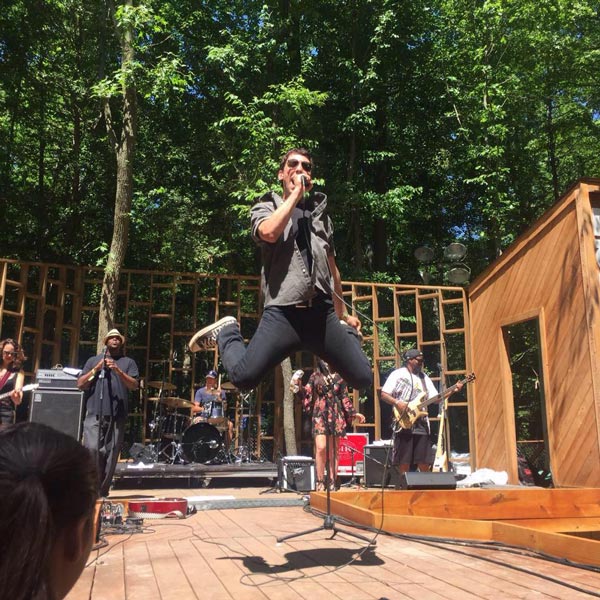 ---
Gary Wien has been covering the arts since 2001 and has had work published with Jersey Arts, Elmore Magazine, Princeton Magazine, Backstreets and other publications. He is a three-time winner of the Asbury Music Award for Top Music Journalist and the author of Beyond the Palace (the first book on the history of rock and roll in Asbury Park) and Are You Listening? The Top 100 Albums of 2001-2010 by New Jersey Artists. In addition, he runs New Jersey Stage and the online radio station The Penguin Rocks. He can be contacted at gary@newjerseystage.com.
---