originally published: 04/17/2018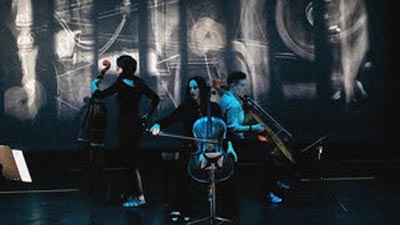 (MONTCLAIR, NJ) -- Peak Performances presents the world premiere of Spinning, a collaborative musical work written and composed by Pulitzer Prize winner and MacArthur Fellow Julia Wolfe  (Anthracite Fields, 2015), and conceived with "cello goddess" (The New Yorker) Maya Beiser, with multimedia projections by innovative artist Laurie Olinder (May 10-13). Commissioned by Peak Performances and culminating their season of works by women, Spinning considers the essential labor of spinning thread—work once performed by hand by women—paying homage to the human dignity of this "women's work." Music has long been a vital part of this craft, both as a propelling force and as a distraction. Spinning, for three cellos and voice, is performed by Beiser with Melody Giron and Lavena Johanson.
Beiser and Wolfe met in graduate school at Yale, and worked together in the formation of the amplified touring band Bang on a Can All-Stars, which emerged out of the Bang on a Can Festival in the early 1990s. Spinning marks their first in-depth collaboration. In Beiser's own words, "I found in Julia's music a rare quality — combining folk, rock and classical elements in a distinct and relentless energy. This collaboration is one that has been in our minds for many years, and we are thrilled to now embark on this journey together."
Wolfe received the Pulitzer in 2015 for Anthracite Fields, an oratorio bringing together oral histories, interviews, speeches, and more to honor the people who persevered and endured in the Pennsylvania Anthracite coal region, and she is now in the midst of creating a work for the New York Philharmonic on the history of women in New York City's garment industry at the turn of the century. The theme of labor has been a consistent interest of hers, and is evoked in Spinning through less historical, more sensual terms, with text by Wolfe and Emily Dickinson.
Wolfe and Beiser teamed with Olinder, an artist who has created arresting projections for a number of musical projects (by organizations like Bang on a Can, Brooklyn Youth Chorus, the Kronos Quartet, LA Opera, The Philadelphia Orchestra, and more), to create a visual universe for the piece, which explores the concept of spinning in the natural, human-made, and machine-made worlds. Netta Yerushalmy joined to choreograph, giving the performers, and their instruments, a gestural vocabulary that emulates the themes and contributes additional evocative sounds.  
It became apparent, through the piece's creation, that it was not so much about narrative as it was a poetic exploration of the craft of spinning. From spiders pulling silk from a gland and casting out lines, to humans, who have used tools from spindles to wheels to industrial machines, spinning is as old as time. Parallels between strung bows, cello strings, spinning patterns, frenetic bobbins, texture, textiles, and busy hands combine across Spinning with song and propel the work.   
---
The article continues after this ad
---
---
Spinning, composed by Julia Wolfe and conceived with Maya Beiser,is performed by Beiser, Lavena Johanson, and Melody Giron, all on cello and voice. The creative team includes Julia Wolfe (Music and Text), Laurie Olinder (Projection Art and Design), Dave Cook (Sound Designer), Aaron Copp (Lighting Designer), Netta Yerushalmy (Choreographer), Simon Harding (Projection Programmer), and Jennifer Hill (Associate Lighting Designer). It is produced by Islandia Music & Jensen Artists, with Production Manager Chris Roberts.
Performance Schedule and Ticketing
Performances of Spinning will take place at the Alexander Kasser Theater at Montclair State University (1 Normal Ave, Montclair, NJ), Thursday, May 10 and Friday, May 11 at 7:30pm; Saturday, May 12 at 8pm; and Sunday, May 13 at 3pm.
Tickets, affordably priced at $20 (and free for Montclair undergraduates), can be purchased at www.peakperfs.org or 973.655.5112.
Spinning was commissioned by Peak Performances at Montclair State University, and made possible by The MAP Fund, which is supported by the Doris Duke Charitable Foundation and the Andrew W. Mellon Foundation.
This project is supported in part by awards from the National Endowment for the Arts and the Aaron Copland Fund for Music.
Peak Performances is a program of the Office of Arts and Cultural Programming at Montclair State University and has been honored by the New Jersey State Council on the Arts with an Arts Citation of Excellence and Designation of Major Impact. Programs in this season are made possible in part by the New Jersey State Council on the Arts/Department of State, a Partner Agency of the National Endowment for the Arts; the New England Foundation for the Arts' National Dance Project, with lead funding from the Doris Duke Charitable Foundation and The Andrew W. Mellon Foundation.