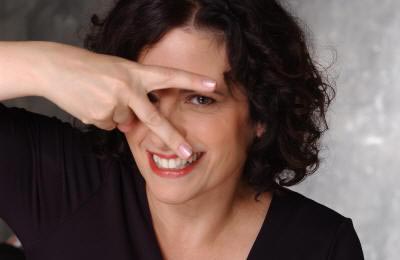 This article was originally designed to be read in the September 2014 issue of
New Jersey Stage magazine. To read it in its original format, click here
Female comedians have often felt on the outside looking in. Comedy is still very much an old boy's network - especially for those hoping to make the leap from comedy clubs to television or films. For Patty Rosborough, a comedian from New York City, she's not only finding doors shut on her because she's a female comic, but because of her age. After years of struggling with growing older, she's finally comfortable with herself and even laughs at things that would have made her cringe a few years ago.
Rosborough, who is coming to Uncle Vinnie's Comedy Club in Point Pleasant in October, started out as a prop comic who built her show out of physical comedy and characters. In the nineties, her career appeared to be heading for the top. You may remember her as the co-host of Comedy Central's "Short Attention Span Theater" with a guy from Jersey named Jon Stewart. But after she had her first child she left the business. She returned to comedy after getting divorced, but this time she abandoned the props and began focusing her material on her own life and personal stories.
One of her bits these days involves the ugly side of motherhood. You know, the side where moms are worn out after a morning of dealing with the kids and simply glad to see that old school bus pull away, so they can reach for a bottle of wine.
"Nobody lets you in on it," said Rosborough. "When you're pregnant, all of your friends are like this is going to be so great. Nobody tells you the horror of when your kids turn around and hate your guts! It really needs to be told."
Her show is designed for women, but she has many male fans as well. "I'm always thrilled when-ever guys like my act," she says. "I know the women are going to go with me, but when the men like me, it means I've crossed over."
"Some people in the audience are very funny," she continues. "And I do talk to the audience quite a bit. If they're being funny, I'm all for it. I don't care where I get the laughs. I don't want it to be an ongoing conversation, but if I'm talking to them and they're talking to me that's fine. If I'm doing my act and they think that they need to interject constantly, I really hate that. I mean real hecklers. It's mostly people who think they should be up on stage, but they don't have the cojones to do it so they figure they'll just work their way into my act. It's like, no you won't! Sorry, but I'm not sharing the stage with you."
Like many female comics, Rosborough noticed that it's harder for women to get to the highest level. While the number one requirement for men is to be funny, Rosborough believes women are held to a higher standard - they need to be funny and be attractive… really attractive. This theory was evident when she won a Ladies of Laughter contest which came with a guaranteed spot on Comedy Central's Premium Blend show. Several weeks after her win, she called her agent to see when the taping would be. Her agent told her that Comedy Central called and said she wasn't right for the show.
"How am I not right for it, I said, I won the contest. He said they said you're not right for it, you're too old. I asked my agent what he thought and he said I was too old too. Nevertheless, I broke off with that agent," she said.
While it bothered others, turning 40 never really bothered her. In fact, she tackled it head-on as part of a group of comics in a show called "Four Sides of 40" for a few years. Yet, club owners kept telling her to lie about her age.
"They said don't mention your age. Never mention your age if you want to get on television. Honestly, I've never gotten on television, so maybe that did have something to do with it," she laughs.
It was turning 50 that hurt her. She began noticing changes to her looks, her kids were grown up and leaving the house, and she hit menopause. She began taking a good look at her career and wondered how much harder it would be for her now. And then strange things began happening. Guys stopped holding the door for her, innocent flirtations at the deli ceased, and a conversation with one comic was simply surreal.
"I had one comic say to me, 'Patty, remember when you used to be really hot?' I'm like what?? He goes 'Remember?' So, I go uh… yeah. He says, 'God, I used to have the worst crush on you back then.'
"Every word coming out of his mouth was in past tense," she recalled. "I think it was the first time I realized I don't look the way I did before. And losing your looks is a big thing for people who consider themselves to be in show business. I was really upset and told the comic that I had to stop him because he was insulting me. He says, 'How am I insulting you, I'm telling you how hot you used to be. You're fine now, but back then… wow!.' He just didn't get it. I went back home and told my fiancé I was upset. I thought for sure he was going to tell me that the comic was wrong, blah, blah, blah and he loves me. Instead he says, 'Well, you know you're competing with your younger self and you can't compete with your younger self.'
"He said 'You're like the Yankees today and everyone's comparing you to the 1998 Yankees. You're still a good team. You'll still make the playoffs each year, you just haven't brought home a ring in a while!' I just sat there at the kitchen table and started crying, and then I thought I've got to put this in a book."
She hopes to finish her book in the next year or two. It's a look at her life after turning 50 with the benefit of a few years of perspective. She's found her groove again through comedy, something she really missed for a few years. Age doesn't bother her anymore. It happens. We all have to deal with it and she's chosen to find the humor in it. After all, it's not ageism if you're making fun of yourself, is it?
See Patty Rosborough live at Uncle Vinnie's Comedy Club in Point Pleasant Oct 17 - 18
www.pattyrosborough.com