By Gary Wien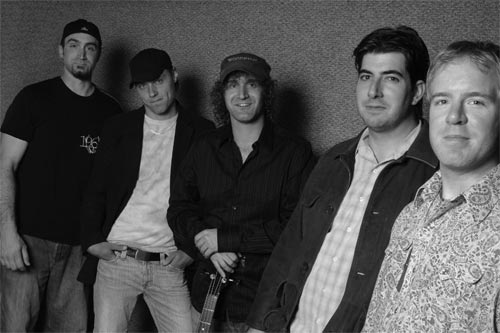 Woodfish had been knocking around the local scene for a bit when they realized that they were missing a crucial piece to the puzzle. They began auditioning people for lead singer but one after another just didn't seem right until a guy from Oklahoma emailed them and said he wanted to give it a shot. Two thousand miles later, the singer found himself involved with a new musical family and the band thought they had become complete, but the journey was just beginning.

The band from Red Bank includes Domenick Kalorin (drums), Steven Kalorin (bass), Steve Cumberland (guitar), Don Honeycutt (saxophone) and Justin Newport (vocals). They started out playing places that were kind of off the beaten path for original bands.

"There's a catch-22 out there where you have to sell tickets and you have to have fans to play a place," explained Steve Kalorin. "When you first start out you don't have that fanbase, so I didn't want to go out there and piss off some of the owners and promoters by saying I could bring 100 to their club and then show up with four people. They'd tell us they couldn't book us again. Our first singer had connections in these cover band bars that no original bands ever play, so he got us in as a cover band but we weren't playing any covers. We wanted to prove to these people that we could go in and do three sets just like a cover band would. The idea was to get us in front of people so down the road we could go to The Stone Pony or Starland Ballroom and say we could sell tickets. It was our way of breaking out of that old catch-22."

The only problem was that it worked a little too well. While the band was picking up new fans with each show, they were still outside of the mainstream music scene. People had heard of them but didn't really know if they were a cover band, original band, or what. They seemed cut off from the rest of the scene.

Until one day, they suddenly got it. You can pin it down to the Wave Gathering Festival in Asbury Park. It was here that the band members finally got the chance to check out the other bands in the area and meet musicians who they would eventually share bills with.

And, of course, there was the set.

Woodfish was a late addition to the festival - added to the Upstage Magazine stage located at the Tiki Bar. The day Woodfish played there was a solid back to back to back lineup which included Predator Dub Assassins, Temporary Grace and then Woodfish. The day couldn't have been better suited for a band's coming out party. There was a good crowd all afternoon, but as Woodfish took the stage the crowd began to grow even more. People on cell phones started calling their friends to leave whatever show they were at to come see Woodfish. Those who had seen the band before suddenly remembered how great they were and those who were seeing them for the first time were simply blown away. That, to me, was a pivotal moment for the band but it was meeting the other artists that helped get the band to where they are today.

"One night when we had shown up to the Saint for two or three straight nights, Scott Stamper pulled us aside and said thanks for being part of the scene," said Steve Cumberland. "When he said thanks for showing up to other people's shows a light bulb went on in our head. It was like oh, that's what it's all about. It's support, it's not a competition. We're done with competition. Because of Scott, it lit a fire under our ass to go and seek out bands that we like, bands we want to join with and create a musical family."

Within a few months, Woodfish began showing up at clubs like The Saint, The Stone Pony, Starland Ballroom - all of the places that were part of their original plan, but places that were now possible because they were now not only officially part of the scene, but a buzz band as well.

"I think it's growing in a way none of us understand, but it's good," added Don Honeycutt.

Domenick Kalorin started noticing the difference when he separated his shoulder in a freak soccer accident.

"I discolated my shoulder on a Monday," said Domenick. "The next day, I'm freaking out. My shoulder had just been put back in its socket; I've got all of these doctors appointments and I'm trying to make sure everyone gets me to the next doctor and where I need to go.

"So, at first I go into a doctor's office and say I just dislocated my shoulder and I play in this band and I have to play on Saturday. They're like what do you play? I say drums and they say there's no way you're going to be able to play. So then I go to the next doctor and it turns into 'here's my situation, I play in a band that just got nominated for a bunch of awards and I've got to play on Saturday.' Now all of a sudden, the doctor's moving a little faster. He's like maybe we should get an M.R.I. So he sends me to another doctor and I say basically the same thing but now it's 'I play in a band that just got nominated for a bunch of Asbury Music Awards.' and the doctor starts running from the room I was in to his office. They got on the phone with my insurance company going through the book... I've never seen them move like that before! It was crazy!"

As it turned out, Woodfish not only was nominated for a bunch of awards but took home awards for Top Bassist, Top Funk 'N Groove Band, and Top Jam Band. This capped off a night in which Woodfish was one of the bands chosen to play at the awards show.

"I've been playing the local scene since I was a kid," said Steve Kalorin. "I remember when the Asbury Music Awards started and when T-Birds was still open and it was called The Golden T-Birds Awards. I won Best Bass Player back in the early '90s. It's cool to see everything progress - especially since I stopped playing for a bit and I kind of fell out of the scene for a while. The way I see the Asbury Music Awards isn't as a who's better than who kind of scenario, it's a way to let the entire scene grow - to develop the entire scene."

"What I loved about the awards was that they didn't award somebody that swept everything," added Steve Cumberland. "Nobody got more than three and I think that's beautiful because it shows that we're all on the same page. We're all getting together and doing the same thing. Each band won a single individual award then a band award and then an accomplishment award, which is really cool. This is the first year that I've seen in my 10 years of playing that everyone is friends. We've joined up together, we've bonded, hung out together, and done shows together."

It was dedication, hard work and a little bit of luck that created the Woodfish of today. The road that began with a pair of brothers just jamming in their basement took a few bumps along the way, but proves what a little patience and a boy from Oklahoma can do. For it was Justin Newport that helped complete the vision that the band had in its mind and it took guts from both sides to make it happen.

"I was in another band looking for a bass player ironically," recalled Newport. "I was the guy always trying to keep everything together in my old band. I said to myself, I wonder if anyone's looking for what I can do. I'm tired of looking for people that I need to do something, I wonder if anyone's looking for what I can do. So I was on gigfinder.com and started talking with Steve.

"When I flew out here for the audition, I stayed for a couple of days. It was freezing cold! The first thing we did after I got off the plane was shovel snow and then we went into the studio and did the first song completely through. We all kind of stood there for a second and no one really said anything. Then Steve was like wanna do another one?

"As I was leaving, we were all together just throwing out ideas and stuff. We were all happy and everything. They still had some other people to audition and had dates already set up so they said they were going to give them a chance to audition. But before I left I asked them 'are you guys in this to win this or are you weekend warriors?' They said they weren't weekend warriors and there was a look in their eyes that said we want to do this. I could just sense it.

"I get home and I'm back for about an hour when they call and say we want you; if you're in, let's do it. I said give me a month to tie up my loose ends. The fact that they called that day I think was the main reason I came because it's like why audition more people? If you found your guy, let's roll."

"It was the easiest decision I've made in my life."

And the smartest one the guys in the band have ever made.

They've had some rough times in the past year with Domenic separating his shoulder and his brother Steve nearly dying in a car accident, but the patience they've shown over the past few years is paying off big time for them. In addition to playing at the Asbury Music Awards, the Saint invited them to be part of the Saint's Anniversary show - another prestigious gig - and they've played in front of huge crowds at the Starland Ballroom. Things are definitely looking up.

"At the Starland Ballroom show there was just this feeling that this is where I belong," said Honeycutt. "This is the right thing."

"We've all been in other bands, and we've all done our own thing," said Newport. "We finally found what we call our family. We found all of our brothers and have been reunited."

---
Gary Wien has been covering the arts since 2001 and has had work published with Jersey Arts, Elmore Magazine, Princeton Magazine, Backstreets and other publications. He is a three-time winner of the Asbury Music Award for Top Music Journalist and the author of Beyond the Palace (the first book on the history of rock and roll in Asbury Park) and Are You Listening? The Top 100 Albums of 2001-2010 by New Jersey Artists. In addition, he runs New Jersey Stage and the online radio station The Penguin Rocks. He can be contacted at gary@newjerseystage.com.
---