By Gary Wien
originally published: 08/25/2018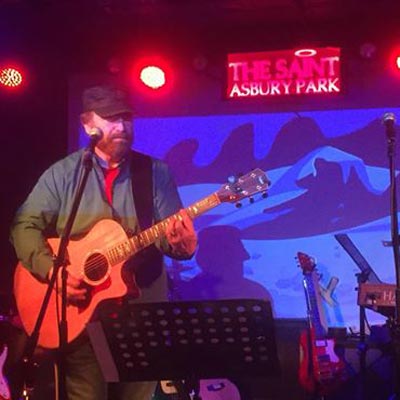 Lambertville native Pat Foran was always told that his songs were too long. When they clocked in at four minutes, he was told they needed to be trimmed down to three. It was always a challenge for him until he began working with Rob Figarola, a Los Angeles based A&R consultant who was with UnsignedDaily.com - a site that identifies and develops unsigned artists.
Figarola found Foran's music via ReverbNation and contacted him. They worked together for about a year before Figarola passed away. It was quite a blow for Foran. We spoke a few days after he got the news and it was clear Foran was both grieving and in shock. The two had become quite close and Figarola had become his mentor. He not only gave Foran the confidence boost artists need, but was able to help him understand what his songwriting needed to reach that next level.
"His death was crushing because he thought my potential was there and that I already had good material," said Foran. "He was into my music and was talking about a possible record deal for me. It's going to be hard to find someone who believes in me the way he believed in me."
As great of a loss as it was, their time together was very productive. Figarola had a knack for picking out the parts in Foran's songs that were important and the ones that should be removed.
"He would hit the exact points in my newer songs that I was questioning without me saying anything," said Foran. "He would say this one line needs these three words need to be changed. I'd tell him that a lot of times when I wrote songs I would have 85-90 percent of the lyrics ironed out, but I'd want to test the song out for an audience and see if people like it at all before continuing with it. In a live performance, people aren't going to pick up on a throwaway line, they're just going to follow the rhythm and general spirit of the song. What he would do is call me out on those parts."
---
The article continues after this ad
---
---
Foran's debut record, Foran Policy, came out in 2013 and he's written a lot of songs since. His goal was to release several new singles this year. He still hopes to do that, but now must rely on what Figarola taught him rather than ongoing instruction.
"Rob gave me reasons to focus on things like what should and should not be used," continued Foran. "He didn't have me change anything; he just had me tweak things here and there. He understood what I was doing. To him, he would hear a value in the song and we would go from there. I endeavor to write three minute songs and am now doing it regularly. I think it's made me more economical in my writing and I think it helps render more power in my songs."
Foran studied jazz and contemporary music theory at Berklee College of Music in Boston. He continued his studies at Trenton State College and studied classical guitar and voice. After one year at Trenton State College (now TCNJ), Pat pursued jazz guitar studies with guitar legend Joe Federico of Philadelphia, developing his guitar technique with jazz studies and classical pick-style of the Federico protégé Dennis Sandole.
He always knew he wanted to play the guitar, but his parents were told by a local music teacher that Pat should start out learning the piano first. His family didn't have a piano, but they got him an accordion to use instead. He reluctantly played it for a year. Even at 8 years old, he tried doing things his own way. He would veer off the written music and begin improvising by adding his own notes.
"I was improvising and investing and creating my version of how I thought the piece of music should go," he recalled. "It could have been Chopin and I'd be like I don't agree with it this way. My sisters would be two rooms away while I was playing and would know how the song was supposed to sound. They'd tell me I wasn't playing it right and I'd say, 'I like my version better!'"
His jazz background and improvisational skills help his songs sound different from most pop artists. Fans say his music sounds "familiar, but different", which is like a badge of honor for him.
Foran performs throughout New Jersey with upcoming shows in Ocean Grove, Hamilton, Somerville and Milford. But you can find him every Wednesday hosting an evening of original music at Havana in New Hope, PA - just a town away from where he grew up. He's had Wednesday nights for years and has turned it into something of a destination night for original music fans. He chooses the performers with one caveat - they have to play originals.
His goal is to have his songs placed in television shows and films. Losing his mentor was a blow, but he recently learned he will be working with an A&R rep affiliate with BMG music. So the dream lives on.
---
Upcoming Shows
September 9 The Dragonfly Music and Coffee Cafe, Somerville NJ
September 16 Music in Milford, Milford, NJ
and every Wednesday at Havana in New Hope, PA
---
Gary Wien has been covering the arts since 2001 and has had work published with Jersey Arts, Elmore Magazine, Princeton Magazine, Backstreets and other publications. He is a three-time winner of the Asbury Music Award for Top Music Journalist and the author of Beyond the Palace (the first book on the history of rock and roll in Asbury Park) and Are You Listening? The Top 100 Albums of 2001-2010 by New Jersey Artists. In addition, he runs New Jersey Stage and the online radio station The Penguin Rocks. He can be contacted at gary@newjerseystage.com.
---