By Gary Wien
originally published: 07/24/2018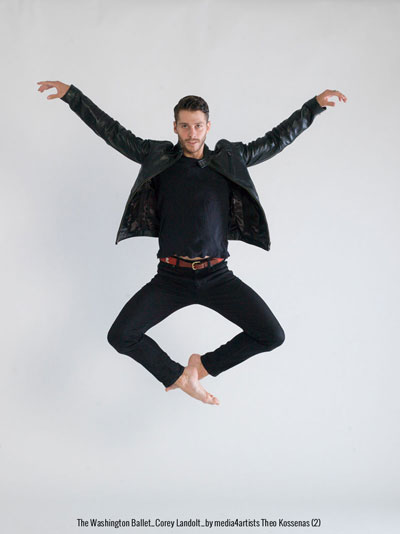 Corey Landolt is in his ninth season with The Washington Ballet.  The New Jersey native grew up on the border of Voorhees and West Berlin, and first studied at the Academy of Ballet in Berlin, New Jersey under David Gallagher.  His interest in ballet began when he was about five years old and saw his sister performing in The Nutcracker.
"Like most of the dancers that initially got into ballet from The Nutcracker, it inspired me," explained Landolt.  "I saw the soldiers on stage during the battle scene and said, 'I want to do that' to my mom.  She took that as, 'Let's get you into ballet lessons.'"
Landolt says he was about 14 when he realized that a career as a professional ballet dancer was an actual possibility.  He knew that his work effort was strong enough, so when he was told at summer intensives that he had the potential, he focused on making it happen.
His advice for those growing up who are interested in pursuing ballet is to find a performing arts school, which offers better training and surrounds a young artist with others with a similar focus and drive.
"If you have the passion and discipline, find a performing arts high school," said Landolt.  "I attended the University of North Carolina School of the Arts when I was 16 for my junior year of high school.  Then I left one year later to start with the American Ballet Theatre Studio Company Associate Program. It afforded me the opportunity to have my academic education and my arts education consolidated into one, and it gave me exposure to amazing teachers and a network of other students of the arts."
---
The article continues after this ad
---
---
Taking the leap from high school in New Jersey to a performing arts school hundreds of miles away may seem scary for many teenagers, but for ballet dancers like Landolt it provides an important step in a dancer's training.  It's advice he offers others with the same dream.
"The first step is after your regional school to go to a performing arts school," said Landolt.  "From there find the best teachers in your area and commit to it."
Commitment is one of the most important and most difficult aspects of being a professional dancer.  Landolt says his job requires him to be with the ballet company throughout the season, which means he cannot travel unless it is with the company.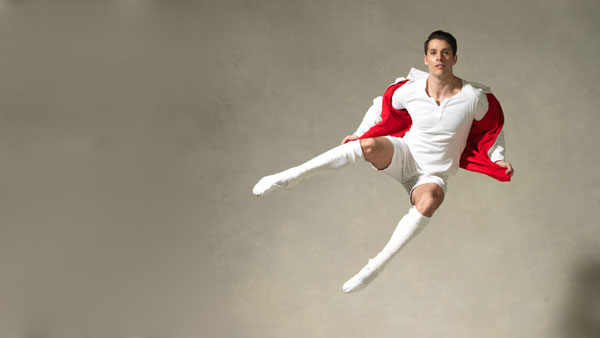 The Washington Ballet Company largely performs within Washington, DC, but ballet has taken Landolt to places like Turkey, the Dominican Republic, and multiple trips to Hawaii. Even staying in DC is fine for Landolt who loves the city.
"DC is amazing!" said Landolt.  "Honestly, just getting to do what I love to do is the best thing.  It affords me the luxury to pursue my passion rather than sit behind a desk.  Staying in shape for a living isn't bad either."
Landolt says he works out in the gym three or four times a week - mostly for cross-training and weights to ensure his muscles develop the proper way.  But the regular Monday through Friday schedule with the company is strenuous enough.  It runs from 9:30am to 6:15pm and Landolt says that in itself will keep a dancer in shape.
While training with the Academy of Ballet, he performed with Ballet New Jersey in Swan Lake, The Sleeping Beauty, The Nutcracker and La Bayadère.  Notable roles with The Washington Ballet include Sanguinic in Balanchine's The Four Temperaments; lead in Balanchine's Theme and Variations; Birbanto in Le Corsaire; Benvolio in Romeo + Juliet and several premieres by Septime Webre, Edwaard Liang, and Annabelle Lopez Ochoa.
Another challenge professional ballet dancers face is one actors face as well - keeping roles fresh during weeks of rehearsals or numerous performances.
"When you're rehearsing something to death for six weeks and you're just getting into a monotonous place, it takes an exception level of focus and motivation to keep things fresh," explained Landolt.  "Especially when you're dancing a ballet that you've already danced several times in your career. You can find different aspects of a character or role; find different motivations; and change up your internal monologue - who or what the character is, if there is a character.  If it's something more abstract, I'll try to find different ways to spread the movement while still maintaining the integrity of the movement."
The career of a professional ballet dancer often has to come to a close while one is still relatively young.  Many dancers go into teaching, but Landolt has another path already carved out.  He plans on retiring in about three or four years and is already working towards his next goal.
"I'm starting on that right now, actually," said Landolt.  "I'm starting to pursue a career in nursing with the eventual goal of becoming a nurse practitioner.  I'm starting my prerequisites for my Associates in Nursing and once I retire I'll do a full-time nursing program to get my BSN (Bachelor of Science in Nursing).  And as I'm practicing as a registered nurse, I'll start going to school for my nurse practitioner degree."
Upcoming performances by The Washington Ballet in Washington, Dc., include "TWB Welcomes" at John F. Kennedy Center for the Performing Arts from Sept. 26-30; "Contemporary Masters" at The Harman Center from Oct. 31 - Nov. 4; and the piece that first inspired Landolt to pursue dance - The Nutcracker at Thearc Theater from Nov. 24-25 and Warner Theatre from Nov. 29 - Dec. 28.
---
Gary Wien has been covering the arts since 2001 and has had work published with Jersey Arts, Elmore Magazine, Princeton Magazine, Backstreets and other publications. He is a three-time winner of the Asbury Music Award for Top Music Journalist and the author of Beyond the Palace (the first book on the history of rock and roll in Asbury Park) and Are You Listening? The Top 100 Albums of 2001-2010 by New Jersey Artists. In addition, he runs New Jersey Stage and the online radio station The Penguin Rocks. He can be contacted at gary@newjerseystage.com.
---