By Gary Wien
originally published: 05/19/2016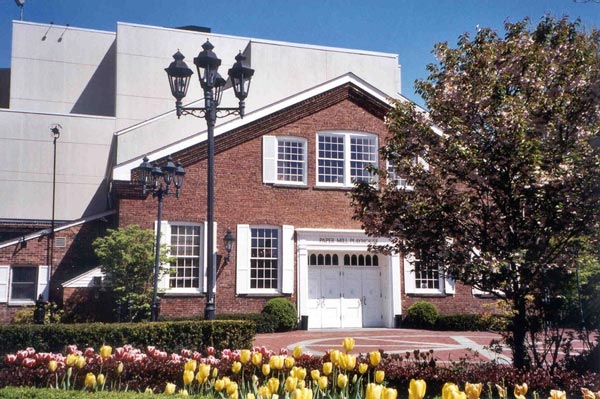 Paper Mill Playhouse in Millburn has been on a rather magical run in recent years with productions like Honeymoon in Vegas, Les Misérables, Disney's Newsies, and The Bandstand launching national tours and going on to Broadway.  Their work has been recognized by many in the industry and on June 12 the theatre will become the third in New Jersey history to win a Regional Theatre Tony Award, which is presented by The Broadway League and the American Theatre Wing.
"Receiving the Regional Theatre Tony Award is the greatest honor any regional theatre could imagine," said Paper Mill Playhouse Producing Artistic Director, Mark S. Hoebee. "The most incredible part of this is that the award is bestowed upon you for the work you are doing. You don't compete for it, you can't petition for it, it is borne out of a conversation among our colleagues in New York, colleagues whom we admire and emulate. To be recognized by those you hold in such high esteem is beyond words."
"We have dreamed that one day we might be honored in this way, but it is certainly not something we ever expected," continued Hoebee.  "We value this so much because this award validates not only the work we are doing on the mainstage and the shows that are finding a life after they premiere at Paper Mill, but also the incredible work that we are doing with arts education, access and outreach. Paper Mill was the first theatre in the country to have an autism-friendly performance and we are dedicated to access for patrons and students of all abilities.  We call this 'Theatre for Everyone' and it is key to our deep sense of inclusion in all parts of our organization. The staff and crew at Paper Mill work tirelessly and with passion for a theatre that they truly love but to have this work recognized by the American Theatre Wing and the Broadway League leaves us all speechless."
Theatres in 17 different states plus the District of Columbia have won the award, which began being presented on an annual basis in 1976. McCarter Theatre in Princeton became the first in New Jersey to receive the honor in 1994.  Five years later, Crossroads Theatre in New Brunswick joined them.
Under the leadership of Hoebee and Managing Director Todd Schmidt, Paper Mill Playhouse is a place where American musical theatre is celebrated, cherished, and pushed in exciting new directions. The theatre is fortunate to be located close enough to New York City that it lures the area's best talent.  Not just actors, but talented designers, directors, and musicians — aspects that help every production have a level of quality few experience outside of the City.  But Paper Mill never forgets where the theatre is based and often includes New Jersey actors in important cast positions.
---
The article continues after this ad
---
---
Hoebee, who grew up in Freehold, is proud of the way the theatre incorporates local actors.  "My roots are here," said Hoebee.  "We love serving the community.  We love when there are local people in our productions.  Sometimes it's a director who is a Jersey person, sometimes it's an actor.  We also love when some of the kids who come through our program get to graduate on to the stage as well.  For us, as a community-based organization and as a not-for-profit, that connection is great.  Governor Kean gave us the moniker 'State Theatre of New Jersey' and we wear that very proudly.  We think it's very important."
With the recent successes and world premieres, like this year's A Bronx Tale, it's hard to picture a time when people weren't bringing new projects to Paper Mill, but Hoebee remembers.  When he first arrived at the theatre about 15 years ago, he says people thought the theatre was located too close to New York to debut shows.  At about 1,200 seats, Paper Mill Playhouse is the same size as some Broadway theatres, but the idea of the 'out of town try-out' stayed in people's minds for decades.  It took until the advent of the Internet for the concept to change.
"There is no escape anymore," explained Hoebee. "You can go to the west coast  or as far as you can and there's a preview and everybody knows what's happening.  That helped us.  Also, I think we've built a reputation over the past few years of providing a supportive and professional home in New York's backyard where work can be created and nurtured in the most positive way.  When you are trying out a show - especially if it's a big musical - you're going to see it in an environment just like New York, which is helpful. Your point of view on what things work, what things carry, and how things look are being seen in a like environment.  Not just from a physical standpoint, but from staging and intimate moments.  I think that's a great advantage for creators."
"There are plenty of other regional theatres all across the country who do what we do very well," continued Hoebee.  "Some of them are smaller, which means you're in a more intimate environment.  Then when you move to New York you have to make adjustments.  Some are bigger houses - maybe 2,300 seats - so when you get to New York you have to focus down.  Here it is a similar experience to a New York experience."
Todd Schmidt echoes those sentiments.  "Paper Mill has become recognized, I believe, as the kind of place that producers who may have an eye on the future economic viability of their project and writers want to come because they understand what we bring to the show," said Schmidt.  "We bring an expertise at producing musicals, which is unique in this country.  Very few theatres produce five musicals in their season.  And geographically, we have a proximity to New York for talent on every level. Broadway or New York is still the hub.  The goal is to get your show there."
Paper Mill Playhouse has been presenting plays since 1938.  The Tony Award honors the theatre's longevity and history as much its recent run of successful debuts.
"Throughout its rich history, Paper Mill Playhouse has established itself as a foundational pre-Broadway venue for new productions and a welcoming home for world-class theatrical revivals. We are ecstatic to recognize their dynamic role in the tri-state area theatre community and unwavering commitment to fostering future Broadway audiences," said Charlotte St. Martin, President of The Broadway League, and Heather Hitchens, President of the American Theatre Wing, in a statement.
When the Regional Tony Award news was first reported, theatres throughout New Jersey began congratulating Paper Mill and spreading the word. Despite dozens of professional theatres who produce high quality and world premiere works each year, there's always been something of an underdog role for the Garden State.  Living in the shadow of New York City, many theatres are still being discovered by fans of Broadway and Off-Broadway.  Thus, when one New Jersey theatre wins the coveted award, it helps shine a spotlight on them all.
"New Jersey Theatre Alliance  is delighted that Paper Mill Playhouse has been selected to receive the 2016 Regional Theatre Award.  This award recognizes the theatre's long history of producing high quality work, contributing to the American theatre repertoire, and enriching and engaging audiences through a wide range of outreach and education initiatives.  Paper Mill joins two other New Jersey theatres, McCarter Theatre Center and Crossroads Theatre Company, in receiving this prestigious honor. This award puts a spotlight not only on Paper Mill, but also on New Jersey, which is home to a diverse and exceptional community of 33 professional theatres," said John McEwen, Executive Director, New Jersey Theatre Alliance.
"This is an incredible honor that belongs to everyone at Paper Mill Playhouse who has worked so hard to redefine our beloved theater in these recent years," stated Hoebee along with Todd Schmidt.  "For 78 seasons, Paper Mill Playhouse has been producing world-class theater that has been recognized throughout the country. We are thrilled to be acknowledged in this way by the Tony Awards® Administration Committee and to bring this honor back to the people of New Jersey."
---
Gary Wien has been covering the arts since 2001 and has had work published with Jersey Arts, Elmore Magazine, Princeton Magazine, Backstreets and other publications. He is a three-time winner of the Asbury Music Award for Top Music Journalist and the author of Beyond the Palace (the first book on the history of rock and roll in Asbury Park) and Are You Listening? The Top 100 Albums of 2001-2010 by New Jersey Artists. In addition, he runs New Jersey Stage and the online radio station The Penguin Rocks. He can be contacted at gary@newjerseystage.com.
---