By Gary Wien
originally published: 10/05/2016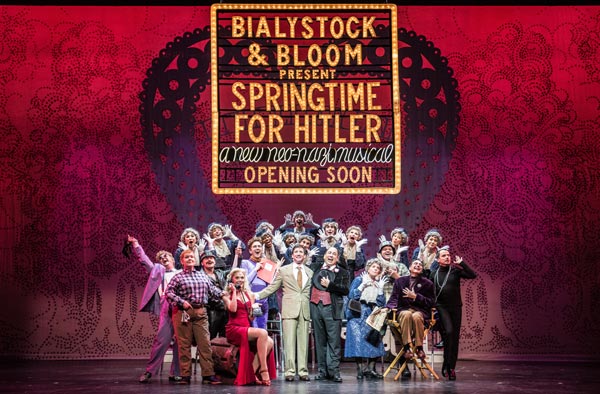 The first show of a season is generally important, but the first show after winning a Regional Tony Award is really important.  It means everybody is paying closer attention to you now.  Paper Mill Playhouse (winner of the 2016 Regional Tony Award) pulls out all the stops and delivers with The Producers, proving that they're ready for the extra attention.
The Producers features beautiful show girls, tons of dancing, slapstick comedy, double entendres, inside jokes, and plenty of laughs from the dialogue and the songs itself.  With a wonderful and creative design that offers at least a half dozen sets, Paper Mill's production moves quickly from place to place -- sometimes looking surreal, sometimes reminscient of a live action cartoon -- but always intriguing and eye catching.
For the past few years, every production of The Producers outside of New York City likely had audience members thinking about Matthew Broderick and Nathan Lane in the show that dominated Broadway.  With the recent passing of Gene Wilder, it's likely audience members had him and the original Mel Brooks film on their mind during the show.  I know I did.  And I'm sure he would have enjoyed Paper Mill's production.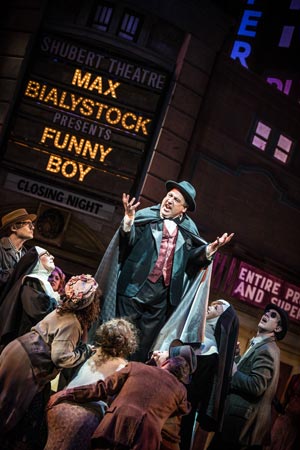 The story begins after another failure by Max Bialystock (played by Michael Kostroff), a Broadway producer that is on a serious losing streak.  He doesn't understand why the hits no longer come for him.  After all, he is a theatrical genius.  Among his many creations was "theatre in the square — nobody had a good seat!"
We move into his office where Leo Bloom (David Josefsberg), the accountant, appears.  He's a nervous guy - rather paranoid actually - who tugs at a tiny blue blanket when he's scared.  As he looks over Max's books, he casually throws out the line that it looks like someone could actually make more money from a show that fails big time.  Max wants to hear more.
---
The article continues after this ad
---
---
"Let's assume you are a dishonest man," said Bloom.
"Assume away!" replies Bialystock with words that sounds like they're coming straight from Mel Brooks himself.
Leo explains how with a little creative accounting, a producer would make more from a show that loses money than a successful one. Upon hearing that Max gets an idea.  He wants to work with Leo on creating a show destined to fail. Despite admitting that he always wanted to be a Broadway producer, Leo declines the offer.  He's afraid of getting caught.  But after returning to his office and seeing his mundane life once again, he decides to give it a shot.
"Bloom, where are you going? You've already had your toilet break," says his boss.
"I'm not going to the toilet, I'm going into show business!" Bloom exclaims.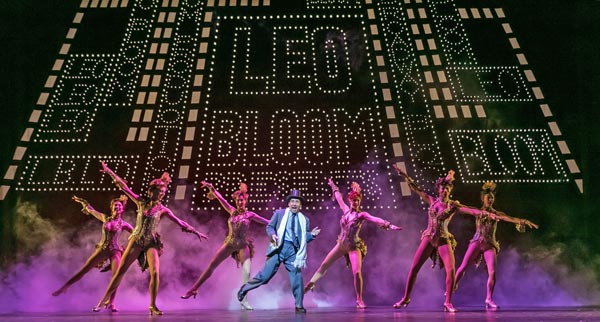 The two pour through script after script in search of a bonafide disaster.  Just when things appear hopeless, Max stumbles upon Springtime for Hitler.  They immediately seek out the playwright, Franz Liebkind (John Treacy Egan) to secure the rights.  He is found on top of a building with his birds.  A dedicated follower of Adolf Hitler, Franz demands they pledge allegiance to the Führer before he gives them the rights to his play, which is basically a love letter to Hitler.  Keep your eye on the birds, they're hilarious as they prance along to the songs.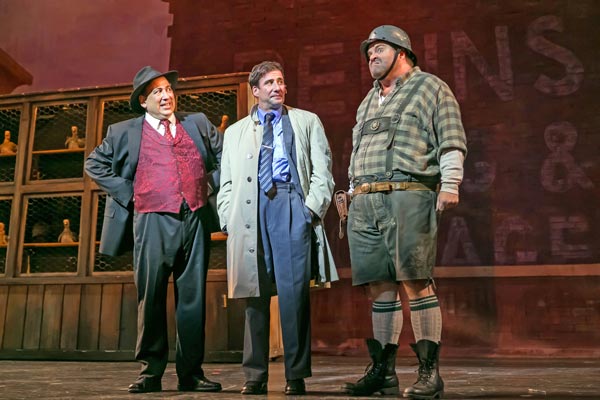 Once they get the rights from Franz, their mission moves on to getting Roger De Bris (Kevin Pariseau) on board as director.  Known as the worst director on Broadway, Roger lives with his entire production crew — a truly interesting cast of characters that look like they came straight from a Village People music video shoot.  Leo is scared out of his mind in this world and thinks they are in too deep.  "I'll tell you when we're getting in too deep," says Max. 
Roger thinks the play is too dark for him, but is ultimately convinced to sign on to the project when Max throws out the idea of winning a Tony.  The rooms explodes into a celebration with the song "Keep It Gay" -- exactly how Roger imagines the play... He also thinks it needs a happy ending.  Maybe Germany winning the war or something like that.  The crazier he talks, the more Max believes they'll have a production that will close before its final act.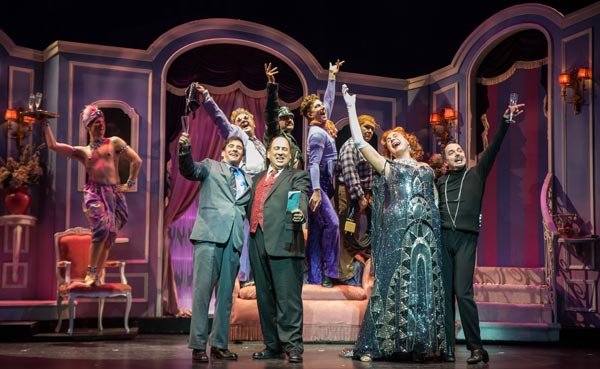 Feeling on top of the world, the two return to their office where a beautiful woman named Ulla soon appears.  She wants to audition for a role even though they haven't posted auditions yet. Looking at her, they decide they'll gladly make an exception.  She not only gets a role but gets hired as their secretary.
"We may be sitting down, but I assure you we're both giving you a standing ovation," Max says after Ulla's sexy performance leaves them rather breathless.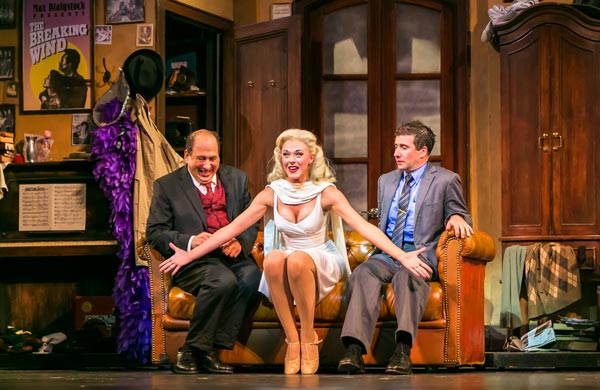 With rights to the script and a bad director on board, Max begins the process of raising the money.  Leo asks how much of their own money will they have to put into the show.
"There are two rules for being a Broadway producer," explained Max.  "Rule number 1 - never put your own money in a show.  Rule number 2 - never put your own money into a show."
Instead, Max raises money the old fashioned way - literally - by playing gigolo to wealthy old ladies. Lots of them in fact; all remembered by names like "Hold-Me-Touch-Me" and "Lick-me Bite Me."  He isn't proud of the system he has in place but it works, and he soon has a safe full of cash.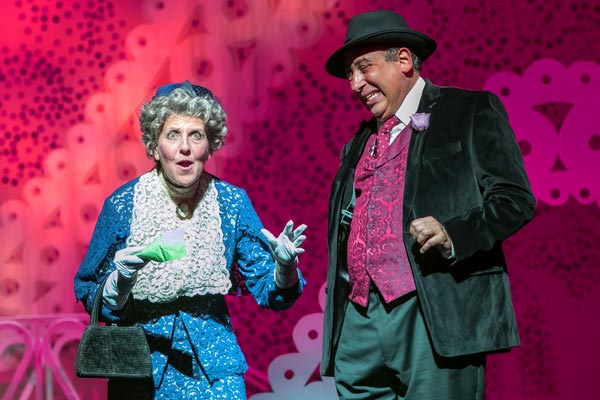 Highlights of the first act include "I Wanna Be A Producer" which takes place within an extremely trippy scene involving Leo Bloom and a group of showgirls; Franz, Max, and Leo on top of the building singing German tunes; "When You Got It, Flaunt It" — Ulla's audition song; and the outrageously funny scene inside the home of Roger De Bris in which Carmen Ghia - Roger's assistant (played by Mark Price) become's the production's leading scene stealer. The entire scene from trying to convince Roger to the celebration afterwards is the play at its best.
As funny as the first act is things get even funnier when you see the actual production of Springtime for Hitler.   The show's title song is one of the show's best standout moments.  Will Leo and Max succeed in creating another bomb? Or will their disaster be so bad people love it?
Paper Mill's production has an outstanding cast, highlighted by Michael Kostroff who is terrific as Max Bialystock; Mark Price is hilarious as Carmen Ghia; Ashley Spencer brings tremendous sex appeal to Ulla; John Treacy Egan is fantastic as Franz Liebkind; and the showgirls are simply stunning.
Paper Mill not only lives up to its Tony, the company actually pokes fun of it! The Producers runs now through October 23 at Paper Mill Playhouse (22 Brookside Drive) in Millburn.  Don't miss it!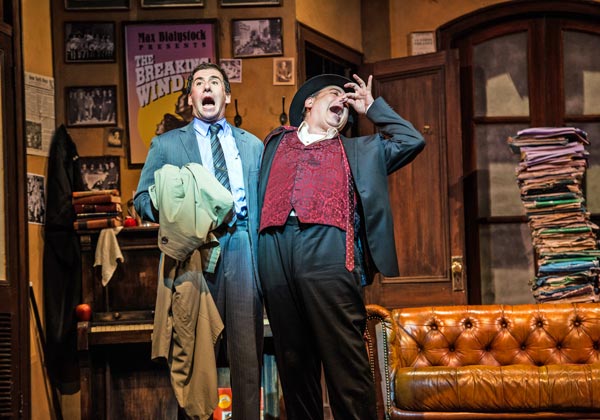 PHOTOS 1,2,5,8 - By Billy Bustamante.  PHOTOS 3,4,6,7 by Jerry Dalia
---
Gary Wien has been covering the arts since 2001 and has had work published with Jersey Arts, Elmore Magazine, Princeton Magazine, Backstreets and other publications. He is a three-time winner of the Asbury Music Award for Top Music Journalist and the author of Beyond the Palace (the first book on the history of rock and roll in Asbury Park) and Are You Listening? The Top 100 Albums of 2001-2010 by New Jersey Artists. In addition, he runs New Jersey Stage and the online radio station The Penguin Rocks. He can be contacted at gary@newjerseystage.com.
---