By Gary Wien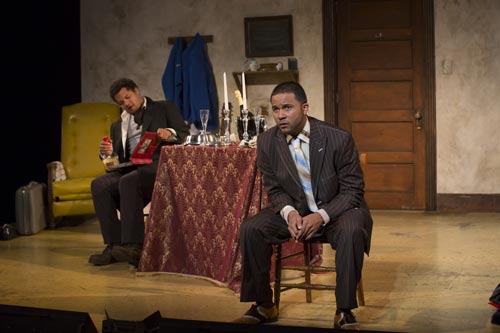 (RED BANK, NJ) -- Two River Theater Company kicked off its 2012-2013 season on Friday, September 14 with a wonderful production of Topdog/Underdog by Suzan-Lori Parks, who also serves as director. This powerful drama was nominated for a Tony Award for Best Play during the 2002 season and earned a Pulitzer Prize Award for Parks. The play, which tells the story of two brothers (Lincoln and Booth) and the world of three-card monte, stars the real-life brothers Brandon J. Dirden and Jason Dirden.

The two brothers had to practically raise themselves alone as their parents both abandoned them (at separate times) leaving each $500 as an inheritance. Lincoln's inheritance was spent quickly, but Booth keeps the $500 his mother gave him in a rolled up stocking by his bed.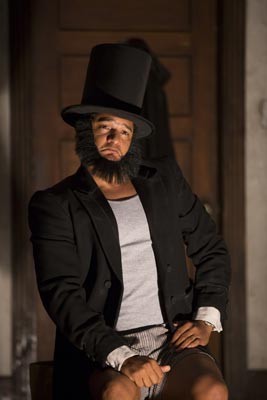 The play opens with Booth practicing three-card monte. His brother was an excellent con in his day, but he gave up that life when his partner Lonny was shot. Lincoln now works at an arcade where his job is to portray Abraham Lincoln and offer tourists the opportunity to take their own shots at assassinating the President. When Lincoln enters his brother's apartment, he is still dressed as Abraham Lincoln, top hat, beard, and suit.
When Booth tells his brother that he doesn't want him to show up in his apartment as Lincoln, his brother tells him he was forced to leave fully dressed in order to make the bus. On the ride back, Lincoln says he was approached by a kid who wanted his autograph. Lincoln pretended at first not to hear him, but the kid persisted. He waited until he knew the kid absolutely needed to have the autograph and then told him he could have it for ten bucks.
"Originally I was going to ask for five because of the Lincoln connection you know, but something made me ask for ten," said Lincoln.
"Let me guess, he didn't have ten dollars," replied Booth. "All he had was a penny..."
"Nope, he only had a twenty, so I took the twenty and told him to meet me on the bus tomorrow and Honest Abe would bring him his change!" said Lincoln.
While Lincoln was lucky that afternoon, his luck is fading fast as his job is threatening to replace him with a wax dummy. Meanwhile, his brother keeps pestering him to be his partner for three-card monte cons. Lincoln is torn between living straight and earning an honest living and returning to what he knows he's best at. As things get worse on the job front, Lincoln gets his brother to help him jazz up his death scenes in an effort to prove to his boss that he's better than the wax dummy route would be. The scene doesn't go so well though. In fact, if you've ever imagined what it was like when Lincoln got shot, chances are it wasn't anything like the scene imagined on stage! Watching Lincoln hamming up his death was one of the funniest moments in the play.
Booth tells him, "You could scream" in order to make things seem more real, but Lincoln replies, "A wax dummy can scream if they put a voice box in it."
"Yeah, but you can curse!" said Booth.
"I don't want to make it too real," said Lincoln. "That'll scare people and I'll be out of a job for sure... This is a sit down job with benefits. I don't want to get fired. If I get fired, they won't give me a good reference."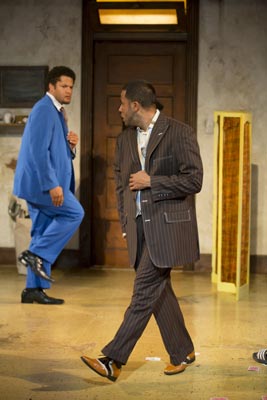 Lincoln's struggles with the straight and narrow life are amplified when his brother steals a pair of suits -- one for each of them. As Lincoln gets a taste of the life he once led -- fine clothes, money -- the cards become more and more of an option for him. Instead of joining his brother, he offers to teach him a few tricks but Booth just doesn't seem to have what it takes.
"The first thing you learn is what is, the next thing you learn is what isn't. You don't know what is and what isn't, you don't know shit," explained Lincoln.
Touching the cards for Lincoln is like having sense memory overload. After his brother goes to sleep, Lincoln stays up pondering the possibilities of going back to work on the street. Parks' direction is outstanding towards the end of the first act as Lincoln literally slithers around the cards as if we're seeing the battle between good and evil portrayed. When he finally succumbs, he tosses the cards around as if he was a conductor leading an orchestra. He turns the act of three-card monte into a blend of theatrics with his voice enticing onlookers to part with their money as the cards dance from his hands. It's clear he has found himself again.
If Brandon J. Dirden steals the first act with a tremendous performance then Jason Dirden owns the second. Twists and turns take place throughout the second and final act as the play raises its level and becomes utterly powerful. Jason's character (Booth) is brilliantly portrayed as somebody losing control of reality. As his world is slipping away from him, the tension between Booth and his brother reach a crescendo. The second act is truly masterful writing in my opinion.
The tension in the play is aided by the theater being extremely quiet, more so than any theater I can recall. You literally can hear a pin drop during most of the play. While that might seem good for a drama, it has its down sides as well. Stomachs could be heard rumbling throughout the audience. Please remember to have a pre-show meal before seeing this production! Nevertheless, the quiet seems to bring us closer into the world of these two brothers -- a world in which they were totally on their own, so it makes sense the outside world is never seen nor heard.
More than just a drama, Topdog/Underdog has many hilarious moments throughout. As with all great dramatists, Parks' knows that a good drama benefits from comedic parts to break things up. Before the play, Two River's Artistic Director John Dias recalled that Parks' described the play as ultimately being about family and about love. I'd add that it was also about hopes and dreams, and the dangers of no longer having them. Be sure to catch this tremendous production before it closes.
---

The Two River Theater is located at 21 Bridge Street in Red Bank, NJ. For more information visit http://www.trtc.org


---
Gary Wien has been covering the arts since 2001 and has had work published with Jersey Arts, Elmore Magazine, Princeton Magazine, Backstreets and other publications. He is a three-time winner of the Asbury Music Award for Top Music Journalist and the author of Beyond the Palace (the first book on the history of rock and roll in Asbury Park) and Are You Listening? The Top 100 Albums of 2001-2010 by New Jersey Artists. In addition, he runs New Jersey Stage and the online radio station The Penguin Rocks. He can be contacted at gary@newjerseystage.com.
---