By Gary Wien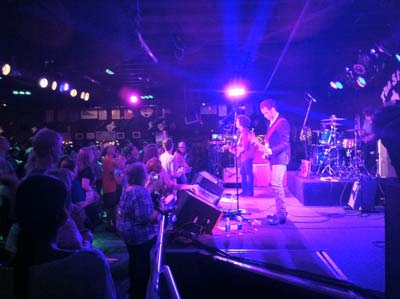 (ASBURY PARK, NJ) -- House bands at The Stone Pony are part of a pretty interesting history. Some have gone on to get major label record deals or regularly jammed with the Jersey Shore's top musicians or even wound up performing stadium shows themselves, but whoever holds the title knows they are part of something special. Outside The Box, the current placeholder, is not only building upon the club's history, but finding new ways to continue the story. And on Wednesday, August 17, another chapter was born...

I arrived at the Pony just as the band was playing their first song. Everywhere I looked I saw people, but largely unfamiliar faces. This was not the typical Wednesday night crowd comprised of Asbury Park regulars. These were people hoping to see a little of that Stone Pony magic. Outside The Box was continuing their trend of playing a complete album side from one of the albums that first inspired them as musicians and tonight's choice was a good one: "The Wild, The Innocent & the E Street Shuffle" by Bruce Springsteen.

Now, it's easy to say people came hoping to catch a glimpse of Mr. Springsteen, but this was the first show in Asbury Park where I can honestly say I don't think that was the case. These people came to HEAR Bruce's music. They didn't scream "Bruuuuucccceee!" throughout the night and I'd bet few people, if any, expected Springsteen to show. These were his fans, but it was the idea of hearing this wonderful album performed from start to end that brought them out to the club.

Sometimes I forget just how amazing this album is when performed live. This might have been Bruce's zenith when it comes to musical creativity. The songs combine the power of rock and roll with the smooth stylings of jazz. Performed live, the songs practically beg for improvisation. Thankfully, OTB embraced the songs and chose to infuse their own stamp on the tunes rather than attempt to play them note for note.

As a fan of the E Street Band, the show also provided a glimpse of what the music might sound like in the post Clarence Clemons era. It was hard not to think of the Big Man when it was time for the sax to take over. Nevertheless, the band did a stellar job with such classic numbers as "Incident on 57th Street", "Rosalita", and "Kitty's Back". As a bonus, the band not only played the complete album, but performed "Thundercrack" with Vini "Mad Dog" Lopez (the original E Street drummer) helping out on vocals.

OTB has definitely found an interesting angle for themselves with the perfect album side series. While many bands trying something like this would be walking a fine line of being known solely as a cover band, I think it works for Outside The Box. The band's original tunes stem from an unabashed love of 70s rock and roll. In fact, there's almost a sense that OTB songs are what Graham Parker would have written had he lived along the Shore. When the originals are played before and after these classic albums, they fit in perfectly. Instead of being a cover band inserting their own songs, the show actually makes their originals stand out.

OTB deserves full credit for making this night work. They not only work with a good publicist who made sure the press was aware of the show, but did some national promotion on E Street Radio (Sirius). When hundreds of people turn out on a Wednesday night, it dispels the idea that nobody will go to shows anymore. Their success proves that bands may have to work a bit harder at promoting shows these days, but people will come out... even on a Wednesday.

---
Gary Wien has been covering the arts since 2001 and has had work published with Jersey Arts, Elmore Magazine, Princeton Magazine, Backstreets and other publications. He is a three-time winner of the Asbury Music Award for Top Music Journalist and the author of Beyond the Palace (the first book on the history of rock and roll in Asbury Park) and Are You Listening? The Top 100 Albums of 2001-2010 by New Jersey Artists. In addition, he runs New Jersey Stage and the online radio station The Penguin Rocks. He can be contacted at gary@newjerseystage.com.
---