By Gary Wien
originally published: 02/23/2019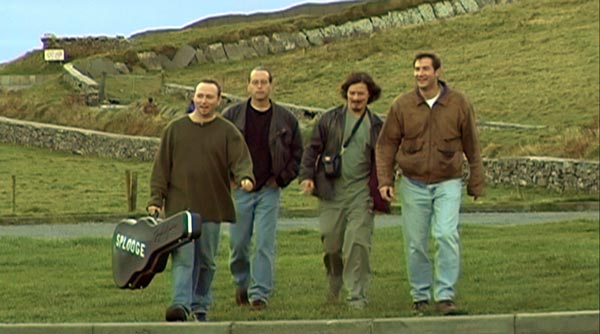 For every rock and roll band from New Jersey that becomes a household name, there's a band full of people working day jobs and holding onto the dream of success. One such band is Splooge out of Union County. Their story is told in the documentary One Step Back: The Rock & Roll Odyssey of Splooge by Peter Ventrella. The film was released in January as a video-on-demand rental through iTunes, Amazon Instant Video and Google Play as well as on DVD through the film's website.
The idea for the film came in 2003 when Ventrella, a Los Angeles based filmmaker, was visiting his folks in Westfield and ran into Drew Koski - a guy he had not seen for almost 30 years. Drew told him he was playing drums in a band called Splooge and said he should check out their concert that weekend. When Ventrella saw the band and recognized how strong their dream to be rock and roll stars was despite the odds and their age, he thought he had the premise for a good documentary. He wasn't sure if it would be a drama or comedy, but thought he had a good story.
The documentary follows the band through local bar gigs and block parties, the jobs they did to pay the bills, and on to a tour of Ireland which the band hopes will be their big break. It's a film about never giving up on your dreams, friendship, and finding out what the true meaning of success is for each of us.
The film was wrapped up in 2004, but Ventrella's career took him away from it. He finally got a chance to look through the footage (over 150 hours) in 2013 and began work on putting a final version together. As luck would have it, people who saw the initial cut wondered what happened to the band, so he wound up spending a week in 2017 catching up with the band members.
New Jersey Stage loved the story of the film, watched the film, and wanted to learn more. So we reached out to Ventrella…
---
The article continues after this ad
---
---
What was it about Splooge that inspired you to start shooting the documentary?
I love everything about music. My mother was a music teacher when I was growing up. I learned to play piano and guitar at a young age. I sang in the church choir for a decade. All of these experiences engendered a fascination for what it takes to be a musician. The strange, mystical and undefinable place that original music and lyrics come from. The thousand intangibles you have to harness to put on an impactful live performance. So, in retrospect it seems natural that I would choose to make a movie about musicians as my first feature.
But there was also a core theme in this story which I felt I could bring to life. Specifically, the way in which our dreams and ambitions can drive us forward or hold us back. When I met the members of Splooge, I had just sold a TV show I co-created/wrote that had a four year run in syndication but ultimately didn't lead anywhere career-wise. I was in my late 30's and at a crossroads. The members of Splooge were roughly my same age, and were also facing a life altering decision – whether to continue pursuing their dreams or put that behind them and move on with their lives. Ultimately, it didn't matter to me whether Splooge ever hit it big while I was filming them. I was more interested in how the band members were each going to deal with this impending decision.
What was also unique was the combination of Spinal Tap-like humor in the story but also the humanity of the darker things each band member was dealing with in their lives. It was a comedy laced with tragedy and heartbreak. That felt to me like a singular representation of real life.
What brought you back to Westfield when you ran into Drew?
Though I've lived in Los Angeles for 30 years, Westfield will always be my home as I spent all of my formative years there. Also, my parents still live there in the same house in which I grew up. I visit frequently and during one of those visits ran into Drew at the local bakery. I hadn't seen him in about 20 years but we had been in the St. Paul's church choir together which was a bonding experience for us. When I heard he was still involved in music, playing in an all original music band, I was intrigued. That started the ball rolling to where we are today sixteen years after I started filming the documentary.
Had the town changed much since you moved away?
Westfield is one of those unique towns that is largely frozen in time. Because of that fact, whenever I go back there, I can imagine what it might've been like if I had never left town to pursue my dreams. Shooting the film in New Jersey was a way for me to step into the shoes of four guys who stayed in their small town and see what that might've been like.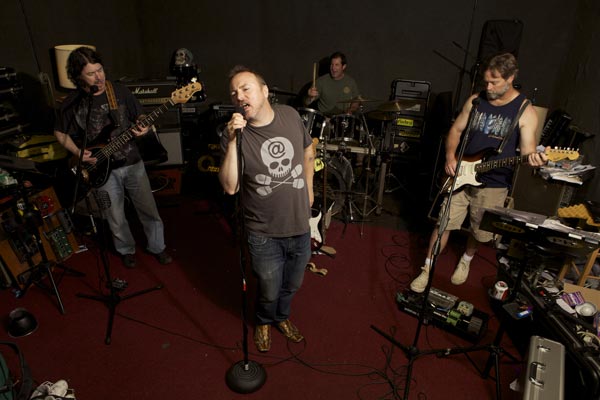 I like the premise of "what keeps guys turning 40 chasing their rock and roll dreams" — when you first started meeting the band and seeing them play, did you admire their desire to follow their dreams or feel a bit sad for them?
I think passion is one of the most important things you can have in life at any age. For the four band members, music is the defining passion of their lives. It's what keeps them going. It's a bond that brings them together, it's a way through which they can process and make sense of their lives, and during their performances, it provides the high of emotional communion with other people. This is what pushed them through and that's why I think music is one of the highest callings in life.
Why did it take so long for the film to be completed? Did your career put it to the side?
We finished filming the main part of the documentary in 2004 at which point I had an opportunity to pursue a different direction in my career – directing behind the scenes documentaries for studio movies and TV shows. This required 60-80 hour work weeks and left no time to focus on this film. It was only after I was able to start my own production company that I resolved to dig in and get the film edited.
It took over three years for my editors and I to sort through the 150 plus hours of footage and craft the final film. There were dozens of storylines and we had to winnow them down to the few that made the final film. This is typical of most verité documentaries. They are labors of love. In this case, I also made a commitment to the band that I would finish the documentary no matter how long it took. Honoring that was very important to me.
A side note: the original offices for my production company were in the basement of the Tremolo productions building owned by documentary filmmaker Morgan Neville. While we were there, he was in the midst of filming and editing his music documentary, Twenty Feet From Stardom which ultimately won the Oscar for Best Documentary in 2013. Seeing cuts of his film as he was making it, provided additional inspiration to fulfill my ambition of bringing this take on the power of music to fruition.
Did you keep in touch with the band during those years? If so, did they ever ask about the film?
When you film a documentary, especially if you commit to it in the way I did this one, it impacts your life forever. I was in touch with the band throughout the years between production and the final film. I will be in touch with them for as many years as we all have left on this earth. During the intervening years, whenever I returned to Westfield, the guys would never ask about the progress of the film. Rather it was their families and friends who would understandably give me the "evil eye" and ask when it was going to be finished. I truly think the band members never thought this footage would see the light of day. Because of this, they opened up about a lot of personal stuff in front of the cameras which ultimately benefitted the film.
I found it interesting that people wanted to know what happened to the guys when you screened the rough cut. Did that hint you had a decent documentary on your hands?
We had the entire film assembled except for the present day opening and closing sequences. I invited some experienced documentary colleagues to view the film and give me notes. They all wanted to know what happened to the band members. Was their dream still alive? It was something so obvious yet I had somehow overlooked it because my editors and I were too close to the film. But this note from the screening audience definitely told me we were on the right track if they cared enough about the band members to want to know where their dreams had taken them. And so we went back in 2017 and filmed the bookend sequences.
I'd imagine many in the audience will be curious to see if the band stuck with it over the years and if the drummer's hand healed.
There's a great Alfred Hitchock quote which says, "In feature films the director is God; in documentary films God is the director." Filming a documentary, especially a verité documentary like "One Step Back" that presents moments of real life to tell a story, is about observation, patience and hopefully discovery. We could never have predicted some of the twists and turns that happened during filming including the injury to Drew the drummer's hand. Yet, at the risk of sounding too callous, it fit in perfectly with the theme of the film and took it in an unexpected direction. He injured his hand in his day job and it was almost like this part of his life was trying to destroy the other part that was pursuing this dream. In the end, we see what choice he made as a result and I think that adds more dimension to his character and to the film.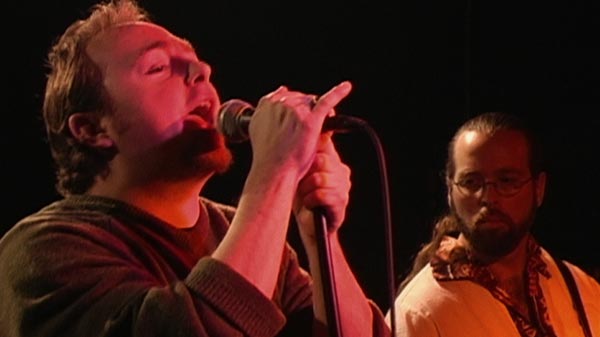 When the band got the shows in Ireland, was there ever a doubt you'd film them on the way? Was money a problem covering the trip?
Can you say, 'gut check'? The opportunity came up for the band to go on tour in Ireland and we had to make an immediate decision as to whether we were going to film this leg of the story. Even though it would just be a skeleton crew - a camera person and myself - the cost was significant. Of course we hadn't anticipated this expense in our budget but our commitment to this project was total. Once I realized that this trip would be a big turning point in our story - the band's need to get out of their comfortable home town environment to test whether they were worthy of their dreams – I knew we had to cover it.
What was your favorite memory of shooting the documentary?
Ironically, the defining moment didn't happen on the bigger stages they played in Ireland like Eamonn Doran's or The Voodoo Lounge but rather in a small pub in a country town called Lahinch. For a variety of reasons detailed in the film, the pub owner and crowd were ready to force the band off the stage when they began their set. It was a 'do or die' moment. But the band members dug deep and turned everyone in the pub around with their musical ability. To such a point where I'm sure the locals there are still talking about the band's performance that night. During the ten years between when we finished filming and when I began editorial, I would watch that performance over and over. It never failed to get me excited again about the project and I still get chills seeing this sequence in the final film.
I think there are many messages within this film. What is the message you'd like people to take from the film?
Each band member makes a different choice in the film vis a vis their pursuit of musical success vs the demands of everyday life. In that sense you get to see four pathways and four different messages, if you like. Is Jeff's decision to play music full time to the exclusion of everything else the right path? Or is it Tommy's decision to put music on the back burner and start a family? Or is it the decisions Drew and Mike make? I think each person who views the movie may have a different opinion and take away something unique from the experience of "One Step Back." That is my hope anyway.
How was the release party at Crossroads in Garwood?
The performance/movie release party at Crossroads in January was a celebration of the band and an introduction to the film for their longtime local fan base. Many of the folks who attended participated in the documentary and had been waiting 14 years to see the end result! The evening was a celebration in which the band played songs that were in the film plus tracks from their newest release and I showed clips from the film. We followed this by having a screening of the film at The Rialto theater in Westfield where everyone involved got to see the final product. It was a special weekend and a gratifying way to come full circle on this project.
Finally, do you think the band's name hurt them in the long run?
Thomas Paine, one of our founding fathers wrote, "The sublime and the ridiculous are often so nearly related…One step above the sublime makes the ridiculous, and one step above the ridiculous makes the sublime again…In fact the ridiculous very often is the sublime." Such is the case with Splooge.
Given the band's name and their casual and humorous presentation onstage, there's a ridiculousness which they embrace. But then, in many of their songs, there's a moving portrait of everyday lives that I personally find sublime. Very similar to the band 'Phish' in this way. There's a whimsical nature to their songs and performance but then the artistry of the lyrics and musicianship hit you in a big way once you deep dive into their music.
When 'Splooge' came up with the name for their band, the group was just out to have fun. They didn't take themselves too seriously. Once the seriousness of their musical purpose became evident, they chose to keep the name 'Splooge'. I think they now wear it as a badge of honor. As Tommy says in the film, "It's not the name that makes the band. It's the band that makes the name."
Did it inhibit them career-wise? I don't think so. It's a name you won't soon forget and think of other bands that made it with names like "Kajagoogoo" and "Chumbawamba" not to mention "Butthole Surfers", "Bananarama", "Toad the Wet Sprocket" and "Mott the Hoople"!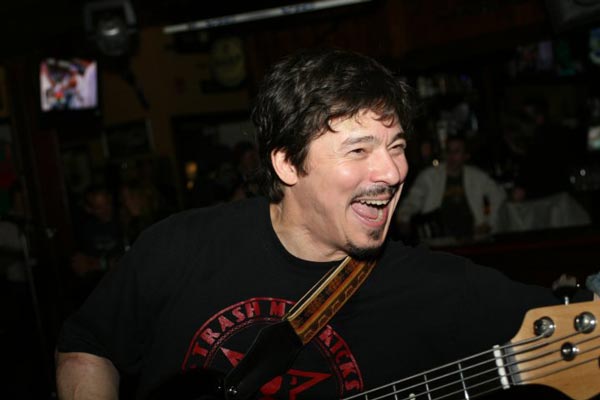 ---
Gary Wien has been covering the arts since 2001 and has had work published with Jersey Arts, Elmore Magazine, Princeton Magazine, Backstreets and other publications. He is a three-time winner of the Asbury Music Award for Top Music Journalist and the author of Beyond the Palace (the first book on the history of rock and roll in Asbury Park) and Are You Listening? The Top 100 Albums of 2001-2010 by New Jersey Artists. In addition, he runs New Jersey Stage and the online radio station The Penguin Rocks. He can be contacted at gary@newjerseystage.com.
---