By Gary Wien
originally published: 06/16/2015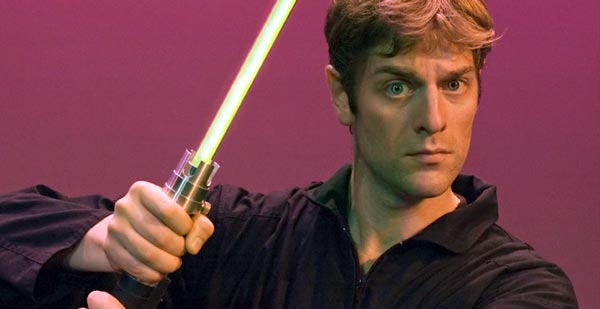 Millions of science fiction fans likely know every single line from the original Star Wars trilogies by heart, but how many would have the guts to perform an entire show alone on stage?  
That's the premise behind One Man Star Wars, a show written and starring Charles Ross, a Canadian actor from British Columbia, which has been touring the world for roughly 15 years now.   The show features a condensed version of the original trilogy that strips away the special effects the films are known for and brings the story back to the characters.  In doing so, you realize just how funny and silly some of the dialogue truly is.
"They were B-movies for sure, and I grew up watching them," explained Ross.  "But loving them almost in spite of the B-movie quality, perhaps even because of the B-movie quality.  It's just the whiny stuff that Luke Skywalker can't shed.  He is so perfectly himself and it's the swash-buckly story of Star Wars.  It was easy for a kid to love it unabashedly and I think I carried that into my childhood.  There was still that little child inside of me that remembered how much I loved the stories.
"I think the themes of the films endure and the characters are strong enough that they are the story," he continued.  "The story does drive the film. So, I focus on the story and obviously do the sound effects and the special effects in my own special way, just miming the crap out of them.  I'm not worried about costumes or props because anybody can pull a Carrot Top and do a half-assed Mickey Mouse version of it.  This is just focusing on the characterizations in the story."
Ross studied theatre, earning a Bachelors of Fine Arts, and began his career as an actor.  Unfortunately, success always seemed elusive.  He began branching out, performing some stand-up routines, and writing his own material.
---
The article continues after this ad
---
---
"Funny enough, none of the stuff I ever wrote came close to being as successful as One Man Star Wars has been," said Ross.  "That's a testament to Star Wars; the key is to find a way to avoid being annihilated by LucasFilm."
LucasFilm always loomed in the distance for Ross.  He knew eventually they would find out about his little play and he assumed that would simply be the end of the story, but when he finally was contacted, it wound up being the best thing to ever happen to him.
"I figured they would be like, 'Stop doing it' and I'd be like 'Ok,' but they weren't adversarial at all", he explained.  "They were just curious about the play and were rather welcoming.  So, it kind of went from a resignation feeling of 'well this is the end' to thinking maybe this is actually just the end of the beginning.  I don't have to be worried about this impending doom; they know about me and they're ok with it.  So, it was all very confusing and I think if I had gone the other way around and just asked for permission beforehand, they probably would have said no."
The end result was receiving a license from LucasFilm to not only continue performing the show, but which led to performances at official Star Wars conventions.  As Ross puts it, he's been able to "tour wherever Star Wars is popular, which is basically everywhere in the world."
And he loves it when true Star Wars geeks are in the audience. That's when the improvisation truly kicks in for him.  Every performance features improvisation to a degree, but he loves the opportunity to throw the die-hards for a loop.
"It is the lovely thing about live theatre," explained Ross.  "You can tailor it and this show allows itself to be tailored.  At the conventions, you've got the hard-core nerds that know more than I do along with the people that are just a regular audience.  There's always going to be some folks that truly know Star Wars in an audience on any night, and a swarth of people who sort of know it.  I'm there to pull out what they didn't remember that they know about Star Wars out of their brain."
His condensed version originally came from trying to imagine telling the story using only lines from the film and then imagining telling it to a group of people who had never seen the films.  He tried it a couple of times and then began performing it in front of an audience, still unsure whether or not the concept would work.   He began adding improvisations in parts and finding places for jokes.  When things hit, he would keep them as part of a script to reuse.  The response from the audiences wound up being much better than Ross ever expected and he realized he had something special going.
"It's a concept that doesn't sound like it would work on paper, but when you actually see it on stage it works very well," said Ross.  "I think people just love hearing the words come out on stage.  To be honest, I think it's about somebody having the audacity to try it and actually doing it and not worrying about getting every single voice perfect because that's not the point.  It's all about being that kid — that sort of unabashed child that will look at a fire engine going by and will suddenly replicate the fire engine and thinking I can do that sound.  Whether or not you can do it doesn't matter; it's something about the sound and the energy of what goes into it."
The last few Star Wars films failed to live up to the legacy of the first three — something that may have steered people towards Ross' show and the memories of the films they grew up with.  Ross admits characters like Jar Jar Binks were actually very helpful to him, but, as a Star Wars fan, he still hopes the upcoming The Force Awakens is a great film even if it might shine more of a light on the new movies.  He's already planning for a future that may or may not revolve around One Man Star Wars.  For several years, he has performed a one man version of the Lord of the Rings and is working on a new one man show — a One Man Black Night - a Batman Parody based on the Christopher Nolan films.
"The nice thing about doing a condensed version of it is people only have to remember a small amount," added Ross.  "We remember the parts we remember and we remember them better than we think we do.  It's up to me to sort of identify those moments.  Since this is a parody as well, there are a lot more jokes involved.  There are jokes about anything from Batman to people who were in Batman like Morgan Freeman.  He's got that wonderful voice and is known for so many other films and they all come to play in my show."
 

UPCOMING AREA SHOWS

JUNE 20 – NEWARK, NEW JERSEY, NEW JERSEY PERFORMING ARTS CENTER

JUNE 21 – NEW YORK CITY, NEW YORK, CITY WINERY

AUGUST 8 – EAST HAMPTON, NEW YORK, JOHN DREW THEATRE AT GUILD HALL
---
Gary Wien has been covering the arts since 2001 and has had work published with Jersey Arts, Elmore Magazine, Princeton Magazine, Backstreets and other publications. He is a three-time winner of the Asbury Music Award for Top Music Journalist and the author of Beyond the Palace (the first book on the history of rock and roll in Asbury Park) and Are You Listening? The Top 100 Albums of 2001-2010 by New Jersey Artists. In addition, he runs New Jersey Stage and the online radio station The Penguin Rocks. He can be contacted at gary@newjerseystage.com.
---