By Gary Wien
originally published: 08/22/2017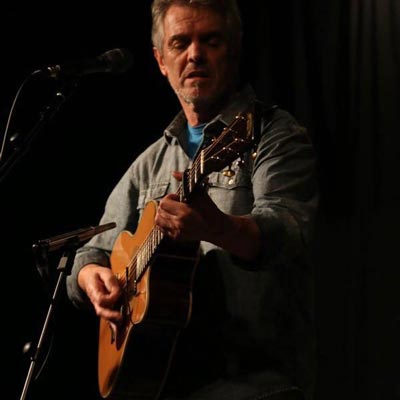 Iain Matthews first gained attention in the late 1960s as a founding member and vocalist for the influential British folk band Fairport Convention on their first three albums. He went on to create Matthews' Southern Comfort, whose cover of Joni Mitchell's "Woodstock" topped the charts in the UK in 1971. In addition to a lengthy solo career, he's also released several albums with Plainsong.  In a strange twist, he has brought back both Matthews' Southern Comfort and Plainsong at various times throughout the years.
On September 8, Matthews returns to The Strand Theater in Lakewood to perform with Jim Fogarty in a special "backstage pass" setup.  These shows place the artists and the audience on stage together. The Strand turns into something of an intimate listening room.  Matthews said he plans to play songs from throughout his career including ones that might appear on the upcoming album by Matthews' Southern Comfort, Like A Radio, which is due out in 2018.
"I try to cover as much ground as possible, but ultimately only scratch the surface," explained Matthews. "There will be old songs, but new songs too.  I've played in all kinds of configurations and the Strand is a unique but workable one, featuring direct contact with your audience. Ray Coles is gracious enough to keep having me back."
His last album was called The Art of Obscurity, a thinly veiled statement to the music world that Matthews was not only still around but continuing to produce great music.  Like A Radio continues that message.
"Being on the outer curve of music and working without a net is an art,"  continued Matthews. "I love what I do and as long as that's the case I will continue to be that obscure guy from the 60s. For me it's not about the numbers.  It's more a testament that I'm still here and feeling the muse. New recordings are musical calling cards, reminding people who you are now and where they can find you."
---
The article continues after this ad
---
---
Matthews will never be just an obscure guy from the 60s.  In fact, Fairport Convention is often thought of as one of the most important bands in English folk rock history. Even though he was only with the band from 1967–1969, he was part of the pivotal creation of the group.  Looking back at that period of time, he says they were just "five kids having fun with the daily grind" - none of them had any idea about the importance of what the band meant to the folk scene or what they would mean to history.
"My entire career has been a series of fortunate encounters," said Matthews who was very surprised when he topped the UK charts.  "Any kind of success in this business takes me by surprise. 'Woodstock' was the first and most exciting. It's still opening new doors to this day."
Matthews only came close to reaching the top of the charts one other time when his solo track "Shake It" nearly cracked the top ten in America in 1979.  Other songs of his to make the Billboard Top 100 include "Mare, Take Me Home" and "Tell Me Why" by Matthews' Southern Comfort and solo singles "Da Doo Ron Ron (When He Walked Me Home)" and "Give Me An Inch."  A small sample of commercial success, but hit songs were never his focus.
"I don't function in hit terms," he explained. "For me it's about evolving, both as songwriter, a player and as a human being. Hits are stepping stones. Every time a song becomes popular, one can add 10 years onto a career. I've been more fortunate than most."
Instead of focusing on his songs, he has tried getting the most of the bands he's been with — reuniting both Matthews' Southern Comfort and Plainsong years after their original runs.  When asked why he decided to bring those bands back he said, "Mostly because we didn't get it right the first time and I believe in completing circles. With Matthews' Southern Comfort, I've resisted being a heritage act for 40 years and now it's time to dig that furrow. We've recently finished a new album, Like a Radio, and later this year we'll begin taking it to the streets."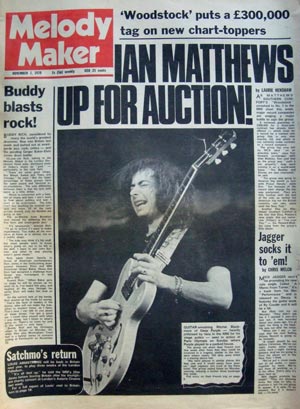 "If nothing else, it's fun to keep changing horses," he added. "Keeps it all fresh and vital."
He recently found himself revisiting his career (over 50 years in the music business) when someone suggested that he create "memento boxes" for sale.  He wound up assembling a half dozen boxes or so, each crafted for a specific time period with photographs, newspaper and magazine clippings, show tickets, and other memorabilia from show tickets to concert posters.
"It began as a joke really," recalled Matthews. "I made one for a kind benefactor and liked the result. I had a couple more requests and it just lifted off from there. It's not everyone's cup of tea, but if you're looking for something made by these hands from my personal archives, I'm your man. Just name your era."
Iain Matthews will perform with Jim Fogarty at The Strand (400 Clifton Avenue, Lakewood, NJ) on Friday, September 8, 2017 at 7:30pm.  Tickets are $19.
---
Gary Wien has been covering the arts since 2001 and has had work published with Jersey Arts, Elmore Magazine, Princeton Magazine, Backstreets and other publications. He is a three-time winner of the Asbury Music Award for Top Music Journalist and the author of Beyond the Palace (the first book on the history of rock and roll in Asbury Park) and Are You Listening? The Top 100 Albums of 2001-2010 by New Jersey Artists. In addition, he runs New Jersey Stage and the online radio station The Penguin Rocks. He can be contacted at gary@newjerseystage.com.
---