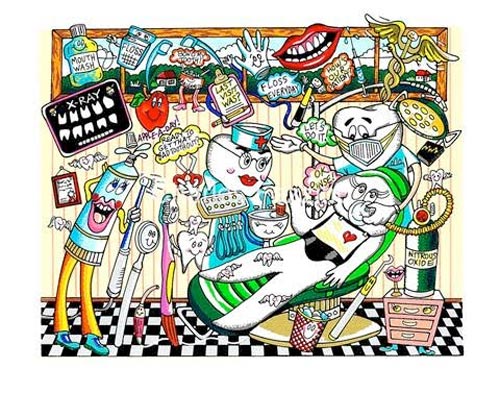 (STONE HARBOR, NJ) -- Ocean Galleries welcomes Master 3-D artist Charles Fazzino over Memorial Day weekend for his first show in Stone Harbor, which will include a collection of his 3-D limited edition fine art silkscreen serigraphs and one-of-a-kind sports memorabilia. "Charles Fazzino: The Master of 3D Pop Art" opens Friday, May 27, 2016 and runs through Monday, May 30, 2016. All artwork is available for acquisition.
Considered on of the most popular 3-D artists in the world today, Charles Fazzino has developed an instantly recognizable style that is admired and coveted by many including heads of states, celebrities, and numerous internationally renowned figures and organizations.  Best known for his obsession with bright colors and wonderful detail, Fazzino has a frenetic energy that he infuses in his work and uses a unique, hand-assembled, 3-D layering technique that brings his images to life.
Often referred to as a pop culture historian, Fazzino's innovative style, technique, and sense of composition make him a master storyteller who touches his collectors and captures the most meaningful parts of their everyday lives.  A graduate of the New York School of Visual Arts, Charles Fazzino has honed his craft over the course of his 30+ year career.  Most famous for his 3-D renderings of New York and countless other cities, Fazzino has also created masterfully vibrant and detailed tributes to such popular icons as the New York Yankees, Marilyn Monroe, Elvis Presley, Alfred Hitchcock, and the characters of Walt Disney.  He has painted for 16 Super Bowls for the National Football League, 12 All-Star Games for Major League Baseball, five Daytime Emmy Award Ceremonies, two FIFA World Cup Tournaments, the Grammy Awards, and was the official artist for the 2009 and 2010 President's Council on Physical Fitness and The President's Challenge.
Gallery guests will have the opportunity to meet Charles Fazzino during receptions from 7:00 PM until 10:00 PM on Saturday, May 28 and from 1:00 PM until 3:00 PM and 7:00 until 10:00 PM on Sunday, May 29.   The exhibition and the receptions are free and open to the public, with all artwork available for acquisition.
The show is FREE and open to the public with all artwork available for acquisition.  For more information, call 609-368-7777 or visit the website.  Artwork will remain on display through Sunday, June 26, 2016.
---
The article continues after this ad
---
---
Ocean Galleries is located at 9618 Third Avenue in Stone Harbor, NJ.