originally published: 10/29/2017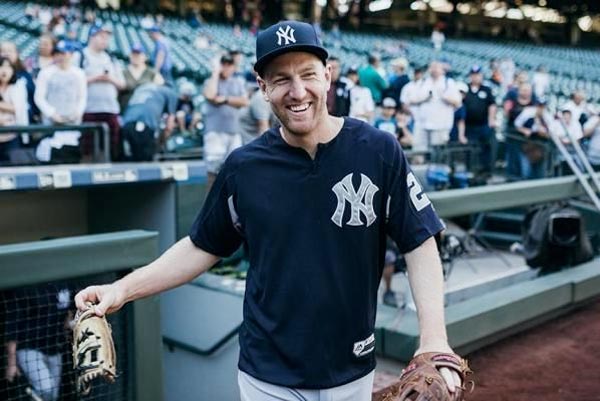 (TOMS RIVER, NJ) -- New York Yankee Todd Frazier comes home to Toms River for An Evening with Todd Frazier on Friday, January 19 at 8:00p.m. at the Jay and Linda Grunin Center for the Arts at Ocean County College. This moderated lecture will take place on the Main Stage, Grunin Center, OCC Main Campus, College Drive, Toms River, NJ.
Hometown baseball hero Todd Frazier will join fans from his native Toms River for an evening of baseball talk! Along with moderator veteran sports anchor Russ Salzberg, Frazier will discuss his experiences playing baseball and growing up in Toms River all the way through his current Major League Baseball success!
Known just as much for his down-to-earth personality and perpetually sunny disposition as his All-Star play, Frazier is no stranger to the public eye. He first gained international fame at age 12 when he led Toms River to the 1998 Little League World Series title by going 4 for 4 with a home run in the championship game.
A first-round draft pick of the Cincinnati Reds in 2007, Frazier quickly endeared himself to fans. He became known for his walk-up music (Frank Sinatra, in a nod to his Jersey roots), rescuing a choking stranger with the Heimlich maneuver, and following through on a promise to "homer" for Teddy Kremer, an adult with Down syndrome.
Frazier was traded to the Chicago White Sox after the 2015 season and proceeded to steal the hearts of Chicago fans. Then, before the 2017 trade deadline, the White Sox dealt Frazier to the New York Yankees.
---
The article continues after this ad
---
---
In New York, Frazier has established himself as a positive clubhouse presence and a key player in the Yankees' push to the playoffs and, against the odds, journey to the seventh game of the AL Championship Series. Frazier was behind the calling card of the 2017 Yankees when a Mets fan reacted to his home run at Citi Field with a "thumbs down" gesture, Frazier started repeating it after every hit, and the entire team soon followed.
Cincinnati manager Bryan Price told ESPN, "Todd is … just a regular guy. He's not the big Johnny Ballplayer [who says], 'I'm important and I don't do XYZ anymore because I'm an All-Star.' He comes across as a much more original, genuine, normal human being than a lot of players turn into when they start to get some acclaim." 
Tickets are available online at grunincenter.org or by calling the box office at 732-255-0500.