originally published: 03/12/2019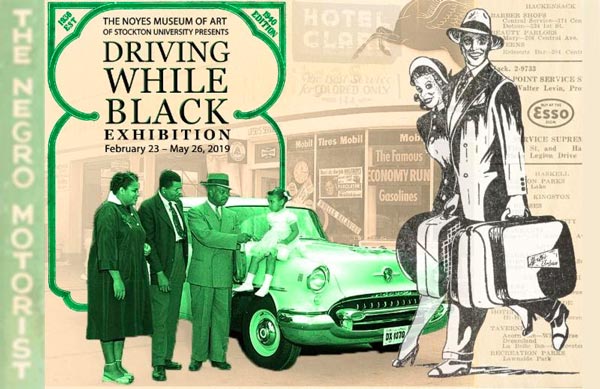 (HAMMONTON, NJ) -- The Noyes Museum of Art presents Driving While Black, an exhibition exploring African American history through the lens of the freedom of movement. Offering visitors the perspective of the African American experience, the story is told through the visual arts, literature, poetry, artifacts and oral histories. The exhibition provides historical references, contemporary conversations, and opportunities for civil dialogue.  The exhibition is on display through May 26 at Noyes Museum of Art, Kramer Hall in Hammonton.
The Negro Motorist Green Book (Green Book) was an annual guidebook for African-America travelers. It was originated and published by New York City mailman Victor Hugo Green from 1936 to 1966, during the era of Jim Crow Laws,  when open and often legally prescribed discrimination against non-whites was widespread. In  a 1949 version of the Green Book stated optimistically that "there will be a day some time in the near future when this guide will not have to be published."  Given recent events in places like Ferguson and Baltimore, combined with years of police violence and racial profiling, is traveling for African Americans safe? This exhibition will suggest that the statement in 1949 may be premature. Presented in a multi-layer approach, with both artifacts and  art, the exhibition will provide the visitor with historical references, contemporary conversations and opportunities for civil dialogue and discourse.  
The Noyes Museum of Art presents a pair of events related to the exhibit. On Thursday, April 18 from 6:00pm to 8:00pm, there will be a film preview with a post-screening discussion: Driving While Black, a new, as yet to be completed documentary by noted filmmaker Ric Burns.  The post film discussion will include Professors Donnetrice Allison & Aaron Moss of Stockton University.
Driving While Black, a feature-length documentary film, explores the role of the automobile in the lives of African Americans in the early twentieth century.  Based on over a decade of research by acclaimed African American historian Dr. Gretchen Sorin, the film draws on an extraordinarily rich archive of material from the period – including photographs, advertisements, billboards, road signs, maps, brochures, letters, and legal records – along with riveting oral histories and the on-camera insights of scholars, writers, musicians, artists, religious leaders and ordinary American travelers. The film will be structured by the emergence, flourishing and eventual obsolescence of a new genre of travel literature aimed at facilitating black automobile travel during the period; including The Negro Motorist Green Book – "the bible of black travel during Jim Crow" – published by a Harlem-based businessman named Victor H. Green, and his wife, Alma.
On Thursday, May 16 from 6:00pm to 8:00pm, there will be a Poetry & Story Slam - Driving While Black presented by Emari DiGiorgio, Professor of Writing at Stockton University and host of the South Jersey Poets Collective - World Above: Monthly Poetry Open Mic & Readings at the Noyes Arts Garage.
---
The article continues after this ad
---
---
The Noyes Galleries at Kramer Hall (30 Front Street in Hammonton) add vibrancy to the Arts District in downtown Hammonton with exhibitions that change seasonally.  The Noyes showcases the work of a wide range of artists including those from New Jersey, the Mid-Atlantic region, nationally and internationally prominent artists as well as Stockton faculty and students.  The space allows the Noyes Museum to better serve the populations of western Atlantic, Burlington, Cumberland, Salem and Camden Counties.