By Spotlight Central
originally published: 09/16/2017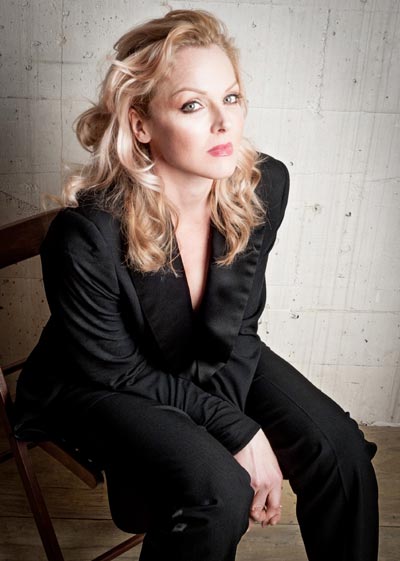 Musician/actor/playwright/author Storm Large rocketed to international fame in 2006 as a finalist on the CBS television show, Rock Star: Supernova,where she built a worldwide fan base that still follows her over a decade later.
In 2011, Large made her debut with the band, Pink Martini, selling out a series of concerts with the National Symphony Orchestra at Washington DC's Kennedy Center.
She has also performed with Grammy winner k.d. lang, pianist Kirill Gerstein, singer Rufus Wainwright, and singer/bandleader/record producer George Clinton.
Large made her Carnegie Hall debut in 2011 singing Kurt Weill's Seven Deadly Sins with the Detroit Symphony as part of the "Spring for Music" festival, a performance the New York Times referred to as "sensational."
---
The article continues after this ad
---
---
In 2014, Large released her latest recording with her band, Le Bonheur. On this album — alto titled Le Bonheur — Large provides her own unique interpretations of classic tunes from the Great American Songbook including "I've Got You Under My Skin" and "The Lady is a Tramp," in addition to such pop standards as "Unchained Melody" and "Saving All My Love for You," and several original compositions.
On October 1, 2017, Large will make a rare area appearance at the Grunin Center for the Arts on the campus of Ocean County College in Toms River.
Since Large's shows often tend to contain explicit lyrics, children under the age of 12 will not be permitted at this performance.
We recently had a chance to chat with Large about a variety of subjects — her strict Massachusetts upbringing, her experiences in New York as a potential drama student, her move to the West Coast where she was ultimately discovered and asked to audition for television's Rock Star: Supernova, and her work as a playwright and author of her personal memoir, Crazy Enough.
Based on our conversation — a colorful one, notably in terms of Storm's use of the English language— we found Large to be completely endearing, winning us over with her intelligence, honesty, and heart.
Spotlight Central: We understand you were born and raised in Massachusetts where you started writing songs at the age of five. What can you tell us about your childhood musical experiences?
Storm Large: Well, I wasn't born into a musical family. My father was a teacher, and a former Marine, and a football coach. So it was a very traditional collegiate sort of upbringing where if I started singing, that was actually not a good thing. Even if I was a good singer, it was like, "You're just trying to get attention," where trying to get attention is very bad.
But I learned very early on that I could imitate what I heard on television and what I heard on the radio — songs or accents — like Monty Python and Mel Brooks — different voices from film and television and commercials and what not.
But the first song I ever wrote was an ode to Snickers bars. When I was five or six, Snickers candy bars were the most magical thing in my world. So I wrote a jingle called "For Snickers," and my best friend, Daphne, told me that I was a genius. And from there on, I was like, "Well, ok, I must be." And I never sent it the song to Snickers, but maybe I should?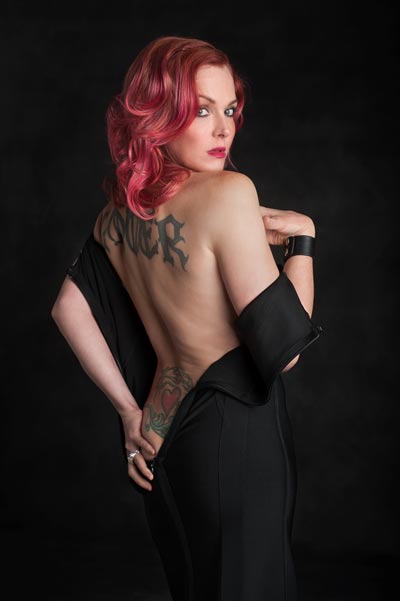 Spotlight Central: [Laughs] It's never too late! So, as a child, you imitated various voices from television and radio, but what types of music did you listen to as a kid growing up?
Storm Large: My very first favorite record was The Beatles' Abbey Road.There was a limited amount of music in the house. My dad had an 8-track stereo and so there was Johnny Cash, John Denver, The Weavers, Jesus Christ Superstar, and Godspell. I wasn't a big fan of musical theater, but I did like Jesus Christ Superstar a lot because it was really rock and roll.
And my oldest brother, John, was into rock and roll, so from him, I started listening to The Kinks and Led Zeppelin and Black Sabbath.
But I used to spend a lot of time by myself, and I would listen to Abbey Road over and over again learning all the harmony parts and singing all the guitar parts — and Pink Floyd — I would sing the guitar solos from Pink Floyd, too.
I would just sit there and do that — I didn't think I was doing anything substantial at all — it was just so beautiful to me, and was a way to lose yourself in the music in a time when you could find a thread and follow that thread through. And this was especially true back in the '70s when an album was an entire body of work — it wasn't about hit songs, then — but it was like you could take one little piece of yarn and follow it all the way through to the end of an album and you'd find you'd been in a lot of weird places.
And if you follow that thread accurately with your own voice — with your own rhythm — it becomes a kind of osmosis-style musical education, because I never took voice lessons and I never took music lessons — I just sort of learned by listening and taking musical trips through these albums.
Spotlight Central: We understand that after high school, you studied dramatic arts in New York City, so what was your main interest there? Theater? Musical theater?
Storm Large: Neither. I was interested in acting. I thought if I could go to school and do stuff that I found interesting, I wouldn't be such a huge f*ck-up.
But that was ill-informed, because I found out pretty quickly that I was a musician and not an actor — and they were really interested in having me pursue musical theater, but I didn't like musical theater at all. No matter how I tried, everything I went to see just did not speak to me at all — artistically — or in terms of the stories or in terms of the songs.
And all the girls at school who sang had these beautiful, trilling, perfect voices, and they had these beautiful little bodies and beautiful little faces, and I felt like this giant, kind of, 'dude' with a huge, deep rock and roll voice.
So I ended up spending more time at The Ritz and at CBGBs and at Wetlands and all these music venues downtown — rock and roll bars — because, as a rule, that spoke more to who I was as a person.
Spotlight Central: So after New York, you went to California, where you performed in the San Francisco area in lots of different groups, but then in the early 2000s you went to Portland to become a chef?
Storm Large: Yeah. That was actually after September 11th, 2001. In San Francisco, my band was doing well. We were being courted by a management company that was headed up by Island Records. And then September 11th happened, and everybody stopped calling everybody — everybody's priorities shifted. Everything had changed.
And I was unhappy doing music, because it had turned into this thing where we needed this hit song. We needed to get signed.
It was like, "You need a record deal. You need to change your name. You need to lie about your age. You need to lose weight. You need to look like this. You need to sound more like this" — agents telling us all this sh*t that made no sense to me!
And I was like, "Look, I want to be a good musician. I want to write good songs. I want a lot of people to come to the shows. And I want to be good."
So I wanted to be successful, but basically everything that was being said to me was, "You will never be successful being who you are."
And I believed that because I'm a woman in America and, in this society, it takes a very strong personality to basically say with consciousness, "F*ck you. I'm gonna do what I want."
But I said, "I'll do what I'm supposed to do, because I know I'm not good enough. I know I'm not pretty enough. I know I'm not skinny enough. I'm not cool" — I've never been cool — "I just want to be good and maybe you know how I can be good?"
But luckily for me, I just knew that these people were full of sh*t. Like this guy is just full of sh*t — he doesn't know what he's talking about.
Not that I know any better, but he's an idiot!
And so all these record industry types — even the famous ones — were full of sh*t! They were telling me things that made no sense. Mostly, they wanted me to leave my band and go solo and I'm like, "That's not gonna happen! I'm just gonna crawl around in these rock clubs because I'm making enough money to eat — and I get beer, too — so f*ck you, I have a career right now."
But after September 11th, I said, "I need to do something else, because this is making me unhappy. It's frustrating. People are telling me I'm not good enough and I'm not trying hard enough, and I need to basically change who I am in order to be any kind of a success, and I don't know how to do that."
And, meanwhile, the world is on fire. We're at war, and thousands of people are dead.
And so I decide to give myself over to a life of service.
I was going to go to culinary school and learn how to be a nutritionist or take care of people or do something like Meals on Wheels or prepare organic food or some kind of thing.
So I quit my band and I went to Portland. I literally left everything behind, except for a couple of bags of clothes and my van, and I drove up to Portland to stay at my friend's house and take care of her dog while she was on tour.
And I got a couple of pamphlets from the Culinary Institute and started bartending at a friend's bar, and within six months of that, I got bamboozled into getting back on stage.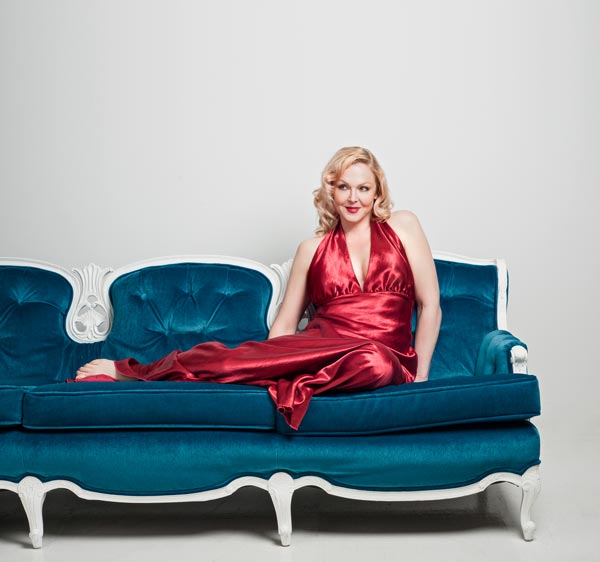 Spotlight Central: And is that how you ended up on national television on Rock Star: Supernova?
Storm Large: Well, after I got to Portland, I started performing again with the criteria: "It's not for a record deal." "It's gotta be fun." "It's gotta be interesting." "And I'm not working with any *ssholes." Period.
And I was doing that and getting really successful — having a lot of fun for, like, five years — and a bunch of people were saying, "Oh, my God! You're so good! You gotta be on this TV show, Rock Star: INXS — and I was like, "Yeah, well, I really don't watch TV, so whatever."
And then I got a call from the producers of that show who said, "Hey, we got a video of you performing, and would you be interested in coming to Seattle to audition for Rock Star: The Tommy Lee Project?"
And so to make a long story short, I went to Seattle and I auditioned and I got the TV show and I was on TV for three months. And so that got me a worldwide audience, but it wasn't like [in announcer voice] "Now I've made it! Now I have so much money I have nowhere to sit!"
But, you know, it was great to have a three-month commercial of your voice and your performance ability out there — and from then on, things just started clicking.
And performing with Pink Martini, by the way, had nothing to do with the TV show. I was friends with them long before the show, and when their lead singer, China Forbes, lost her voice, I was the natural person they thought of to come and step in while she was recovering.
But because of the TV show, I still have people come to see me, and they wait in line to have me sign autographs, and they say things like, "I've been waiting eleven years to meet you!" so it seems people are very attached to their television shows!
Spotlight Central: And speaking of television, we understand you were on Ellen DeGeneres' TV show and you talked with her about your unique name. Can you tell us about that?
Storm Large: Yeah — but it's not a very interesting story! Large is my real last name. And my father was a teacher forever and one of his students' moms had a nickname, Stormy — because, I guess, her maiden name had been Storm. And when my mom was pregnant with me, my dad said, "If it's a girl, Storm would be a really neat name," and that's what happened. There was no meteorological event, no crazy wild tumultuous thing about my birth — I took a long time to be born, but I was a totally normal seven-pound baby who showed up in June and [laughs] I haven't left yet, you know?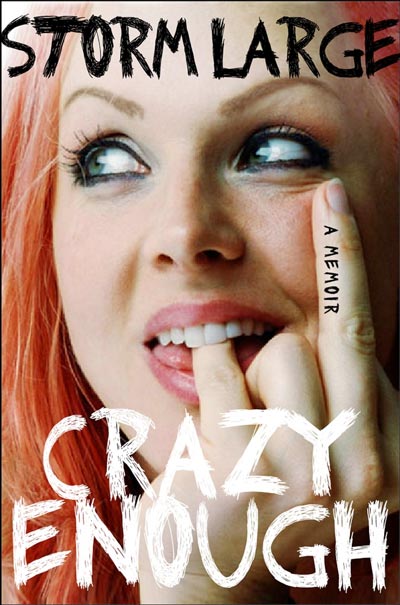 Spotlight Central: And in addition to being a singer and an actress, you're also a writer who has published a memoir called Crazy Enough which is based on a one-woman show you created?
Storm Large: Yes. Again, I kinda got bamboozled into writing a one-woman show about growing up with a mentally ill parent, and about being an artist. Basically it's about how I was afraid, my whole life, of losing my mind and ending up in an institution like my mom, but having this kind of realization: "Well, yeah, you are kind of crazy, but it works! You're crazy enough to do this stupid job that makes no real business sense at all [laughs], but it's what you do, and it creates mirth and joy around you, and that's basically what you've been seeking all your life — and you're so crazy that you're going to create this environment that you've always missed as a child."
And so I wrote that show, and while I was in the process of writing the show, a friend of mine who was a sportswriter read my play and f*cking went behind my back and sent my manuscript to his agent — who became my agent — and they both browbeated me into writing a book, which I did, not thinking anything would become of it, because I'm barely educated.
But I got a book deal, and then I had to write a book for Simon and Schuster.
I don't recommend it — it's a really horrible process — but I'm glad I did it.
Spotlight Central: [Laughs] We know a little about writing ourselves, these days, and it's not always the easiest thing to do.
Storm Large: [Laughs] It's the most thankless, alcohol-stoked, f*cking sad and awful experience — it's so lonely!
Spotlight Central: So we have to ask you… you mentioned the group, Pink Martini, which is pretty much known for its amalgamation of all types of music — classical, jazz, and more. So what kind of music are you most interested in these days?
Storm Large: I've been listening to a lot of deconstructed rock music. The newest music that I've been listening to that I really dig is Lorde's new album, Melodrama. I think it's one of the best-sounding records I've heard in a really long time, and I think she's just a really brave girl.
And I've been listening to a lot more deconstructive rock stuff like Iggy Pop and The Pills. I always go back to The Ramones, too. And I've also been revisiting Leonard Cohen and Bowie — because we lost them recently — and just getting back into those records.
Spotlight Central: And what can people who come to see your show on Oct. 1st at the Grunin Center in Toms River expect to see?
Storm Large: I take my job singing and performing very seriously, so I kind of insist that everybody's who is in the room with me is with me — I'm not an apparition in a dress that makes sound — so we're all, sort of, in this emotional thing together in this room.
And I like connecting with everybody, so it's a very interactive show. I'm not the kind of performer who singles people out or embarrasses people — I'm not that kind of comedian — but in my show, everyone's together, and we try to hit on commonalities.
The world right now is so negative and so scary and so anxious that I love taking the opportunity to not get political, but to get really humanistic and remind everyone that we're all in the dark together and we're all hoping for the same things together. And that even though there are some different variants between us, at the end of the day, we all want to feel good, and we all want to feel like we belong somewhere. So that's what I'm always shooting for.
Plus, I have a lot of family in the area — in New Jersey and in Pennsylvania and New York — so there will probably be some young ears in the audience, and so during this show, I'll try really hard not to swear!
Storm Large performs at the Grunin Center of the Arts on the campus of Ocean County College in Toms River, NJ, on Sunday, Oct. 1, 2017 at 7:30 pm. All tickets are $35. For more information and/or to purchase tickets, please click on www.grunincenter.org. Reminder: This show contains explicit lyrics. No admittance for children under 12.
To learn more about Storm Large, please go to stormlarge.com.
Photos by Laura Domela 
Spotlight Central. Your source for Jersey entertainment news and reviews