By Gary Wien
originally published: 05/20/2015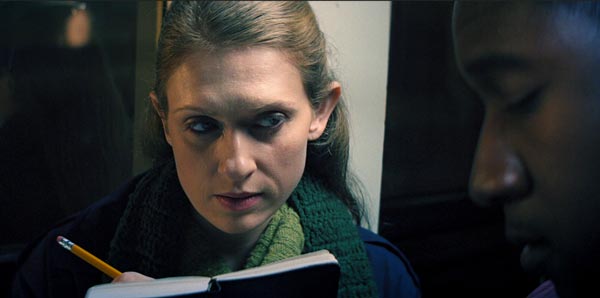 What happens when an insomniac falls in love with a sleepwalker?
Saul Pincus takes a look at this unusual love connection in the independent film, Nocturne.  The premise may suggest a comedy, but Pincus is not aiming for cheap laughs, he's presenting a story about attraction, anxieties, and the fear of escaping one's comfort zone.Armen, the sleepwalker, overeats each night, relieves himself in public, and vomits — all of which causes a strange attraction to Cindy, the lead character portrayed by Mary Krohnert.
Cindy wanders the streets at night with a notepad, creating stories and drawing pictures.  As a kid, her children's story The Perils of Pirate Peacock became a published book.  She is much older than Armen, played by Knickoy Robinson, but, in reality, she is very child-like.  Cindy has long struggled with depression and has been on medication for years.  Her limited social interaction skills helps further the attraction since Armen doesn't speak while he's sleepwalking.   In many ways, his zombie-like presence is perfect for her and she is just as much of a sleepwalker as he is.
As time goes on, Cindy becomes a valuable asset to Armen — essentially handling the night shift to ensure his safety.  Being with him helps her confront many of her own inner demons, but she soon learns that others know about his condition as well and their intentions aren't nearly as kind.   
The film utilizes animation, seen as flashbacks, to help tell the story of her storybook-like childhood to great effect.  Since the past wasn't very good to her, the illustrations are largely done in black and white with shades of gray rather than brilliant color.  It also uses silence to help tell the story.  In fact, other than some conversations with herself, the first half of the film is practically a silent film that uses Raiomond Mirza's haunting score to illustrate the mood.
---
The article continues after this ad
---
---
Both Krohnert and Robinson are excellent in their roles.  They successfully create unique worlds for their characters that we want to explore.  Together they elevate the film from a quirky off-beat independent film to a wonderful story that truly challenges the viewer.
Nocturne is the first feature film by Pincus, a Toronto-based filmmaker who grew up in Montreal.  Pincus has been working in the industry as an editor, most notably on the tv series La Femme Nikita where he was assistant editor.  Pincus co-wrote, co-produced, edited and directed Nocturne.  It's the fullest example of his largely self-taught, filmmaking skills to date.  When he considered going to film school, he realized he had already learned essentially the same skills as a boy growing up fascinated with filmmaking.
"I was not doing so well at school," recalled Pincus.  "The main reason I probably got into filmmaking at all was because it interested me and my father was interested in something that would make me more productive and get me involved in things.  At the time, filmmaking was very much alive and well.  You have a lot of time when you are a kid.  I wouldn't go to school dances, I would stay at home and edit my films or work on some visual effects ideas.  You'll never get that amount and that kind of time again in your life other than when you are young.

"I think learning on my own removed structure from my learning process," continued Pincus.  "It allowed me to impose my own structure and my own level of importance in terms of what I wanted to learn first and wanted to play around with."
As a child, Close Encounters of the Third Kind was one of his early influences.  It is a film that shares certain traits with Nocturne.  Both films utilize silence to a large degree and both involve protagonists who become rather obsessed by something that calls out to them.

"I think obsession is a very useful character trait in movies because it allows things to come out of characters which can allow you to form what they are thinking a bit after the fact," said Pincus.  "There's an axiom when you make films that audiences pay more attention when someone isn't talking than when they are if you set the stage right."
Pincus lucked out with Knickoy Robinson in the role of Armen.  He had previously worked on a film called Blindness in which he had gone through training to simulate what would happen if he lost his sight and had to rely on his senses.  When he first auditioned for the role, the crew was unaware of that experience, but it was rather obvious that he was perfect for the role.

"He was the only person we saw for that role who could immediately convince me he was a sleepwalker," explained Pincus.
Pincus himself has never had any of the sleeping disorders illustrated in Nocturne, but he believes everyone wrestles with the film's larger idea of introversion versus extroversion and having anxieties.  

  Nocturne is a beautifully constructed film that Pincus not only invested large amounts of time to, but took out a second mortgage on his house in order to fund most of it.  The film is currently making the rounds at several film festivals across the world from Toronto to Madrid and will be screened at the New Jersey International Film Festival at Rutgers University on Sunday, June 7.  Pincus will be on hand for the screening and to take part in a special Q&A.
---
Gary Wien has been covering the arts since 2001 and has had work published with Jersey Arts, Elmore Magazine, Princeton Magazine, Backstreets and other publications. He is a three-time winner of the Asbury Music Award for Top Music Journalist and the author of Beyond the Palace (the first book on the history of rock and roll in Asbury Park) and Are You Listening? The Top 100 Albums of 2001-2010 by New Jersey Artists. In addition, he runs New Jersey Stage and the online radio station The Penguin Rocks. He can be contacted at gary@newjerseystage.com.
---