By Gary Wien
originally published: 08/24/2015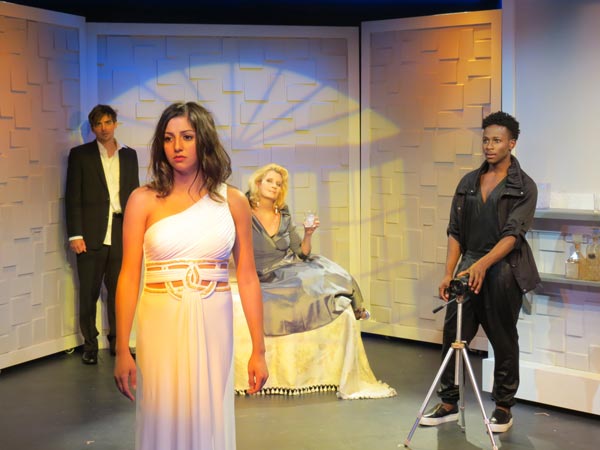 (LONG BRANCH, NJ) — Nobody's Girl by Rick Viede is a classic NJ Rep play.  It's a throwback to the highly experimental works you would have regularly seen a decade ago by the Long Branch company dedicated to presenting new plays.  While the past few years have featured many outstanding new plays with extremely talented casts, some of the plays were — dare I say it — a bit mainstream for the company.  Nobody's Girl returns to the world of psychological mind games with twists and turns and scenes that flat out surprise the audience.  It's a disturbing, often hilarious, and sometimes shocking return to form.
The play tells the story of Anthony Donnally, an unsuccessful writer whose latest novel is a tell-all memoir about a young Muslim-American girl.  The twist is that he not only writes the book from the perspective of the woman, he uses a female pen name as well.  And this time, he's able to catch the eye of Ronnie Lowe — a powerful agent who shot down all of his previous submissions.
So he decides to go for it.  
From his work as a social worker, Anthony knows of a Muslim family from Iran.  He pays Nita Saleem from the family to become "Currah" - the author and subject of his novel, assuming she will simply play the role as it is written.  The girl, who has always wanted to break out of her skin, has other plans though.
Ronnie and her flamboyant assistant, Tyrelle Parks, are intrigued by the girl's story, but especially fascinated by a short part about "the cellar."  The book makes it sound like a horrible experience took place down there between Currah and her father.  Ronnie and Tyrelle are convinced Currah was raped.  But when they press Currah for an explanation, she gives them an answer they never expected and one that lands a book deal.
---
The article continues after this ad
---
---
Her father not only had sex with her in the cellar, but she enjoyed it.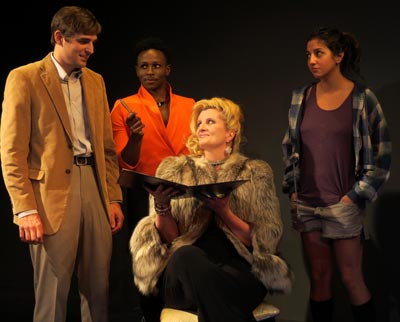 This was the moment Nita sees the potential in Currah.  Anthony is opposed to the change, but as Ronnie says, "Bad things are just opportunities waiting to happen."
And Nita makes the most of her opportunity as Currah.  She completely leaves her life behind and becomes the character 24/7.  Thanks to her charisma and the story, the book receives an enormous amount of buzz throughout the industry.  For Anthony, the night is bittersweet.  He reads her the first reviews, which praise the book; yet even though the words being praised are his, he feels like an outsider.
"I wanted this moment my whole life and now you get to live it for me," Anthony tells her.
What should have been the greatest moment of his life becomes the moment Currah truly becomes in charge. She uses the book release press conference as her coming out party with a shocking monologue that ends the first act in amazing style.
The question for the second act is will Currah and Anthony be able to keep the lie going or will everything blow up in their face as her character comes to life in ways the author never imagined?
The fantastic cast is led by Layla Khoshnoudi as Currah who appears so natural in this role that it hardly appears she is acting at all.  She has been seen on New York stages in productions such as Men on Boats (Clubbed Thumb), Wyoming (Lesser America), Engagements (Ensemble Studio Theater), and My Daughter Keeps Our Hammer (The Flea). Layla is wonderful in a role that truly creates a disturbing universe for her to explore.
Gregory Haney as Tyrelle is hilarious in a role that changes the definition of supporting actor with a transformation that is nothing short of amazing.  Haney originated the role of La Cienega in the Tony nominated Bring It On, the musical.  He has also been seen on Broadway in Memphis and Tarzan.
The rather bitchy agent, who doubles as a mother figure, is Judith Hawking.  A familiar face in Long Branch, Hawking has previously been part of NJ Rep productions like Swimming At The Ritz and Saving Kitty.  She has an extensive New York, regional theatre, television and movie resume and even pokes fun at her recurring role on "Law & Order" during one scene.
Even though the book was created by Anthony, it doesn't take long for Currah to no longer need him and neither Ronnie nor Tyrelle want him in the picture as well.  Ware, who was seen as Agent Selby on HBO's Boardwalk Empire, has a rather limited role in the first act, but is offered a chance to shine in the second.   
The play is ultimately a satire on today's media, how people will do anything to get their fifteen minutes of fame, and the extent they will go to hold on to it.  Directed by Erica Gould, the play is highly recommended.
Nobody's Girl runs now through September 20th at New Jersey Repertory Company (179 Broadway, Long Branch, NJ).  For performance dates and times, visit www.njrep.org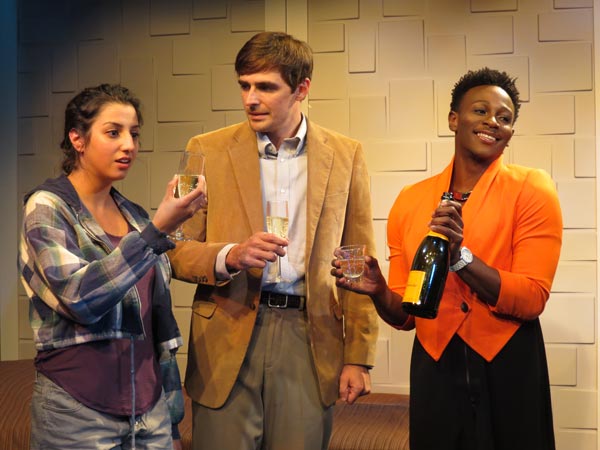 PHOTOS by SuzAnne Barabas.
---
Gary Wien has been covering the arts since 2001 and has had work published with Jersey Arts, Elmore Magazine, Princeton Magazine, Backstreets and other publications. He is a three-time winner of the Asbury Music Award for Top Music Journalist and the author of Beyond the Palace (the first book on the history of rock and roll in Asbury Park) and Are You Listening? The Top 100 Albums of 2001-2010 by New Jersey Artists. In addition, he runs New Jersey Stage and the online radio station The Penguin Rocks. He can be contacted at gary@newjerseystage.com.
---