By Gary Wien
originally published: 05/26/2018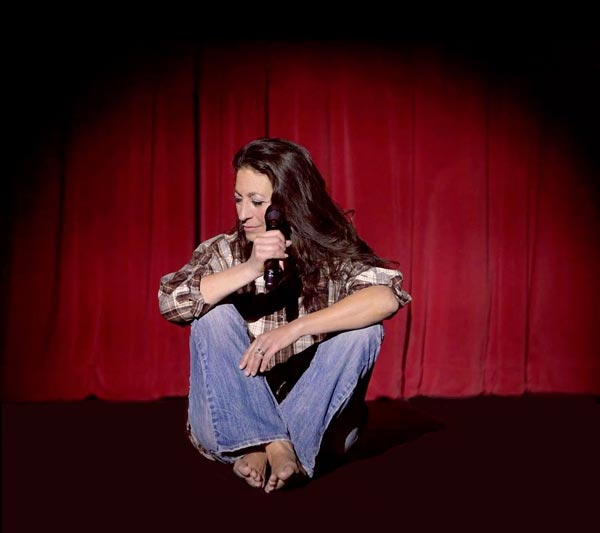 It's rare to get the chance to talk to actors portraying their own lives on screen, but Linda Chorney is no ordinary actor and her story is anything but ordinary.  In 2012, she became known as the artist who crashed the Grammy Awards.  Her story is now told in the film, When I Sing.
In 2011, Linda Chorney released Emotional Jukebox, an album featuring great musicians, strong songwriting, and a trio of wonderful covers of tunes by The Beatles, Led Zeppelin, and The Rolling Stones.  It was an album she was extremely proud of and one she believed in.  She thought the music spoke for itself — all she needed was others to hear it. Thanks to a mix of ingenuity, hard work, and networking, she was able to connect with Grammy voters and get them to listen.  They not only liked what they heard, they voted for her. In doing so. Linda Chorney became the first independent artist to earn a nomination for Best Americana Album. Millions wondered how she did it, but Chorney's album competed alongside releases by Ry Cooder, Emmylou Harris, Lucinda Williams, and Levon Helm who took home the award.  The film asks the question, "Will being nominated for a Grammy be her big break or will it break her?"
To her dismay, the gatekeepers of the industry were not pleased with her nomination and went to great lengths attempting to discredit her.  They manufactured headlines insinuating she cheated to get nominated, which was not true.  Chorney used a legitimate Grammy website (grammy365.com) to contact Grammy members directly. Neil Portnow, The President of National Academy of Recording Arts & Sciences, Inc. (NARAS) went on the record saying Chorney did nothing wrong, yet The Recording Academy changed the rules to ensure a similar situation would never happen again. Not only did they implement committees to decide the final five nominees in all American Roots categories, but they eventually shut down the grammy365.com website — a move appearing to keep real indie artists out for good.
Chorney originally told her story in the 2013 book, Who the F**K is Linda Chorney.  Her new film tells that story and more. It's a funny look at Chorney's career and her adventures around the world, leading up to the moment she became "almost famous" after 30 years of gigging on the road.  While the book starts on the night she learned she was nominated, the film shows her complete journey as an artist.
"This movie is my ridiculous quest for validation. It starts with a flashback of my life so the people who don't know me can see that I've been around a long time," explained Chorney.  "It's been a long, hard road of good guys and bad guys and ups and downs.  In order for the audience to understand that journey, I had to do a flashback of my life.  But I do it quickly. I get to the friggin' point!"
---
The article continues after this ad
---
---
The film premiered at the Hollywood Reel Independent Film Festival in February where it received the People's Choice Feature Film Award.  "When we premiered in Hollywood, I cried," said Chorney.  "It was emotional. It was like giving birth. The hardest project I had ever taken on. And I am proud of my baby."
The film moved on to Worldfest Houston International Film Festival where it received a special jury award for Best Theatrical Feature Film "Low Budget" in April.
Since New Jersey is a part of the story, capturing the local charm and flavor in the film, Chorney has been looking forward to having it screened in the Garden State. It would have been a perfect fit for the Asbury Park Music and Film Festival, where Chorney previously won Best Documentary for The Opening Act, but her new film was not included in this years' program.  Nonetheless, the DIY poster child is independently touring with the film and has sold out every screening. It will have its' New Jersey Premiere at Atlantic Cinemas, in Atlantic Highlands, on Wednesday, June 20th.  The night includes a Q&A with several cast members, comedian Eddie Brill, and musical performance by Chorney. The event is sponsored by her beloved Sea Bright Pizza courtesy of Cono Trezza; Joe Amiel's Baypointe Inn, and Mike Krikorian's Blue Bay Inn.
Chorney, who grew up in Massachusetts, spent a number of years living in New Jersey.  She used to travel from Weehawken to the Jersey Shore to perform every weekend, building a solid following in the process...and marrying New Jersey native, Scott Fadynich, now both residing in Arizona. 'Visit Tucson' has embraced the film, and is a sponsor for her tour.
The cast includes a mix of recognizable actors, like Chris Mulkey and Marion Ramsey, and then whoever Linda could talk into participating.  It's a much larger cast than most indie films. "There's a huge array of characters, because I met so many people on the crazy ride", said Chorney.  "It's almost like The Big Fish in how he goes on that wild, unpredictable journey, but these are real people that I meet.  You get to go on the adventure as if you were in my shoes."
Using her entrepreneurial skills, Chorney self-financed the film, along with local investors, and screenwriter, Robin U. Russin (a cousin by marriage) who also teaches screenwriting at University of California Riverside.  Russin believed in the story so much, that he took a semester off from teaching to direct the film, and received a grant from the university to cover editing costs. The screenplay was written by Chorney and Douglas A. Raine.  Chorney also took on just about any other role she could wing.
"I wore many hats because I didn't have to pay myself," said Chorney, who was involved in the writing, producing, starring, casting, soundtrack, and co-editing of the film. "But there is no way I could have done it without the amazing crew, who worked their asses off."
Chorney stars as herself in the film, but originally was hoping to get Sandra Bullock for the role. After repeated attempts to reach Bullock through her office, Chorney had begun to move on, when she found herself in Wyoming and a chance meeting Sandra's father. 
"I had this gig at The Mangy Moose, and the owner put us up. Part of the movie talks about the way to survive in the music business...having a free place to crash," explained Chorney.  "If your overhead is more than you make on the gig, what's the point?  I actually do this for a living, so the challenge is keeping your costs down.
"So we've just been in L.A., striking out on 'Finding Sandra', and the club owner invites us to his restaurant for drinks.  He proceeds to introduced us to the man sitting next to him... John. fucking. Bullock.  Sandra's father!
"Scott and I just looked at each other with our mouths hanging to the floor," she recalled.  "I was like, 'Sir, you're not going to believe this'" and she proceeded to tell him about her story and her desire to have Sandra in the leading role.  The very charming gentleman, responded in calm panicked southern accent, "I can't hear anything!  You have to go through Sandy's agent. If you tell me your story and then Sandy ends up doing a film that's similar, we can get sued."
Without Sandra, the part fell to Linda herself, which wasn't a bad thing.  She not only knew the script, she had lived it, and she wouldn't have to be paid or worry about an actor quitting a role shot over a two year period.  But she made Russin promise her that if he thought she sucked, they'd get someone else. After a couple of scenes, Russin looked up from the monitor, "Holy shit, Linda, you can act!"
Chorney, although extremely grateful to have Robin, says having her cousin "direct" her was challenging in scenes about her own life, because she lived it.  She wanted everything to be authentic.  If people were assholes, she wanted them to be seen as assholes.  If they were good, she wanted them to look good.  At times, they butted heads.  "He deserves a medal for putting up with me," she laughs. Chorney did have the opportunity to direct second unit locations and plans on directing in the future.
Actor Maxwell Scott plays Chorney's husband, Scott. Upon the actor's arrival in Tucson, where much of the film was shot, they road together from the airport. Maxwell asked Scott for tips on how he should be portrayed, Scott offered the advice, "Just be cool."
When I Sing includes cameos from grammy voting artists, celebrities, Astrophysicist Neil Degrasse Tyson, and legendary musicians like Jackson Browne, Bernard Purdie, Leland Sklar, and Liberty DeVitto. 
This film represents the 99% of musicians, who Chorney feels can easily relate to her struggle as an indie artist.  
"My movie is like cheap therapy for musicians," said Chorney.  "You spend $30 for a ticket, and get a trip through your entire life, and hopefully, find it healing to know that you're not alone. But I think anyone who has a dream to succeed and belief in themselves, will also relate.  Too bad it wasn't so cheap for me, though. This therapy cost me a shitload to make the movie!" Chorney giggles.
Even though she still has to endure continued severe backlash and false accusations concerning her nomination, Chorney turned lemon into lemon aid. She stresses that the motivation of this film is not revenge or sour grapes.  She can step out of her shoes, look objectively, and say, "This is a great fucking story. It just so happens to be my life story...and many others.  Best of all no one can hurt me when I sing."
When I Sing will be screened on June 20, 2018 at 8:00pm at Atlantic Cinemas (82 1st Avenue) in Atlantic Highlands, New Jersey.  Click here for tickets.
---
Gary Wien has been covering the arts since 2001 and has had work published with Jersey Arts, Elmore Magazine, Princeton Magazine, Backstreets and other publications. He is a three-time winner of the Asbury Music Award for Top Music Journalist and the author of Beyond the Palace (the first book on the history of rock and roll in Asbury Park) and Are You Listening? The Top 100 Albums of 2001-2010 by New Jersey Artists. In addition, he runs New Jersey Stage and the online radio station The Penguin Rocks. He can be contacted at gary@newjerseystage.com.
---