---
New Jersey State Council on the Arts Names Allison Tratner as Executive Director Click here for the story!
---
NJPAC Presents Vic DiBitetto
originally published: 05/01/2017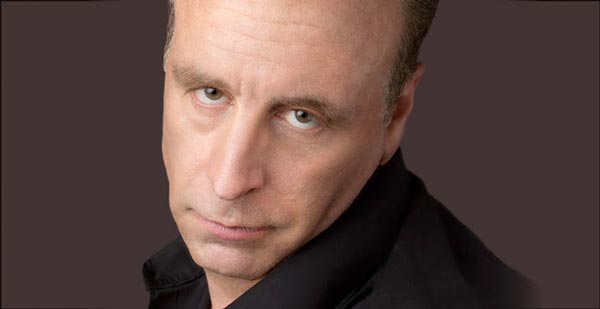 (NEWARK, NJ) -- New Jersey Performing Arts Center (NJPAC) presents two opportunities to have an evening with Vic DiBitetto in the Victoria Theater - first on Friday, January 26, 2018 at 8:00pm and again on Saturday, January 27, 2018 at 8:00pm. A grand prize winner on America's Funniest People, frenetically fantastic comedian Vic DiBitetto – aka "The Italian Hurricane" – Vic is known for his breathlessly funny take on daily life. Tickets range from $39.50 to $69.50.
On television, the big screen and comedy stages across the country, DiBitetto churns energy, honesty and humanity into nonstop laughter. He first gained national attention as a bona fide internet sensation, with tens of millions of YouTube views for his now-famous "Bread and Milk" routine, as well as for his viral rants on celebs like Justin Bieber and Kanye West. Since then, DiBitetto has appeared on ABC's America's Funniest People (where he was a $10,000 grand prize winner), on VH1's Stand-Up Spotlight, and opposite Kevin James in Paul Blart: Mall Cop 2. 
NJPAC is located at One Center Street in Newark, New Jersey.
---


The Levoy Theatre Presents Sinbad
(MILLVILLE, NJ) -- Ranked by Comedy Central as one of the "100 Greatest Standups of All Time," actor and comedian Sinbad has had audiences laughing for over three decades.  See for yourself when Sinbad comes to The Levoy Theatre on Saturday, December 29 at 8:00pm.  Doors are at 7:00pm.  Tickets range from $44-$49.
---
State Theatre New Jersey presents Ron White
(NEW BRUNSWICK, NJ) -- State Theatre New Jersey presents comedian Ron White on Thursday, January 17, 2019 at 8:00pm. Also known as Ron "Tater Salad" White first rose to fame as the cigar-smoking, scotch-drinking funnyman from the "Blue Collar Comedy Tour" phenomenon, and has long since established himself as a star in his own right. Tickets range from $45-$85.
---
Comedian Tom Papa To Perform In Newton
(NEWTON, NJ) -- With more than 20 years as a stand-up comedian, Tom Papa is one of the top comedic voices in the country, finding success in film, TV, radio, podcasts as well as on the live stage. Papa will perform on Saturday, June 22, 2019 at 8:00pm at The Newton Theatre. Tickets start at $29.
---
Mayo Presents The Capitol Steps: Make America Grin Again
(MORRISTOWN, NJ) -- The Capitol Steps return to Mayo Performing Arts Center to offer their comedic take on all things political on Friday, January 11, 2019 at 8:00 pm. Tickets range from $29-$59.
---
NJPAC Presents Comedian Ronny Chieng
(NEWARK, NJ) -- New Jersey performing Arts Center (NJPAC) presents Ronny Chieng on Saturday, February, 2, 2019 at 8:00pm. Spend a hilarious evening with  one of the fastest-rising stars in stand-up comedy, known for his role in the big-screen hit Crazy Rich Asians, and for his regular appearances as a correspondent on Comedy Central's Daily Show with Trevor Noah.
---


A Look At 2 Guys From Jersey
In issue 50, New Jersey Stage gave readers the opportunity to learn more about the writers who contribute to the magazine and the daily site. We'd like to give you the opportunity to learn more about the two shows that are featured in our magazine each month.  One is a podcast called 2 Guys From Jersey that runs a new episode every Wednesday. It involves Dr. D, Rocky, and Erin (a recent addition to the team) trying to settle trivial bar arguments that have plagued mankind for centuries.
---
"Legal Immigrant" Alan Cumming Brings His Cabaret To State Theatre New Jersey
It was the fall of 2008. Barack Obama had just been elected president. And Scottish-born actor Alan Cumming was sworn in as a citizen of the United States.
---
"Hysterical!" Gallagher LIVE! at The Strand Lakewood
Gallagher is joking with patrons in the lobby of Lakewood, NJ's historic Strand Theater this Thursday, May 24, 2018 evening. In his audacious style, he's grabbing cameras out of the hands of patrons who want to take great selfies with him, while also taking the time to sign T-shirts for stand-up comedy fans waiting for him at the merch table.
---
So You Want To Be A Comedian?
"I feel I have the kind of life where people think I'm making things up all of the time, but weirdness is kind of attracted to me," said Jess Alaimo, a comedian from Monmouth County.  "So, I just go with whatever happens to me."
---
The United States of Russia
Rutgers alum, Ben Rosenfeld released his third comedy album in January.  Entitled, The United States of Russia, the album was released by Comedy Dynamics and continues the Russia born, American raised comedian's style of mixing tales of his immigrant parents and outsider childhood with topics ranging from millennials, terrorism, politics, and adjusting to life as a newlywed.  We caught up with Ben to talk about the album.
---
Event calendar
Wednesday, Dec 19, 2018
---
MUSIC

---
---
ICONIK BAND

@ Lobby Bar at Hard Rock Hotel and Casino Atlantic City, Atlantic City - 7:00pm
---
---
---
THEATRE

---
---
View all events
---