By Spotlight Central
originally published: 11/22/2016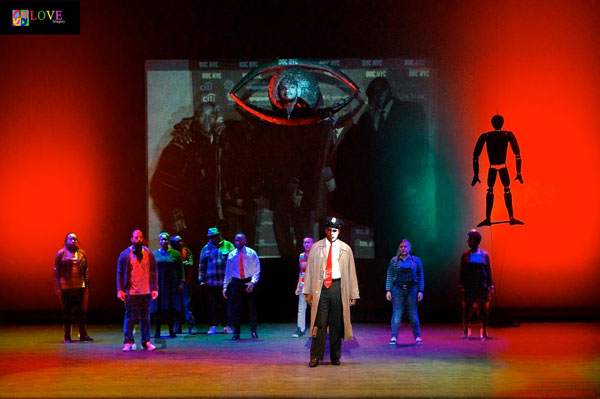 On Saturday, November 12, 2016, the New Jersey Performing Arts Center (NJPAC) in Newark presented the world premiere of Trilogy: An Opera Company's production of Five. This three-act opera by composer Anthony Davis, with libretto by Richard Wesley, is based on the story of the infamous 1989 Central Park Five case in which five teenagers were wrongly accused of molesting a woman jogger in New York City's Central Park.
Five was produced by Trilogy, a professional opera company, which is also located in Newark. Trilogy is one of the few opera companies in the United States which focuses its artistic efforts on heroes, heroines, and historical events from the experience of black Americans. Through the music of black composers, Trilogy tells compelling and important stories of the black community which permeate the fabric of American culture. Former Trilogy productions include Nat Turner, Frederick Douglas, Harriet: A Woman Called Moses, and Robeson: The Opera.
Prior to the world premiere of Five, NJPAC presented a pre-performance discussion hosted by MSNBC's Tara Dowdell featuring Five's composer, Anthony Davis, and librettist, Richard Wesley, in addition to Laurie Arthur, a New Jersey community leader, and Aisha Saalam, sister of Yusef Saalam, one of the wrongly accused members of the Central Park Five.
The opera opens as the story's mysterious narrator, The Masque (Kevin Maynor) — in his trench coat, hat, and red and white-painted face — surveys the neighborhood of Harlem, NY.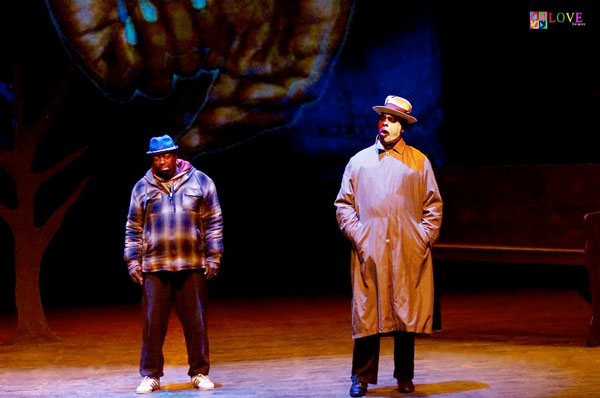 Just blocks away, in nearby Central Park, a woman jogs at night. The figure of a man looms behind her, but at a distance away.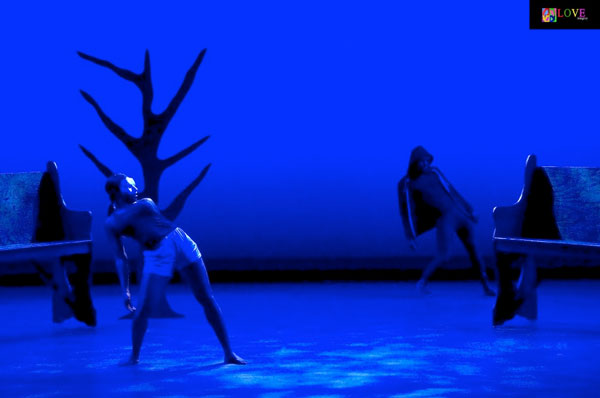 ---
The article continues after this ad
---
---
The man — inching ever closer — sneaks up behind the jogger, seizes her, and strikes her with a stick. The jogger collapses as the man hovers over her fallen body.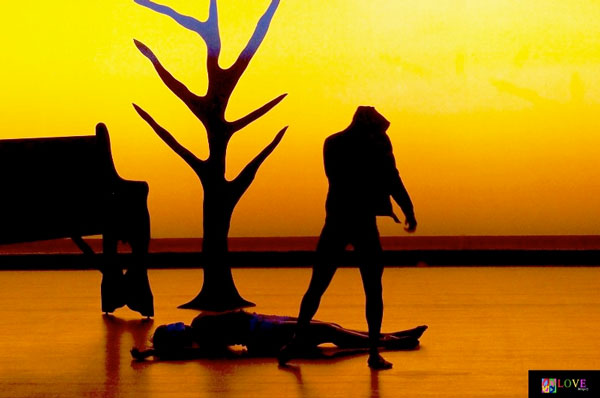 Youths from Harlem who happen to be in Central Park at the time the crime took place are shocked to find themselves rounded up by the authorities and brought in for questioning.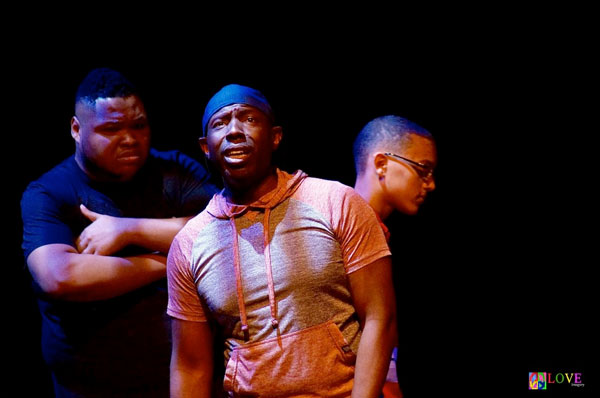 Altogether, five boys — Antron McCray (Raemond Martin), Raymond Santana (Kendell Bass), Khorey Wise (Keaun Guy), Kevin Richardson (Sam McKelton), and Yusef Salaam (Samuel McDonald) — are put in jail on suspicion of committing this crime.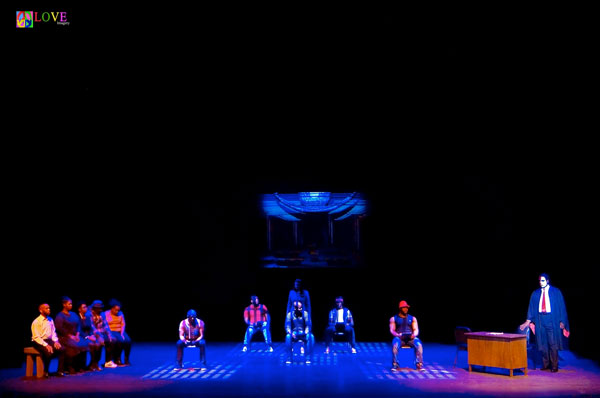 With pressure from NY real estate magnate Donald Trump (David Gordon) to "find these thugs guilty," the NYC District Attorney (Kelli Butler) vows to "solve" the case, forcing the boys into making false confessions.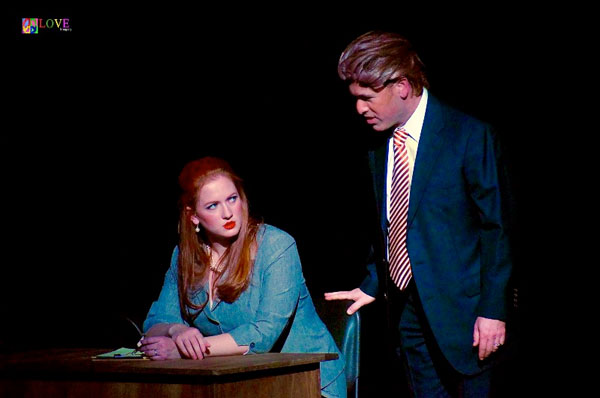 The Central Park jogger (Maureen Francis) awakens from her coma to find herself in a hospital bed. She visualizes what happened to her that fateful night in the park in an attempt to identify who attacked her.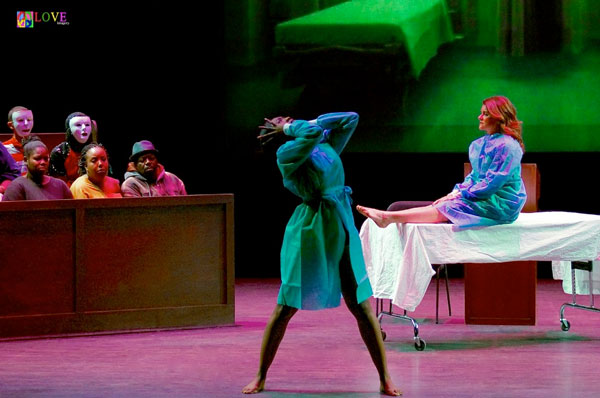 Unfortunately, she cannot recall exactly what happened, nor who caused it.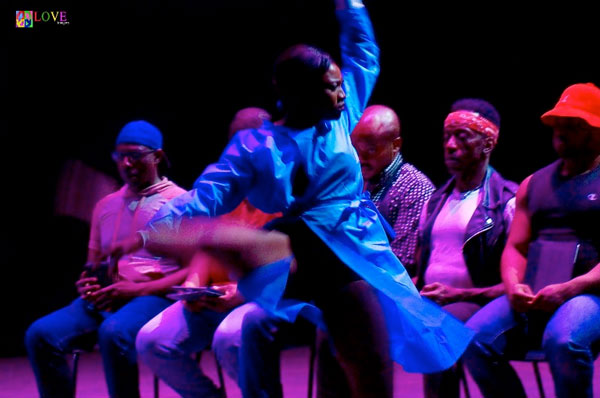 The trial of the five boys —now commonly referred to as the "Central Park Five" — is presented to a jury.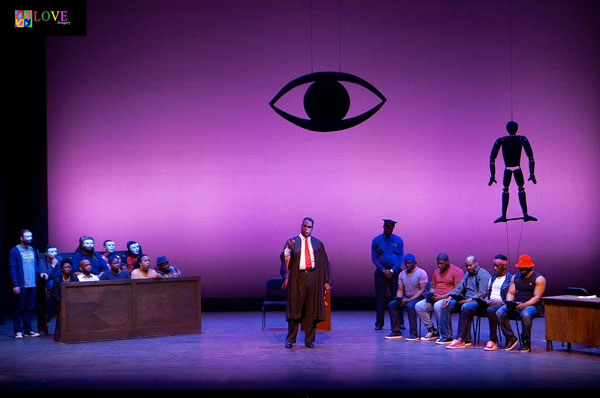 The parents of the youths are terrified at the thought of what will happen to their children.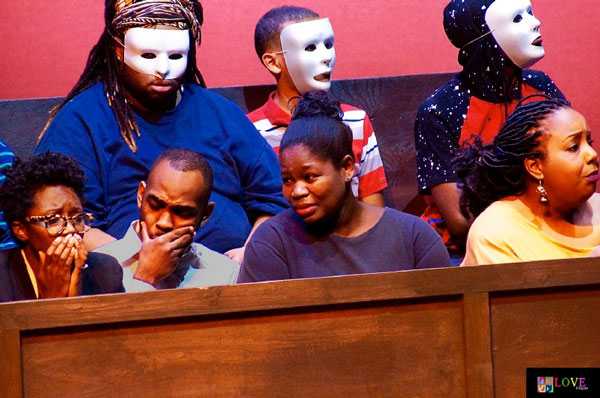 Despite the fact there are no witnesses nor DNA evidence, based on the forced confessions, the jury arrives at a verdict for all five young men: GUILTY.
As The Masque — now playing the role of a judge — explains, because Kevin, Raymond, Yusef, and Antron are under the age of sixteen, they will be sent to a juvenile facility for seven years. Because Khorey Wise is already sixteen, however, he will be taken to an upstate penitentiary where he will be forced to serve thirteen years.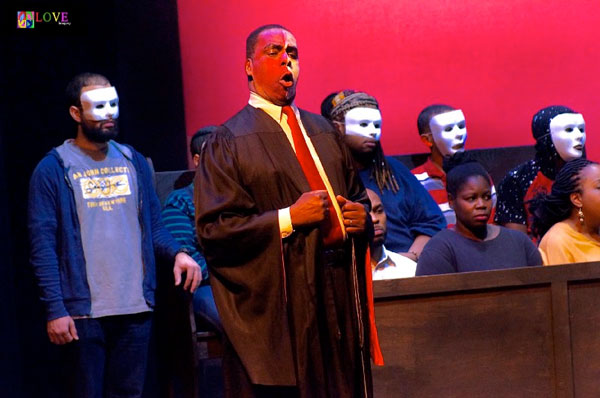 Over a decade later, while still in prison, Korey finds out from another inmate that another boy who was in Central Park that night, Mattias Reyes, confessed to the crime.
Now playing the part of a policeman, The Masque resists the veracity of this latest development, declaring to the people of Harlem, "these new facts don't matter" insisting, "We're not wrong! We can't be wrong!"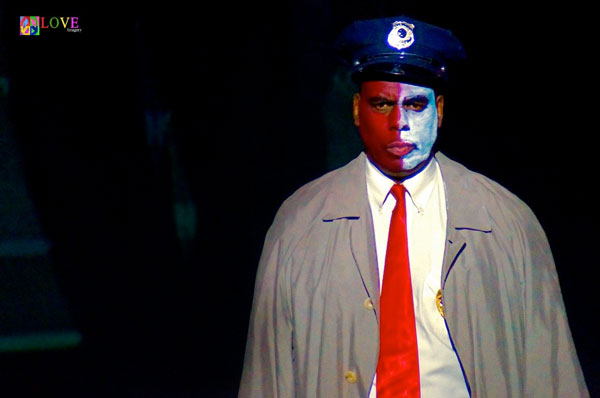 The Central Park Five return to Harlem — now free men — where they assure their family, neighbors, and supporters that despite all that's befallen them, "We're getting stronger every day. Struggling and surviving, we're gonna make it!"
Following a standing ovation for the cast and creators of Five, members of this world-premiere audience at NJPAC react to what they have just experienced.
Lydia, a young adult from Newark, reveals she "loved it."
Inez, a senior who also hails from Newark, calls the piece "appropos and up-to-date" in addition to "very good at relating the story."
Two teenagers in the audience — Khyri and Renato, both from Orange — also weigh in with their opinions. Khyri calls the events of the story "unfair," explaining how they make him "feel bad" for the young men and their plight, whereas Renato, who discloses the "plot was new" to him, also mentions appreciating the opera's "music and dancing."
We also chat with cast member, Kelli Butler, who played the role of the District Attorney in Five.
"This is such an important story," affirms Butler, noting, "It's time for opera to address important issues. The vocal arts are so powerful when used properly. As musicians, we have the ability to express emotions and, as a result, we should always do so."
Lastly, we get to speak with Aisha Salaam, the sister of Yusef Salaam, who states about this production, "I was happy; they did a good job," concluding that seeing the story of Five come to life on the stage "felt wonderful."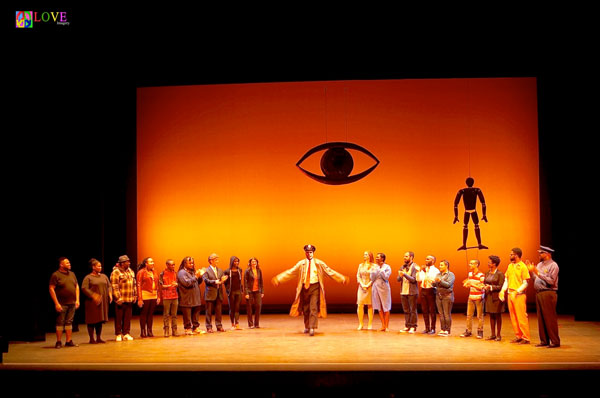 For more information on future productions by Trilogy: An Opera Company — including Das Rheingold by Richard Wagner on March 17, 2017 — please see trilogyaoc.homestead.com. For upcoming classical performances at NJPAC — including the New Jersey Symphony Orchestra's production of Handel's Messiah on December 18, 2016, the Budapest Festival Orchestra's All Beethoven! program on February 4, 2017, and the Munich Philharmonic as they perform works by Strauss, Ravel, and Beethoven on April 2, 2017 — please visit www.njpac.org.
Photos by Love Imagery
Spotlight Central. Your source for Jersey entertainment news and reviews
Love Imagery Fine Art Photography. all you need. peace/love/flower/power