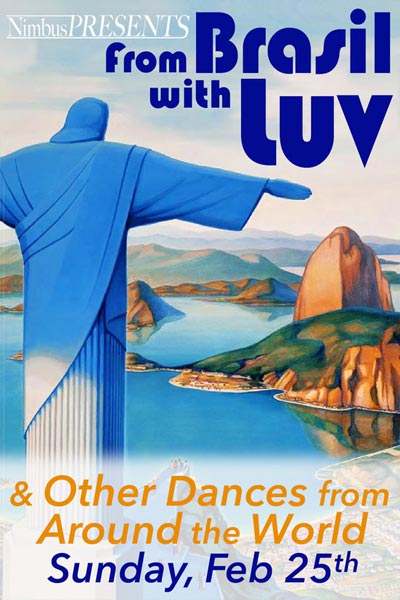 (JERSEY CITY, NJ) -- Nimbus Dance Works presents From Brasil with Luv & Other Dances from Around the World on Sunday, February 25th in Jersey City.  The performance offers tales from around the world told through dance - featuring the world premiere of From Brasil with Luv - created by choreographer Elena Valls, and co-directed by by Chazz Giovanni Bruce. 
Performances also feature Madeline Cantor's The Empty Pot, based on the Chinese tale, and Samuel Pott's Letter Home, which tells the story of a World War II soldier's experience in the Pacific. Performed by the incredible dancers of Nimbus Dance Works, with narration, colorful costumes and full lighting, these performances provide a wonderful introduction to dance for young audience members. 
Performers include Justin Perez, Hannah Weeks, Victoria Santaguida, Brandy White, Devon Louis, Giacomo Bavutti, Wilson Mayo, and LeighAnn Curd. Choreography by Madeline Cantor, Elena Valls, and Samuel Pott. Meet and take pictures with the dancers following the show!
Two performances (2:0pm and 5:00pm) will be held at 165 Newark Avenue (entrance on Barrow) in Jersey City.  Tickets are $16 in advance or $20 at the door.  Tickets are available online. Running time is approximately 1 hour.  
For more information on Nimbus Dance Works visit www.nimbusdanceworks.org.
---