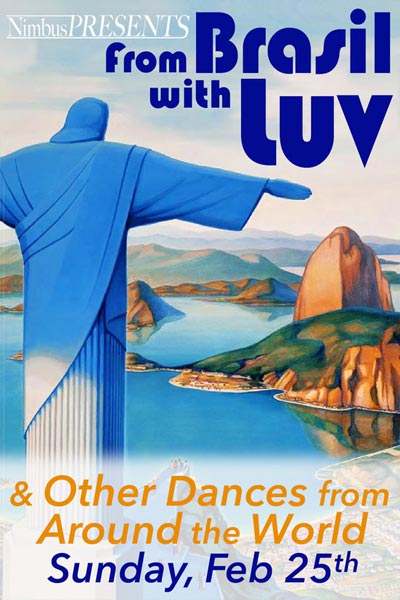 (JERSEY CITY, NJ) -- Nimbus Dance Works presents From Brasil with Luv & Other Dances from Around the World on Sunday, February 25th in Jersey City.  The performance offers tales from around the world told through dance - featuring the world premiere of From Brasil with Luv - created by choreographer Elena Valls, and co-directed by by Chazz Giovanni Bruce. 
Performances also feature Madeline Cantor's The Empty Pot, based on the Chinese tale, and Samuel Pott's Letter Home, which tells the story of a World War II soldier's experience in the Pacific. Performed by the incredible dancers of Nimbus Dance Works, with narration, colorful costumes and full lighting, these performances provide a wonderful introduction to dance for young audience members. 
Performers include Justin Perez, Hannah Weeks, Victoria Santaguida, Brandy White, Devon Louis, Giacomo Bavutti, Wilson Mayo, and LeighAnn Curd. Choreography by Madeline Cantor, Elena Valls, and Samuel Pott. Meet and take pictures with the dancers following the show!
Two performances (2:0pm and 5:00pm) will be held at 165 Newark Avenue (entrance on Barrow) in Jersey City.  Tickets are $16 in advance or $20 at the door.  Tickets are available online. Running time is approximately 1 hour.  
For more information on Nimbus Dance Works visit www.nimbusdanceworks.org.
---
originally published: 2018-01-28 14:12:04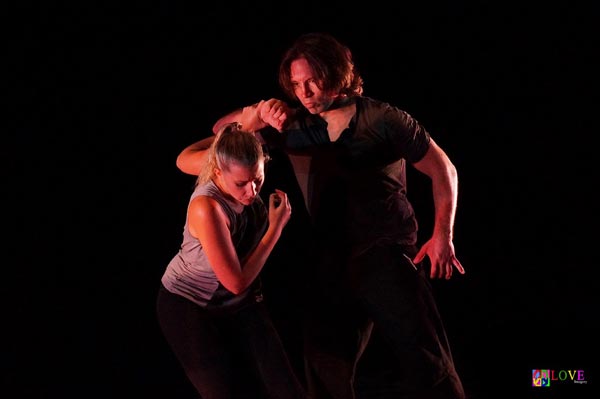 Centenary Stage Presents 2018 Dance Fest
(HACKETTSTOWN, NJ) -- Through the month of March Centenary Stage Company will be hosting three professional Dance Company's for the annual Centenary Stage Company Dance Fest.  On Sunday, March 11, Moe-tion Dance Theater known for their expression through movement, will kick off the annual Dance Fest. Then on Sunday, March 18, the XY Dance Project returns with their unique style, that blends contemporary dance with the spiritual rhythms of African dance, and the grace and peace of Tai Chi. Finally, Nimbus Dance Works will close out the annual dance festival on Sunday, March 25 with a retelling of the First Testament in a glam rock style, with music by the Brooklyn band Sky Pony.




Dance On The Lawn 2018
(MONTCLAIR, NJ) -- Dance on the Lawn, Montclair, NJ's free outdoor dance festival, will return to the front lawn of St. Luke's Episcopal Church, 73 South Fullerton Avenue, on Saturday, September 8 from 3:00pm-5:00pm. Celebrating it's fifth year, Dance on the Lawn 2018 will feature performances by more than 13 New York and New Jersey dance companies and schools.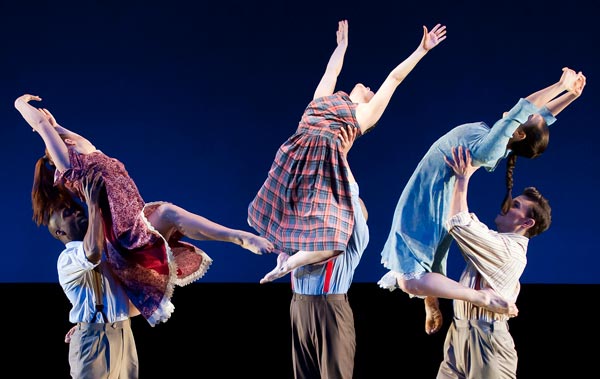 Carolyn Dorfman Dance To Perform At Monmouth University on Feb 25
(WEST LONG BRANCH, NJ) -- The Center for the Arts at Monmouth University will host a performance by Carolyn Dorfman Dance on February 25 as part of the Winter/Spring Performing Arts Series of events. Hosted in the auditorium of the Pollak Theatre, the 4:00pm performance is also being presented as part of the "Artful Explorations of Activism" series, under the Jewish Cultural Studies program at Monmouth.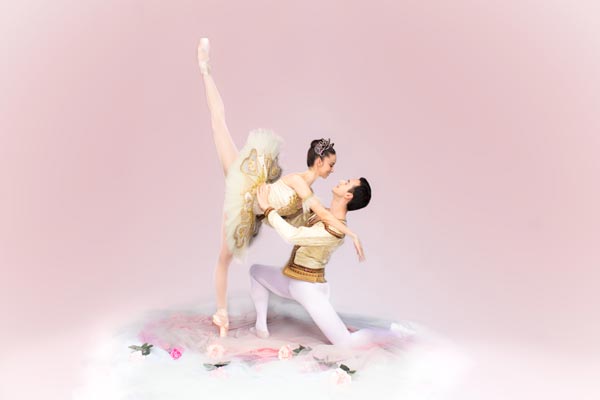 American Repertory Ballet To Perform "Pride and Prejudice" in Philadelphia
A pas de deux, or dance for two, can be full of heartfelt emotion, beauty and grace and leaves audiences in rapt awe and amazement. But for ballet couples – on stage and off—when the pas de deux is what Dance Magazine calls a "fairy tale moment, a life-imitates-art moment, a moment for ballet fans to remember" it makes for an unforgettable performance.