---
Did you know NJ Stage offers FREE Event Listings? Nearly 100,000 listings were viewed in January. Be sure to add your events to our calendar and get your shows noticed!
---
Nimbus Presents "From Brasil With Luv & Other Dances From Around The World"
originally published: 01/28/2018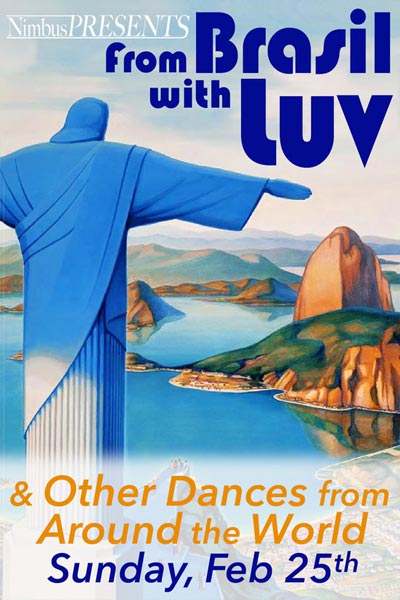 (JERSEY CITY, NJ) -- Nimbus Dance Works presents From Brasil with Luv & Other Dances from Around the World on Sunday, February 25th in Jersey City.  The performance offers tales from around the world told through dance - featuring the world premiere of From Brasil with Luv - created by choreographer Elena Valls, and co-directed by by Chazz Giovanni Bruce. 
Performances also feature Madeline Cantor's The Empty Pot, based on the Chinese tale, and Samuel Pott's Letter Home, which tells the story of a World War II soldier's experience in the Pacific. Performed by the incredible dancers of Nimbus Dance Works, with narration, colorful costumes and full lighting, these performances provide a wonderful introduction to dance for young audience members. 
Performers include Justin Perez, Hannah Weeks, Victoria Santaguida, Brandy White, Devon Louis, Giacomo Bavutti, Wilson Mayo, and LeighAnn Curd. Choreography by Madeline Cantor, Elena Valls, and Samuel Pott. Meet and take pictures with the dancers following the show!
Two performances (2:0pm and 5:00pm) will be held at 165 Newark Avenue (entrance on Barrow) in Jersey City.  Tickets are $16 in advance or $20 at the door.  Tickets are available online. Running time is approximately 1 hour.  
For more information on Nimbus Dance Works visit www.nimbusdanceworks.org.
---


State Theatre Presents Lord of the Dance: Dangerous Games
(NEW BRUNSWICK, NJ) -- State Theatre New Jersey presents Lord of the Dance: Dangerous Games on Tuesday, October 9 at 8:00pm. Tickets range from $29-$69. Irish step dancing show Lord of the Dance has become an international sensation for more than 20 years. Now, choreographed by Michael Flatley with music composed by Gerard Fahy, Lord of the Dance: Dangerous Games combines dance and music that fuses the traditional with the contemporary in a classic tale that showcases the exceptional talent of the cast. The show features cutting edge technology including a giant radiant flat screen that spans the width of the stage, special effects lighting, dancing robots, and world champion acrobats.
---
State Theatre Presents Ballet Hispanico
(NEW BRUNSWICK, NJ) -- State Theatre New Jersey presents America's premier Latino dance organization Ballet Hispánico on Thursday, October 11, 2018 at 8:00pm. Through the work of its professional company, school of dance, and community arts education programs, Ballet Hispánico celebrates the dynamic aesthetics of the Hispanic diaspora. This program features three dance pieces all choreographed by women. The program includes Con Brazos Abiertos choreographed by Michelle Manzanales, Sombrerisimo by Annabelle Lopez Ochoa, and 3.Catorce Dieciseis by Tania Pérez-Salas. Tickets range from $19-$49.
---
Alborada Spanish Dance Theatre To Perform New Production On October 13
(EDISON, NJ) -- The Alborada Spanish Dance Theatre, New Jersey's premier Spanish Dance Company for 23 years of delighting audiences from New Jersey and beyond,  will present its exciting new production: Nueva España, The Mexican Connection on October 13 at 3:00pm at the Middlesex County College's Performing Arts Center. 
---
Mayo Presents Enchanted India: The Dhoad Gypsies of Rajasthan
(MORRISTOWN, NJ) -- Experience a boisterous, colorful and joyful affirmation of Indian culture when Enchanted India: Dhoad Gypsies of Rajasthan takes the stage at MPAC Thursday, September 27 at 7:00pm. Tickets range from $19-$49.
---
Liberty Hall Dance Festival To Feature 15 Dance Companies From Throughout NY and NJ
(UNION, NJ) -- Liberty Hall Museum at Kean University has partnered again with Buggé Ballet for a one-of-a-kind event, the Liberty Hall Dance Festival! For the second year in a row, guests will spend an afternoon walking through the beautiful museum grounds, enjoying site-specific professional dance performances inspired by moments in history. Liberty Hall Dance Festival will be held on Saturday, September 29 from 1:00pm to 4:00pm.
---


A New Ballet Company Launches At The Shore
Monmouth County has long been a hub for the arts, with a celebrated music scene, thriving original theatre and artists throughout the area, but one thing was missing – the area did not have its own professional ballet company.
---
Kennedy Dancers Take On Anderson Park
Trust me when I tell you that the Kennedy Dancers do it all. No joke. The company, which is based in Jersey City and was founded in 1976 by Artistic Director Diane Dragone, is a professional dance company (performing all manner of styles), a pre-professional training company, a dance school and a producer of a television show.
---
Passion & Discipline: A profile of Corey Landolt, Washington Ballet
Corey Landolt is in his ninth season with The Washington Ballet.  The New Jersey native grew up on the border of Voorhees and West Berlin, and first studied at the Academy of Ballet in Berlin, New Jersey under David Gallagher.  His interest in ballet began when he was about five years old and saw his sister performing in The Nutcracker.
---
Nurturing The Future of Dance In New Jersey
On Friday, June 15, NJPAC present an evening of world-premiere dance in a program called the Jersey (NEW) Moves! Festival of Dance.
---
"See the Music!" American Repertory Ballet's "Generations: Influences from the Modern Age" LIVE! at McCarter Theatre
It's finally feeling like Spring outside Princeton, NJ's McCarter Theatre Center this Friday, April 20, 2018 evening where dance lovers are excitedly making their way inside to experience the American Repertory Ballet's performance of Generations: Influences from the Modern Age, a triple bill of critically acclaimed works by José Limón, Gerald Arpino, and Douglas Martin.
---
Event calendar
Friday, Sep 21, 2018
---
MUSIC

---
---
---
---
---
---
---
---
---
---
---
THEATRE

---
Souvenir

@ Surflight Theatre, Beach Haven - 8:00pm
---
---
The Shuck

@ Cape May Stage, Cape May - 7:30pm
---
---
---
---
Evita

@ Broadway Theatre of Pitman, Pitman - 8:00pm
---
---
---
---
---
---
Brick City

@ Premiere Stages at Kean University, Union - 8:00pm
---
COMEDY

---
---
FILM

---
---
---
LECTURE

---
---
View all events
---