---
BIG NEWS! Here's the latest Issue of NJ Stage Magazine -- Click here
---
Nimbus Presents "From Brasil With Luv & Other Dances From Around The World"
originally published: 01/28/2018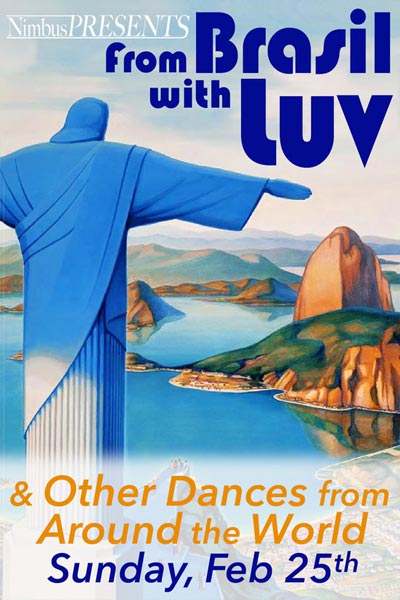 (JERSEY CITY, NJ) -- Nimbus Dance Works presents From Brasil with Luv & Other Dances from Around the World on Sunday, February 25th in Jersey City.  The performance offers tales from around the world told through dance - featuring the world premiere of From Brasil with Luv - created by choreographer Elena Valls, and co-directed by by Chazz Giovanni Bruce. 
Performances also feature Madeline Cantor's The Empty Pot, based on the Chinese tale, and Samuel Pott's Letter Home, which tells the story of a World War II soldier's experience in the Pacific. Performed by the incredible dancers of Nimbus Dance Works, with narration, colorful costumes and full lighting, these performances provide a wonderful introduction to dance for young audience members. 
Performers include Justin Perez, Hannah Weeks, Victoria Santaguida, Brandy White, Devon Louis, Giacomo Bavutti, Wilson Mayo, and LeighAnn Curd. Choreography by Madeline Cantor, Elena Valls, and Samuel Pott. Meet and take pictures with the dancers following the show!
Two performances (2:0pm and 5:00pm) will be held at 165 Newark Avenue (entrance on Barrow) in Jersey City.  Tickets are $16 in advance or $20 at the door.  Tickets are available online. Running time is approximately 1 hour.  
For more information on Nimbus Dance Works visit www.nimbusdanceworks.org.
---


New Jersey Dance Theatre Ensemble To Perform The Nutcracker On Sunday
(SUMMIT, NJ) -- New Jersey Dance Theatre Ensemble, a pre-professional training and performing company for young dancers based in downtown Summit, will host a free community story time event of their holiday production The Nutcracker at NJDTE Studios at 315B Springfield Ave in Summit on Sunday, November 18, at 4:00pm.
---
New Jersey Ballet To Perform Its Annual Holiday Classic at Mayo
(MORRISTOWN, NJ) --  New Jersey Ballet's seasonal presentation of the holiday classic Nutcracker comes to Mayo Performing Arts Center for 14 performances beginning Friday, December 14 at 7:30pm and ending on Thursday, Dec. 27 at 1:00pm. New Jersey Symphony Orchestra will provide live orchestral accompaniment. Tickets range from $29-69.  
---
Rowan Percussionists and Dancers To Share The Stage
(GLASSBORO, NJ -- The Rowan Percussion Ensemble features an original dance piece as part of its fall semester concert on Monday, November 19 at 8:00pm in Pfleeger Concert Hall. Under the direction of Dr. Matthew Witten, the ensemble will present a collaboration with choreographer and performer Melanie Stewart, associate dean of the College of Performing Arts at Rowan, on a dance piece set to John Cage's "Credo in Us." The work, developed in collaboration with California-based performer, choreographer, and educator Lorelei Bayne, will feature 18 Rowan students.
---
Roxey Ballet Enters 25th Year Of Presenting The Nutcracker For The Holidays
(EWING, NJ) -- Roxey Ballet will present its 25th Annual American Holiday Classic "Nutcracker" from November 24-December 2 at The College of New Jersey's Kendall Main Stage Theater. This acclaimed annual holiday event has become a favorite tradition of area residents and visitors alike. Both adults and children marvel at the magical spectacle created by the collective vision of Mark and Melissa Roxey, founders of both The Roxey Contemporary Ballet and The Mill Ballet School. It's the perfect way to begin the holiday season.  
---
AC Ballet Kicks Off The 2018 Holiday Season With It's A Shore Holiday
​​​​​​​(ATLANTIC CITY, NJ) -- This Thanksgiving weekend the Atlantic City Ballet will be bringing back It's A Shore Holiday to help kick off the holiday season. It's A Shore Holiday blends classical and contemporary dance set to beloved holiday tunes. This "Radio City-esque" review will feature the AC Ballet Professional company along with live singers and a six piece band. Performances will take place on Saturday, November 24th at 7:00pm in Circus Maximum Theater (inside Caesars Hotel) in Atlantic City and Sunday, November 25th at 3:00pm in the Stafford Township Arts Center in Manahawkin.
---


Dracula: The Atlantic City Ballet LIVE! at Lakewood's Strand Theater
On Saturday, Oct 21, 2018, The Atlantic City Ballet celebrated Halloween early with their production of Dracula at The Strand Theatre in Lakewood, NJ.
---
Ballet, Boxing and Street Dance Gangs?! An Artist Profile of Mark Roxey
Mark Roxey's been thrown in a garbage can, part of street dance gangs (who knew those were really real?!) and spends a whole lot of time in the boxing gym. He is also the founder and director of the Roxey Ballet Company, associate director of The Mill Ballet School, and has had a distinguished career with numerous American dance companies, including The Joffrey Ballet. You have to hear Mark's story in our latest artist profile.
---
Swan Lake: The Atlantic City Ballet LIVE! at The Strand Lakewood
On Saturday, September 22, 2018, The Atlantic City Ballet presented their version of Tchaikovsky's Swan Lake at The Strand Theatre in Lakewood, NJ. Featuring spellbinding choreography by Phyllis Papa, the talented members of the ACB transported an enthusiastic audience of all ages to another world, and Love Imagery was on hand to capture the magic in this photo-essay.
---
A New Ballet Company Launches At The Shore
Monmouth County has long been a hub for the arts, with a celebrated music scene, thriving original theatre and artists throughout the area, but one thing was missing – the area did not have its own professional ballet company.
---
Kennedy Dancers Take On Anderson Park
Trust me when I tell you that the Kennedy Dancers do it all. No joke. The company, which is based in Jersey City and was founded in 1976 by Artistic Director Diane Dragone, is a professional dance company (performing all manner of styles), a pre-professional training company, a dance school and a producer of a television show.
---
Event calendar
Saturday, Nov 17, 2018
---
MUSIC

---
---
---
---
---
---
---
---
---
---
---
THEATRE

---
Annie

@ Broad Street United Methodist Church, Burlington - 8:00pm
---
---
Annie

@ Axelrod Performing Arts Center, Deal Park - 2:00pm and 8:00pm
---
Apples In Winter

@ Centenary Stage Company - Kutz Theater of the Lackland Center, Hackettstown - 8:00pm
---
---
---
Kiss Me Kate

@ Broadway Theatre of Pitman, Pitman - 2:00pm and 8:00pm
---
---
---
---
---
Into the Woods

@ Studio Playhouse Upper Montclair, Upper Montclair - 8:00pm
---
---
COMEDY

---
---
DANCE

---
---
KIDS

---
---
LECTURE

---
---
View all events
---