By Gary Wien
originally published: 04/20/2015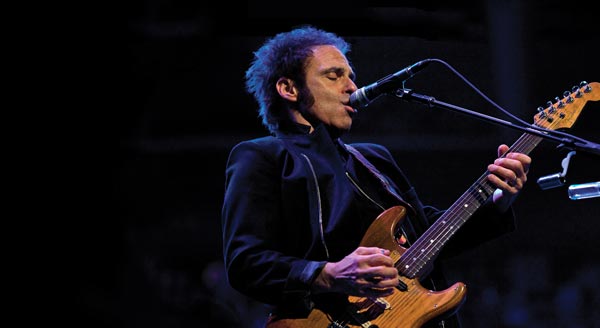 After 26 months on tour, many musicians would be ready for a break, but Nils Lofgren is excited to be heading back on the road.   The E Street band member is moving back to his role as front man and touring in support of Face The Music, a ten disc set that serves as a comprehensive retrospective of his career as an artist.  The tour will bring him back to the Garden State in May with shows in Wyckoff, Newton, Millville, and West Long Branch.  
Lofgren is one of the most unsung musicians in rock and roll history.  He's performed on classic albums by Neil Young, toured with a Beatle, and earned his place in the Rock and Roll Hall of Fame as a member of the E Street Band since 1984.  He's also released more than 20 records on his own and with his former band, Grin — the majority of which has long been out of print.
For decades, fans of Lofgren have searched for used vinyl copies of his records with only a handful of his work from the seventies and eighties available on compact disc.  Record labels refused to sell the rights to his old catalog until Fantasy Records came forward with the idea of creating the box set.  The label secured the rights to every song Lofgren wanted to include, ultimately leading to 169 tracks (including 40 previously released songs and rarities), a DVD featuring 20 video clips, and a 136-page booklet with an introduction by rock journalist Dave Marsh, track by track commentary and reflections by Nils, plus homages from musicians including Bonnie Raitt, Joe Walsh, Sting, Bono, and Paul Rodgers.
"It was a little shocking to look at what I'd actually done because I'm so focused on my next record or the next batch of songs or my work with all the great bands that I've been in," said Lofgren, who spent two years on the project, listening to every song, finding bonus tracks, and creating a new running order for the music which defined his career.  "It's pretty extraordinary and something I thought would never happen."
Some of the surprises on the disc include unreleased songs by Grin and even material that reaches back to his work with the pre-Grin band Paul Dowell and the Dolphin.  "The piece de resistance for me was finding an old master tape of Neil Young singing and playing piano on 'Keith Don't Go' with Grin, and getting his permission to use it after we remixed it," added Lofgren.
---
The article continues after this ad
---
---
He is currently on tour with Greg Varlotta performing favorites like "I Came To Dance," "No Mercy," and "Keith Don't Go" along with nuggets that Lofgren stumbled upon while compiling the box set.  He says the two present a "really colorful show with electric, acoustic, and lots of jamming."  Varlotta plays keyboards, guitars, and trumpet while Lofgren plays his trademark guitar and the occasional piano.  The pair also have a new twist in store for fans.
Throughout the seventies and into the eighties, Lofgren (a former gymnast) was famous for playing guitar while doing flips on a trampoline.  It was a signature move during his solo shows and something he brought with him to the E Street Band during the legendary Born In The USA tour.  Unfortunately, years of backflips and basketball punished his body to the point in which he now sports two metal hips.  Thanks to Varlotta, he's been able to add tap dance to his act.
"I was always a great fan of tap dance since I was little kid watching Bill Robinson and the Shirley Temple movies," he explained.  "I was always a big fan of Savion Glover and Gregory Hines.  Greg Varlotta is a great tap dancer and he gave me lessons.  I'm certainly a beginner, but I'm at a point now where I'll actually jump on the board and have a go at it in my own shows.  At worst, hopefully it's a hoot and a laugh and at best it's something of a little musical number with two guys tap dancing.  We don't over do it, just little touches here and there."
His wife, Amy, originally hated the idea of adding tap dance to the mix, thinking it would be too hokey.  She changed her mind after seeing Nils rehearsing one day in his garage.  "That might work," she said after seeing the tap dance.  After people loved it during the first show, it became part of the act.
"You never know what's going to work," explained Lofgren.  "As someone who loves performing, rest assured if something flops it's not going to stay in the show long.  You yank it! I've found a new appreciation and love for performing over these last few years.  I realized that I get to walk out in front of an audience and they don't care if I have an album deal or what chart position I don't have.  They're coming to root for me and want something special.  I find myself very at home in front of an audience.  It remains a therapeutic, healing experience even though you're being judged and you want people to feel like they saw a very special night and will come back the next time."

Touring in support of a box set undoubtedly encourages requests for old songs, which doesn't bother Lofgren at all.
"I'm grateful anyone has a favorite from any era," said Lofgren.  "I never get tired of playing the old songs because I don't play them so much at home.  At home I'm working on the next batch of songs or shows.  The audience makes those old songs new every night in a way I cannot do anymore.  That's kind of a magical thing about live performances.  It might be the only time they hear "Like Rain" or "Keith Don't Go" in five years.  So, there's a whole other energy or expectation and hope that I can't personally bring to any of my songs at home.  That's one of the magical qualities of the live performance and getting out and touring.
"After 26 months with the E Street Band, I was kind of delirious and beat up a bit, but I wasn't musically rusty so these last number of months getting back to doing my own shows is kind of exciting," continued Lofgren.  "It's a good musical journey to get back to being the front man and singing the songs, playing the solos, and just remembering what that's like.  It's been quite a while since I've done a run of the Northeast so I'm excited in particular to get back to a few towns in Jersey."
Lofgren, who was born in Chicago and grew up just outside Washington, D.C., cemented his status as an honorary New Jerseyan when he married a girl from West Orange whom he met at The Stone Pony in Asbury Park.  However, it wasn't the traditional storybook meeting as Nils had to leave for Boston the next day.  He tried convincing her to go with him, but she stayed in Jersey.  Since Nils was playing shows in New Jersey every few months, he figured he would see her again sometime, but never did.  Their paths crossed again 19 years ago when Nils played The Rocking Horse in Scottsdale, Arizona.  They were each at the end of divorces at the time, began dating, and have been together ever since.
"I wish she had come to Boston.  It would have saved me 15 years of relationship hell," said Lofgren.  "But I was pretty crazy and drinking pretty heavy at the time.  Maybe we needed those 15 years to mature enough to have the beautiful last 19 we've had."
Order the 10-disc box set at NilsLofgren.com   -- PHOTO BY JO LOPEZ
---
Gary Wien has been covering the arts since 2001 and has had work published with Jersey Arts, Elmore Magazine, Princeton Magazine, Backstreets and other publications. He is a three-time winner of the Asbury Music Award for Top Music Journalist and the author of Beyond the Palace (the first book on the history of rock and roll in Asbury Park) and Are You Listening? The Top 100 Albums of 2001-2010 by New Jersey Artists. In addition, he runs New Jersey Stage and the online radio station The Penguin Rocks. He can be contacted at gary@newjerseystage.com.
---