By Gary Wien
originally published: 06/09/2018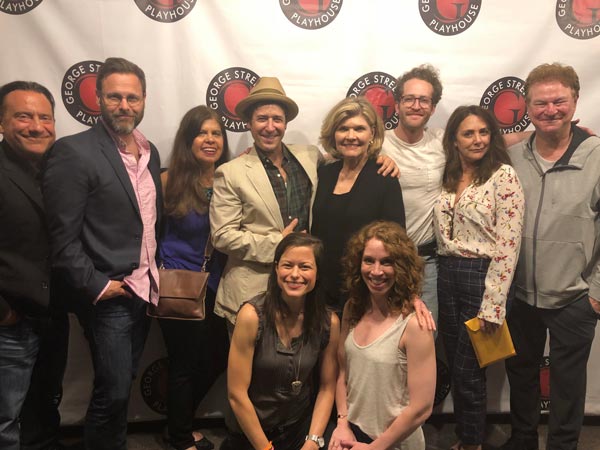 (NEW BRUNSWICK, NJ) — George Street Playhouse's temporary home on the Rutgers' campus was host to a star-studded cast for a benefit reading of Eugene Pack's Night With Oscar on Friday, June 8, 2018.  Proceeds from ticket sales and a post-show reception with the cast went to the theatre.
The comedy takes place in a suburban living room in Seaford, Long Island.  A married couple - Judd and Beth (played by Rob Morrow and Talia Balsam) - are hosting a small Oscars Night party.  Guests include their good friends Hector and Kitty (Robert Wuhl and Dayle Reyfel), their daughter Pepper (Kally Duling) and her boyfriend Danny (Peter Falls), and Judd's mother, Mercedes (Debra Monk) who has been living with them while recovering from hip replacement surgeries.
It's not exactly a normal Oscars Night for the group.  An actor that Judd knew from his first semester in college (back when he himself dreamed of becoming an actor) was nominated for Best Supporting Actor.  Judd had starred in a production of Ibsen's The Wild Duck with him in college and then transferred to take business courses - a much safer road for someone whose parents owned a bagel store, which would eventually be his.  
As you might expect, Judd feels both excitement for his one-time friend and a bit of resentment that he did not follow his dreams as well. His friends are amazed he knows the actor - as is his daughter and her boyfriend.  They are even more shocked to learn that the actor gave him his cell number when they last saw each other at an alumni event two years ago (in which he remembered their production of The Wild Duck).
Within the excitement of the Academy Awards night, much of the group find themselves at a crossroads in life.  Hector has his fingers crossed that a production company will use his sporting goods store for a six-part reality tv series; Beth hopes that Judd's mother will sell them her condo in Florida so they can sell the bagel store and their house and move down south where things might be better for her husband's hypertension; meanwhile Mercedes is looking to restart her life and believes healthy food and culture will keep her mind strong; and Danny surprises them with news that he's up for a managerial position at "Just Tires" but the store is in Phoenix… and Pepper is thinking of going with him.
---
The article continues after this ad
---
---
One of the highlights was when the group convinced Judd to act out a clip from his old college buddy's film.  Neither his daughter nor his friends had ever seen him act, but his performance blew them away.  It also made Judd feel better than he had in years. 
Will his friend win the Oscar? Will Judd give acting another try? Will Hector become a reality tv star? You'll have to wait for a full production to learn the answers. But thankfully, you may not have to wait very long.
The actors were very invested in their roles and truly brought the characters to life.  I especially enjoyed the performances by Wuhl, Morrow, and Monk, but all of the actors did a wonderful job.  And it was good to see Kally Duling back at George Street after her tremendous performance in last season's American Son.  For a reading, you could not ask for a better cast.
Pack, the playwright, could be seen watching the crowd's responses to lines he hoped would bring big laughs. And the laughs certainly came.  As a play about the industry, some lines were inside jokes that were funny on their own, but even funnier if you knew the backstory. One example was when they were listening to the Oscar host talk about the nominees for best costume design.  Someone mentioned that the line was horribly written and Robert Wuhl's category replies, "Somebody writes that stuff?" — Wuhl actually won two Emmy Awards for co-writing the Academy Awards in 1990 and 1991 with Billy Crystal.
I loved the way the play showcased the way regular people are sometimes enthralled with the world of celebrities.  Kitty is absolutely having the time of her life simply being the same room as someone who could send a text to an Oscar nominee.  Meanwhile, Mercedes has watched all of the pre-Oscar shows and laughs at the idea that their meager spread (which includes items like fried chicken and donuts) even resembles the food at the actual Oscars. And Hector sincerely believes his life will not only change but finally have meaning if he's on television.  The dichotomy of watching how everyday people celebrate the life and work of celebrities is intriguing - even though as Mercedes points out, none of them will remember who won next year.
Speaking with Pack after the show, I learned that this play has had several readings and a full theatrical run is the next step.  The actors at the George Street reading, along with those for other readings, have all expressed interest in being part of a full production.  With any luck, we might see it back in New Brunswick some day. 
It's amazing to think that at this time next year, George Street Playhouse should be packing things up for their return to downtown New Brunswick when the New Brunswick Performing Arts Center is ready for use. The company's final season at 103 College Farm Road begins in October with The Trial of Donna Caine by Walter Anderson.  The season also includes A Doll's House, Part 2 by Lucas Hnath; Little Girl Blue: The Nina Simone Musical by Laiona Michelle; The Immigrant by Mark Harelik; and Too Heavy For Your Pocket by Jiréh Breon Holder.
For more on George Street Playhouse visit www.georgestreetplayhouse.org
---
Gary Wien has been covering the arts since 2001 and has had work published with Jersey Arts, Elmore Magazine, Princeton Magazine, Backstreets and other publications. He is a three-time winner of the Asbury Music Award for Top Music Journalist and the author of Beyond the Palace (the first book on the history of rock and roll in Asbury Park) and Are You Listening? The Top 100 Albums of 2001-2010 by New Jersey Artists. In addition, he runs New Jersey Stage and the online radio station The Penguin Rocks. He can be contacted at gary@newjerseystage.com.
---