By Gary Wien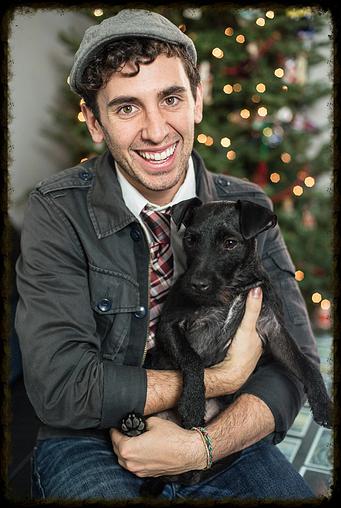 American Theater Group, New Jersey's newest professional theater company, is presenting Jonathan Larson's rock musical tick, tick...BOOM! January 28 through February 8 at Hamilton Stage (360 Hamilton Street) in Rahway. The play deals with a struggling artist who is trying to keep it all together; his girlfriend, his childhood buddy… and turning thirty, all while trying to write the next great american musical. Before there Jonathan Larson became a household name with RENT, there was tick, tick...BOOM -- his own story.

American Theater Group's production stars Nicholas Park as Jon, Shannon O'Boyle as Susan, and Michael Luwoye as Jon's best friend. The production is directed by Igor Goldin. New Jersey Stage had the opportunity to talk with Nicholas Park about his thoughts on the play and on artists and the big 30...

tick, tick... BOOM! deals with the issue of turning 30 and wondering if you're on the right path or if its time to stop dreaming. Are you dreading turning 30 too?
Honestly, it depends on the day. 30 is a big birthday. Traditionally, it is that age where you are supposed to have a decent grasp on who you are and what your life is going to be. The crazy party that was your twenties is over and now it is time to grow up, have a career, start a family, buy a house, contribute to society, etc. Your hangovers get far more painful and you should probably learn how to tie that tie. I am excited for 30 because the older I get the more grounded I become but it is still scary. As an artist, I live my life as a gypsy. I don't know when or where my jobs are coming from or where they will take me. There is a joy to living life this way but I am also craving a more stable life. I do have hopes of having a home someday and the possibility of a family. I have a massive fear that I will be pounding that pavement forever and never reach the goals I have set for myself. Turning that big, scary thirty doesn't help with the anxiety.

Long story short...yes. Mostly I am freaking out. But I get a birthday party! Maybe a surprise one!

Have you ever judged your success up against your friends like he does? Do you still find yourself doing that?
I think that this is unavoidable. Poisonous but unavoidable. It's that "grass is always greener" syndrome. I have gotten a lot better about this over the last few years but, for awhile, my comparing myself to those around me was really bad. Especially when I went through a two year dry period where I just couldn't seem to book work. I watched as many of my friends were living the actor dream and I couldn't help but think, "Ugh! I want that!". I have recently come to a wonderful place in my life where I have accepted the ups and downs of this business and have even started throwing my hands up and enjoying the roller coaster ride. I just try my best to be happy in what I do and happy for the success of others. I still have my weak moments but I try to make them few and far between.

When you see characters like Michael who left acting in order to make a living (and now makes a very good living) does that bum you out? Or does it make you want to work harder to reach your goals?
That's a hard one. It certainly doesn't bum me out. I have had a lot of friends leave the business in pursuit of other dreams but I say that you should follow your happiness. If this career isn't giving you the fulfillment that you want then stop. Life is too short to spend your time in an unhappy situation. Yes, it is sad to see a talented actor leave the business but it is even sadder to see a person lose that joyful glow. I am not at a place yet where I am ready to stop driving for my goals in this career so I just keep doing the best I can.

Be honest, have you ever (or do you still) wait tables? If you have, did you ever wait on anybody famous? Every get any acting jobs from it?
I waited tables for four years until last Spring. It was not your typical restaurant with the corporate mentality and such. I worked at Alice's Tea Cup where I was encouraged to frolic and entertain while I did my job. That made it better. As far as famous people, totally. I have waited on quite a few. Kim Cattrall from Sex and the City. Manila Luzon of Rupaul's Drag Race (out of drag). Roger Rees. John Lithgow. Oh...Bernadette Peters came in one night. I almost freaked out over that one!

Both RENT and tick, tick... BOOM! helped usher in a new era of musicals based more on rock and roll than before. As an actor, do you prefer traditional musicals or the slightly edgier rock and roll musical?
I like musicals. Period. Though my style leans more towards the edgier rock and roll themes. I love traditional musicals and I think it is important to appreciate all the styles that are out there. Even Jonathan Larson had a huge appreciation for Stephen Sondheim. Talk about opposite styles. There are actually a lot of Sondheim references in tick, tick...BOOM. Come see it and try to pick them all out.

What's your favorite number to sing in the play?
Honestly, this entire score is a BLAST to sing and I really dig each number for different reasons. Though I really like "Sugar". It is pretty random and doesn't really move the show forward at all but it is just a lot of fun to sing and dance around like a fool. The rest of this show is so set in reality and Jon's mounting anxiety so taking a two minute break is GREAT!

What are your overall thoughts on tick, tick... BOOM! ? Had you ever seen a production before taking the role?
tick, tick...BOOM was actually the first show I saw when I went away to college. I saw a FANTASTIC blackbox production produced by 11th Hour Theatre Company in Philadelphia. I remember being moved by the piece and thinking how talented the actors all were but, revisiting the work now that I am closer to that age, it is hitting me in an entirely new way. At 19, I was filled with nothing but hope and I thought that 29 was ages away. Now that I am chilling in my late twenties, Jonathan's words and emotions as he struggles through this time in his life are wrecking me. It is exciting and terrifying to live this reality on stage and to share this story with our audiences. This piece speaks volumes to artists but I am hoping that everyone can walk away from this production feeling inspired.

How has your experience working with the American Theater Group and what do you think of the Hamilton Stage space?
When I accepted this job, I got a call from Jim Vagias. He is the Co-Artistic Director of the theatre. He simply wanted to call to express his excitement for the project and to welcome me to the company. I was amazed that he took the time to personally call me. That is how my relationship with this theatre started and it has only gotten better. We have been given a supportive environment to create in and we are being housed in the beautiful rehearsal room at Hamilton Stage. I am surrounded by talented people who are passionate about their art. THIS is the kind of experience you hope for with every opportunity.

What about working with Igor Goldin. What's that been like?
Igor is fantastic. Truly. From day one, he has encouraged all of us to really explore and play throughout the rehearsal process. If we have issues or find ourselves confused by anything in the text, he takes the time to dive in and find a resolution. He is the kind of director every actor loves to work with. He gives you the guidance that you need to find the arch of the show but allows you the freedom that is necessary to create and feel like an artist. He really makes you feel like you are on a team and that everyone's voice is being heard. I have loved every second of working with him and I hope that this production is only the first of many for us.

Finally, what are your thoughts on Jonathan Larson and his work? He sadly died far too soon. If he had lived, do you think he might ever have been able to match or top the works of Rent and tick, tick... BOOM! ?
That is something I am very curious about myself. I have now had the opportunity to perform in both Rent and tick, tick...BOOM and I have loved both experiences. Jonathan's music has a way of getting inside of you and really hitting a nerve. He truly did inspire a generation and turned us all into "Rent heads". I would like to think that he would have continued to challenge his audiences and blaze new trails in theatre in later works. It is sad that we will never know but I am grateful that we have the pieces that we do.

---
Gary Wien has been covering the arts since 2001 and has had work published with Jersey Arts, Elmore Magazine, Princeton Magazine, Backstreets and other publications. He is a three-time winner of the Asbury Music Award for Top Music Journalist and the author of Beyond the Palace (the first book on the history of rock and roll in Asbury Park) and Are You Listening? The Top 100 Albums of 2001-2010 by New Jersey Artists. In addition, he runs New Jersey Stage and the online radio station The Penguin Rocks. He can be contacted at gary@newjerseystage.com.
---