By Gary Wien
originally published: 02/23/2017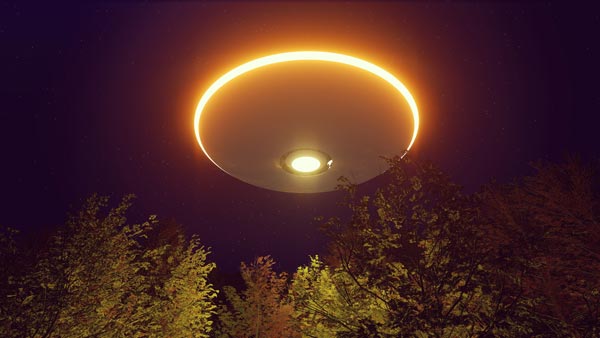 It's the summer of 1992 in Medford, New Jersey.  Adam and his friends are spending their last summer together before they all head off to college.  One night while out drinking beers in the woods, they see a strange light and hear unusual sounds. As they encounter a mysterious visitor from another world, their lives are forever changed.
That's the premise behind Nibbler, a new play by New Jersey native Ken Urban about a period in time when everything and nothing seems possible. And even though he had long left South Jersey for New York City, Medford remained on his mind.
"This play is obviously near and dear to me," said Urban.  "I grew up in Medford and spent my high school years there.  This is a play about that time."
Nibbler will have its World Premiere with The Amoralists at Rattlestick Playwrights Theater in New York City from February 23 to March 18.  Directed by Benjamin Kamine, the cast includes James Kautz, Elizabeth Lail, Matthew Lawler, Spencer Davis Milford, Rachel Franco, and Sean Patrick Monahan.
It's been a long time coming for this play. Urban began working on it in 2001 after the 9/11 attacks.
---
The article continues after this ad
---
---
"Like most New Yorkers and New Jerseyans, I was depressed after 9/11 and tried to think back to a time when I felt a lot of hope and possibility in the future because it didn't feel like there was a lot of hope or good feelings about the future in late 2001," explained Urban.  "And so the summer before Clinton got elected - my year before going to college — was when things seemed kind of exciting and full of possibilities.  So, that's what got me started writing the play."
In 2003, Nibbler was performed as a one-act play in Los Angeles.  People told Urban that he should expand it into a full-length.  He took the advice and eventually finished the full-length version in 2008.  But by then, it didn't seem as timely and was put on the backburner.  Urban revived the work last year as a visiting playwright at a university in North Carolina.  Working with students near the age of his characters, he noticed the play was evolving nicely.
"Suddenly the play felt eerily prescient in a way I could not have predicted," he recalled.   "Sometimes you finish a play and the time may not be right for it, but eventually history will align to make the play work."
What changed was the return of fear to the political climate. Even parts of the play that once sounded over the top, no longer sounded that way.  Urban says that he made some changes to the play during rehearsals and reinstalled a part of a monologue from the original 2003 draft, joking that anti-Semitism is back in vogue.
"There's a monologue by a character called Matt, which is pretty intense and crazy, when he discovers his inner Republican," said Urban.  "I keep thinking that it's too much, but then I check my Facebook feed or read the news and I realize that it seems like realism now.  Who knew?"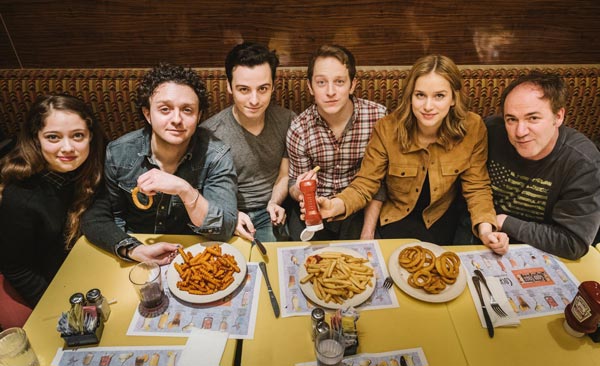 The cast of Nibbler. L-R Franco, Kautz, Monahan Milford, Lail, and Lawler.  Photo by Russ Rowland
Nibbler is a comedy with science fiction elements, but it doesn't have anything to do with the cute character in Futurama.  Urban says he likes science fiction, but is hardly a sci-fi buff.  In fact, he's never even seen the televised cartoon.  But he did grow up watching a lot of classic Doctor Who episodes and believes some of that influence seeped into the play.  He also brings a bit of the Pine Barrens and South Jersey experience to the mix.
"The Pine Barrens are pretty creepy and I don't think you realize it until you start going around there and there's just nothing around," said Urban.  "Your mind starts to wander about what could potentially be out there.  And you learn in school about the Jersey Devil and the history of New Jersey and that definitely filtered its way into the play."
Changes to the script during the rehearsal process are nothing new to Urban.  He admits to being a playwright who gets heavily involved with his shows likening it as a collaboration between him and the director.  He was at every audition and the first week of rehearsals - just until the actors went off book.
"As a playwright, it's pretty painful for all involved to watch my facial expressions when they mess up my lines, so out of kindness - and to let them do their work - I kind of step away for a week," said Urban. 
Urban has had a play staged in the Rattlestick Playwrights Theater before, but this is his first time working with The Amoralists - a theatre company he has long admired. They have a rather unique mission statement.  It states that they are a theatre company that produces work of no moral judgment. "Dedicated to an honest expression of the American condition, our ensemble explores complex characters of moral ambiguity, plumbing the depths of the social, political, spiritual and sexual characteristics of human nature. Rollicking, rebellious and raw, our work will go home with you."
The play is entirely fictional.  Urban may have seen strange things in the Pine Barrens, but swears that seeing a UFO was not on the list; it was, however, inspired by his childhood friends and his life in Medford at the time.  He would go on to Bucknell University and later earn a Ph.D at Rutgers University.  Urban has developed new plays at Playwrights Horizons, Huntington Theatre Company, Theatre @ Boston Court, Williamstown Theatre Festival, Donmar Warehouse (London) and The Civilians R&D Group. He's also taught playwriting, screenwriting, academic writing and dramatic literature at Harvard University, Princeton University, and Tufts University.
When asked what advice he would give playwrights just starting out, he says it all comes back to persistence. "I think the thing I've learned the hard way is that it just takes time and you have to believe in yourself.  It's all about knowing when something can be better and knowing when to stand by your work — the tricky dichotomy between that; when you know that you've got something good and you're a good writer, you need to learn endurance.  A big part of it is that it's not a sprint, it's a marathon.  It takes a long time for your work to be recognized and produced.  And even once you're produced there are new headaches.  So, it comes back to endurance.  I think that's how you make a life in the arts: there's a lot of rejection, a lot of disappointment, but you have to weather the storm if you truly believe in your work."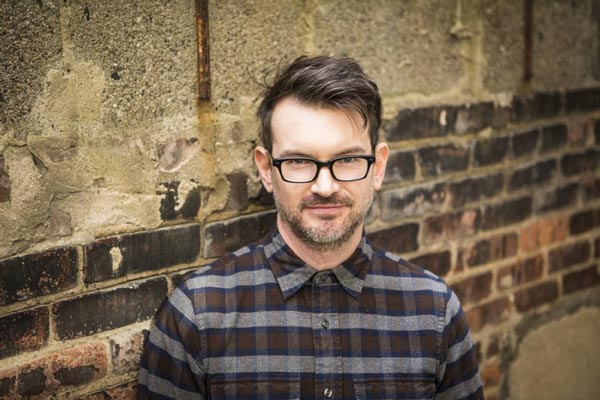 Photo  of Ken Urban by Kevin Thomas Garcia
---
Nibbler runs February 23 - March 18 at Rattlestick Playwrights Theatre, 224 Waverly Place New York, NY
---
Gary Wien has been covering the arts since 2001 and has had work published with Jersey Arts, Elmore Magazine, Princeton Magazine, Backstreets and other publications. He is a three-time winner of the Asbury Music Award for Top Music Journalist and the author of Beyond the Palace (the first book on the history of rock and roll in Asbury Park) and Are You Listening? The Top 100 Albums of 2001-2010 by New Jersey Artists. In addition, he runs New Jersey Stage and the online radio station The Penguin Rocks. He can be contacted at gary@newjerseystage.com.
---