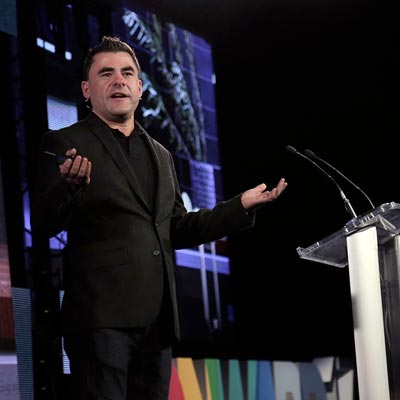 (NEWARK, NJ) -- Mayor Ras J. Baraka was joined by New Jersey Institute of Technology President Dr. Joel Bloom, Modev Founder Pete Erickson, Chairman of Intersection Dan Doctoroff, Newark CEDC President and CEO Aisha Glover, and the Greater Newark Convention and Visitors Bureau President Karin Aaron for two big tech announcements: that Newark will be the host city for the VOICE Technology Summit sponsored by Amazon Alexa in July, and that Newark will launch LinkNWK, a citywide network of kiosks that offer free public Wi-Fi and other digital services, joining New York City, the United Kingdom and Philadelphia to offer only the fourth Link smart city program in the world.
"These are game-changing announcements for the City of Newark," said Mayor Baraka. "The VOICE conference is yet another milestone in Newark's growing importance as a technology hub. Voice technology will soon be how the entire world communicates with computers, machines, cars, home appliances and more, and it will be how these devices communicate with us. The people who are at the cutting edge of voice technology are coming together to discuss and plan how it will transform our world. And LinkNWK is only possible in Newark because of our incredible dark fiber assets. What you're seeing is a futuristic, visible, manifestation of the City's tech infrastructure on our streets and in your neighborhood. All of this is happening in Newark, New Jersey!"
Newark will be the host city for VOICE, a three-day summit at the forefront of natural language processing. The Summit, sponsored by Amazon Alexa, will be held at the New Jersey Institute of Technology (NJIT) on July 24-26, and serve as a gathering place for more than 1,500 developers, designers, leading brands and agencies who are reimagining how we interact with technology through voice. The summit will feature keynotes and panels led by brands that are enabling interactions across a variety of devices and revolutionizing customer engagement and access for all by leveraging voice technologies such as Alexa and chatbots. It will also include hands-on voice development and design courses taught by Amazon staff members and partner API providers.
"It's an exciting time to be working with Amazon to bring the world's best companies and brightest minds together under one roof to explore the boundaries of natural language," said Mr. Erickson. "We believe human connection is vital in the era of digital transformation and this event allows us to create an accessible platform for all who desire to stay ahead of this software revolution."
The City will also partner with Intersection to launch LinkNWK (pronounced Link Newark), a new communications network of sidewalk kiosks that will provide residents of and visitors to Newark with free, gigabit Wi-Fi, mobile device charging, phone calls to anywhere in the U.S., access to municipal services, maps and directions, and real-time local information on city streets at no cost to taxpayers or users. The program will run on Newark Fiber, the City's public-private gigabit data network administered by NCEDC.
---
The article continues after this ad
---
---
"With its growing tech community, renowned academic institutions, and key investments in municipal fiber, Newark is a perfect partner for the Link program." said Ari Buchalter, CEO of Intersection. "As we've seen in New York City and London, providing free high-speed wi-fi, digital services, and engaging content on city streets enriches the experience of the city for residents, workers, and visitors. We are thrilled to welcome Newark to the growing network of Link cities looking to modernize and improve the urban experience."
"This program builds on the University's many years of dedication and exploration to bring innovative technologies to Newark," said NJIT President Bloom. "We look forward to partnering with Intersection to identify new ways for Links to be used throughout our city streets."
With LinkNWK, the plan is for an initial investment of 45 kiosks to be installed throughout Newark, encompassing areas around Newark Penn Station, the Prudential Center, and along Broad Street, Market Street, Martin Luther King Boulevard., and Irvine Turner Boulevard. Kiosks will also be installed on neighborhood corridors like Clinton Avenue, Ferry Street, South Orange Avenue, and Bloomfield Avenue. Kiosks will be placed in every one of Newark's five wards.
LinkNWK will be free to all residents and visitors because it is supported through advertising on the Link displays. In addition to covering the costs of building, installing, maintaining, and upgrading LinkNWK, advertising is expected to generate revenue for NCEDC and the City to help fund other smart infrastructure programs. NJIT will also partner with Intersection to help explore innovative use cases for the Links.
Intersection has already deployed over 1,600 kiosks in New York City, through the CityBridge joint venture with Comark and in London with partners Primesight and BT, with thousands more set to be deployed over the next few years. All kiosks are manufactured by Civiq Smartscapes, while Intersection provides the software, content, and advertising, and oversees deployment, maintenance, and overall program management. Since its launch in 2016, over 3.6 million people have registered to use Link's free Wi-Fi, with hundreds of thousands of free phone calls and other kiosk services accessed each month. With LinkNWK, Newark joins a growing network of global connected cities.
About the VOICE Summit: -The call for speakers and sponsorship proposals is currently open and all are encouraged to submit topics at voicesummit.ai. Registration opened with a special rate of $100 for the first 500 tickets (FIRST500), regular priced all-access passes are $495. Student rates and scholarships will also be available.

Confirmed speakers include:

  *   David Isbitski, Chief Technical Evangelist, Amazon

  *   Chiori Hori, Natural Language Research, Mitsubishi Research Labs

  *   Noah Vidnai, VP of Product and User Experience, A&E Networks

  *   Anne Weiler, CEO of Wellpepper

  *   Jack Weld, Co-Founder and CEO of Smartling

About Intersection: Intersection is at the forefront of the smart cities revolution, improving the experience of public places through technology that provides connectivity, information, and engaging content and experiences. With award-winning products like LinkNYC, the largest and fastest free public Wi-Fi network in the world, Intersection connects the digital and physical worlds, enhancing people's journeys through their cities and offering brands the opportunity to drive more relevant and engaging advertising, rooted in real-world context. Intersection partners with cities, transit systems, airports, and real estate developments around the globe, as well as advertisers seeking to reach audiences on a global, national, or local scale. Learn more at www.intersection.com.

About NJIT: One of only 32 polytechnic universities in the United States, New Jersey Institute of Technology (NJIT) prepares students to become leaders in the technology-dependent economy of the 21st century. NJIT's multidisciplinary curriculum and computing-intensive approach to education provide technological proficiency, business acumen and leadership skills. NJIT is a global leader in such fields as solar research, nanotechnology, resilient design, tissue engineering, and cybersecurity, in addition to others. NJIT is ranked #1 nationally for the upward economic mobility of its lowest-income students and is among the top 1 percent of public colleges and universities in return on educational investment, according to PayScale.com.

About Modev: Modev was founded in 2008 and has grown to become an internationally recognized name in high-quality programming and community building. A community of more than 50,000 software developers and executives, Modev seeks to keep pace with technology and industry transformation. The company organizes communities and events where there is a need to bring the right people and technologies together to advance as individuals and organizations. For more information, visit: https://www.modev.com

 
PHOTO: Keynote Speaker: David Isbitski, Chief Evangelist, Amazon Alexa