---
Tune into Radio Jersey with Lee Mrowicki every Monday through Friday from 6pm to 8pm
Broadcast on Asbury Music!
---
New One Act Play to Have Reading at
Bloomfield Pride Festival
originally published: 04/15/2018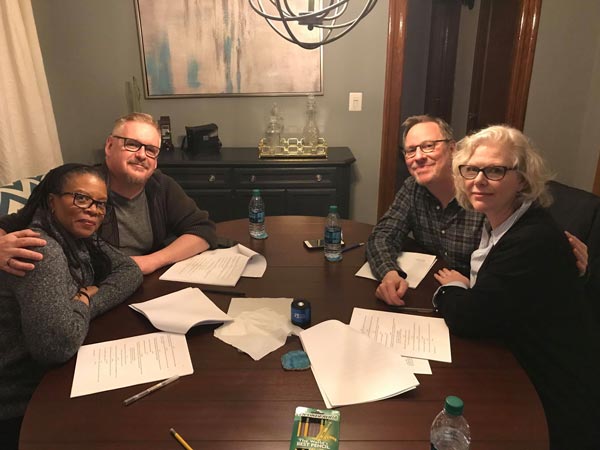 (BLOOMFIELD, NJ) -- Playwright Gregory G. Allen will have the NJ premiere of his one act play Hiding In Daylight presented as part of the Take Pride, Bloomfield! festival happening in Bloomfield, NJ on Saturday, May 19th at 3:00pm. The dystopian LGBT tale tackles highly debated topics such as LGBT rights and politics as two couples come together to remember life before the gay purge and must decide if they can continue the risk of a weekly dinner together. The single evening and setting of the drama allows for layers to be unwrapped in real time as audiences learn more about the couples and what is driving the fears each of them carry. 
The event will be a semi-staged reading and members of Bloomfield's professional theater company 4th Wall Theatre will perform and partake in a Q&A afterwards with the playwright. The piece features: Beth Baur (co-founder of New Jersey School of Dramatic Arts in Bloomfield), Ted Cancila, Bruce McCandless, and Gwen Ricks-Spencer (Executive Director of 4th Wall). The event is FREE and meant for mature audiences.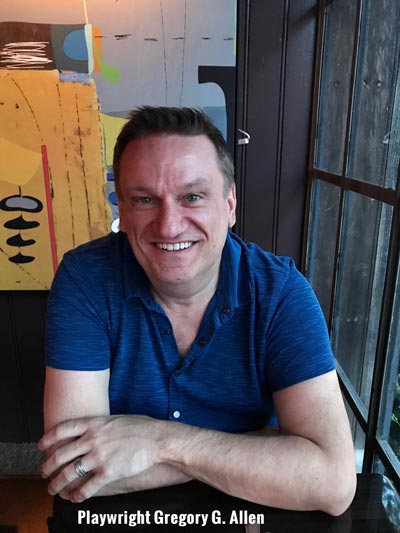 Allen is an award-winning author who has been in the entertainment industry for 30 years as a writer, actor, filmmaker, and director. His plays and musicals include: Well With My Soul (Seeing Place Theater Reading Series, NYC), Invisible Fences written with Stephen Kitsakos (4th Wall Theatre M.I.D. Stage Series), Ashokan: The Story of a Reservoir written with Stephen Kitsakos and Perdita Finn (commissioned by the Catskill Watershed Corporation), and three children's musical all produced by the Garland Children's Theatre in Garland, Texas. He is a member of the Dramatist Guild and the Society of Children's Book Writers and Illustrators. He has been a vocal advocate for many groups from autism to arts advocacy to equality and has been featured and interviewed in The Advocate, Huffington Post, PBS One-on-One with Steve Adubato, Sirius Radio The Morning Jolt, and Next Magazine. 
"When I read Greg's earlier draft last fall, I was grabbed by the story, but even more so now with the layers he has added," says actor Bruce McCandless of North Haledon. "Sadly, what would have seemed like a science-fiction piece a few years ago now seems too much like reality. We only need to look back to the 80s when groups like ACT-UP were desperately needed to incite change. The LGBT community needs to be vocal again each time a gay person is fired, a company can deny service, or an act of hate is displayed on the community. Greg is being vocal with this play and I hope that people attending on the 19th with feel lead to join the conservation after seeing us read it."
Take Pride, Bloomfield! is a program that runs January through June, 2018 at the Bloomfield Library and was made possible by an Incubation Grant from the New Jersey Council for the Humanities. The festival examines the LGBTQ community through literature, film, and other experiences while building upon the energy and initiative of the LGBTQ organization Bloomfield Pride. 
---
The article continues after this ad
---
---
Allen has shared his play with theaters and LGBT organizations around the country and more and more are using the play as a starting point for conversations in their own communities. There will be a reading and discussion of the play at The Studios of Key West, directed by Stephen Kitsakos, on Tuesday, May 22 in the Helmerich Theater at 6pm. Another is being planned for Dallas Texas this summer and several other states are looking at the play to choose a date.
The playwright looks forward to the discussion after the May 19th event which is open to the public. The reading takes place at the The Little Theater at the Bloomfield Library, 90 Broadway Street in Bloomfield, NJ.  


Eagle Theatre Presents A Holiday Revue At Kathedral Event Center
(HAMMONTON, NJ) -- Eagle Theatre presents Season's Greetings: A Musical Celebration of Holiday Traditions from Around the World from December 19 to December 23 at Kathedral Event Center. The show is guaranteed holly jolly fun for the whole family. Starring four all-star performers and a live band, this musical journey around the world, features over 40 holiday classics, a Dominick the Donkey sing-a-long, a salute to our military veterans, a cash bar, and a photo opportunity with Santa! This holiday revue takes audiences on a sleigh ride across the globe and straight into a Winter Wonderland. 
---
East Lynne Theater Company Receives $12,600 Travel and Tourism grant
(CAPE MAY, NJ) -- The award-winning Equity professional East Lynne Theater Company is receiving $12,600.00 from the Cooperative Marketing Grant sponsored by the New Jersey Department of State: Division of Travel and Tourism. The award was given based on the scores of an independent evaluation and funding review committee that studied ELTC's application and marketing plan.
---
Writers Theatre of New Jersey Presents 2019 Soundings Reading Series
(MADISON, NJ) -- The Writer's Theatre of New Jersey is kicking off their 2019 season with a series of new play readings in the new Madison Community Arts Center venue. This Winter Madison will be filled with writers eager to hear their pages come to life in front of an audience. Starting on January 3rd and going straight through until January 17th there will be 15 plays in 15 days.
---
Pixie Dust Players Presents Home for the Holidays at UCPAC
(RAHWAY, NJ) -- To celebrate the 10th Anniversary of the Pixie Dust Players, Union County Performing Arts Center is happy to present Home for the Holidays on Friday, December 21, 2018 at 7:30pm. The event consists of a gala and a benefit concert featuring over 150 performers and music from 24 different shows, all from the past ten years of Pixie Dust Productions. Prior to the concert, there will be a gala with light fare, a magician, and more. Not only is this a fundraiser for UCPAC's Youth Programming, but also a celebration supporting the continuance of this exciting partnership.
---
Grunin Center Hosts Lightwire Theater's "A Very Electric Christmas"
(TOMS RIVER, NJ) -- Lightwire Theater is traveling north from the members' New Orleans home base to present "A Very Electric Christmas" at the Jay and Linda Grunin Center for the Arts on Sunday, December 23 at 3:00pm and 6:00pm. Lightwire Theater is known for its signature brand of dazzling visuals, poignant storytelling, and music designed to evoke imagery. The group debuted their first "A Very Electric Christmas" in New Orleans in December 2013, and now takes this captivating and magical tale of adventure, friendship, and love – centered on a young bird named Max – throughout the country and around the world. This show brings a whole new meaning to "home for the holidays."
---


PHOTOS from "The Winter's Tale" at Shakespeare Theatre of New Jersey
(MADISON, NJ) -- The Shakespeare Theatre of New Jersey's concludes its 56th season with its sixth and final Main Stage production, The Winter's Tale. Last seen at The Shakespeare Theatre in 2008, Artistic Director Bonnie J. Monte directs this production of Shakespeare's tragicomedic romance. Veteran company members Jacqueline Antaramian, Jon Barker, Erin Partin, John Keabler, Raphael Nash Thompson,Seamus Mulcahy, Patrick Toon, and Ames Adamson are among a cast of 20 actors. Performances run now through December 30. 
---
REVIEW: "It's A Wonderful Life" At Mile Square Theatre
Nestled in a corner of Hoboken, on the second floor, lies the studios of radio station WMST.  It's a wonderful art deco studio, replete with fine wooden walls, embedded with colorful lights an applause sign.  On stage, we've got a few chairs, several microphones and a whole corner wedged with all the necessary props – piano, men's shoes, sheet metal – to create the audio effects for the production of "It's a Wonderful Life."
---
Betsy Aidem Puts A Woman's Touch On George Street Playhouse's "A Doll's House, Part 2"
Betsy Aidem is a veteran actress you might have seen on Broadway. Or maybe on an episode of "Law & Order: SVU." Or maybe on the big screen last year in "The Greatest Showman." But over the next few weeks in New Brunswick, Aidem is adding a brand-new section to her résumé — by helming a sequel (of sorts) to a classic play that's more than 100 years old.
---
REVIEW: "Irving Berlin's Holiday Inn" at Paper Mill Playhouse
One man's ambition is comfortable yet to another it is anathema.  This is the simplest way to convey the central theme of Irving Berlin's Holiday Inn – now playing at Papermill Playhouse.  The show is a rich, effervescent, beautiful, fun, musical that is well worth booking tickets for.  It enthralled my phone addicted 13 year-old and earned a shout out on Instagram - high praise in and of itself.
---
REVIEW: "A Doll's House, Part 2" at George Street Playhouse
For well over a century the world has been wondering what ever happened to Nora Helmer from Henrik Ibsen's classic play A Doll's House.  Nora was a woman during the 19th century in male dominated Norway when women could not sign contracts without their husband's permission.  She challenged this law, essentially committing forgery.  And, even though she committed a crime for the purpose of saving her husband's life, her actions wound up destroying her marriage when someone tried to blackmail her. 
---
Event calendar
Sunday, Dec 16, 2018
---
MUSIC

---
---
---
ELEVEN ELEVEN

@ Lobby Bar at Hard Rock Hotel and Casino Atlantic City, Atlantic City - 2:00pm
---
SUNDAY JAZZ

@ Hard Rock Cafe at Hard Rock Hotel and Casino Atlantic City, Atlantic City - 10:00am
---
---
THEATRE

---
---
---
---
---
Peter pan

@ Axelrod Performing Arts Center, Deal Park - 1:00pm and 5:00pm
---
---
---
---
---
---
---
---
DANCE

---
---
---
---
---
---
KIDS

---
---
View all events
---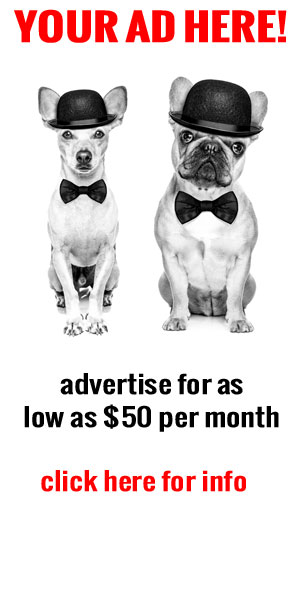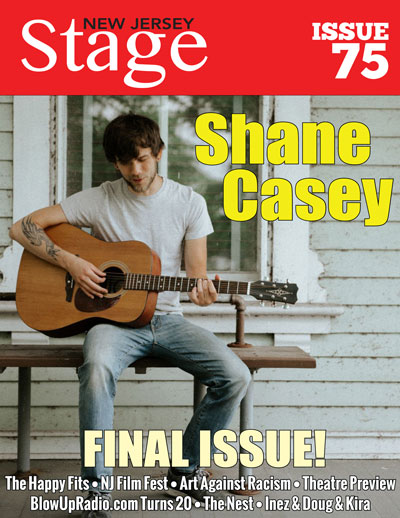 For more on our awards, click here