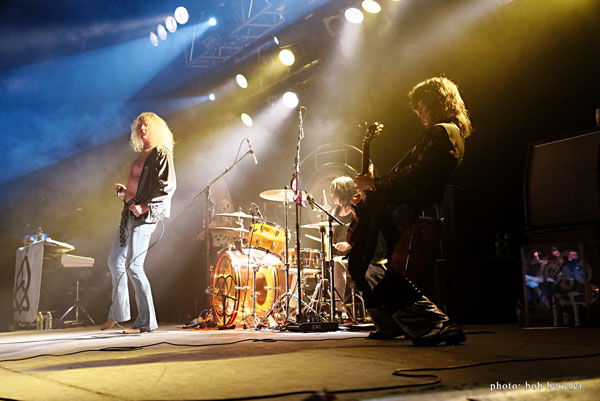 The Led Zeppelin tribute band Zoso – The Ultimate Led Zeppelin Experience brought its spot-on Led Zeppelin show to Starland Ballroom on Saturday, November 4, 2017. The band's two-hour plus set was a tour de force that showcased their own talent as musicians and also put the magic of Led Zeppelin on full display, illustrating why that band achieved the status that it did.
Zoso – The Ultimate Led Zeppelin Experience recreates the power of a Led Zeppelin live show, not only visually from the outfits, the instruments and the stage mannerisms, but more importantly sonically.  The band doesn't just play Led Zeppelin, it plays like Led Zeppelin.  Singer Matt Jernigan has the look, swagger and howl of Robert Plant down to a T. Guitarist John McDaniel has studied Jimmy Page so extensively that his fretting and pick attack on the strings are virtually identical to the way Page himself played.  For the Led Zeppelin purist, this is a crucial detail that this band did not overlook.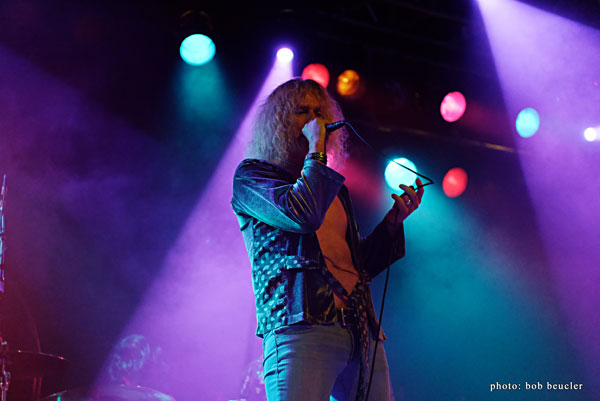 The rhythm section of Adam Sandling (bass/keyboards) and Bevan Davies (drums) stays faithful to not only their instruments but also to their place on stage.  John Paul Jones never stood out in front with Led Zeppelin but would instead stand next to the right side of John Bonham's kit.  Likewise with Sandling, who hung to the back of the stage all night with Davies, letting Jernigan and McDaniel work the crowd.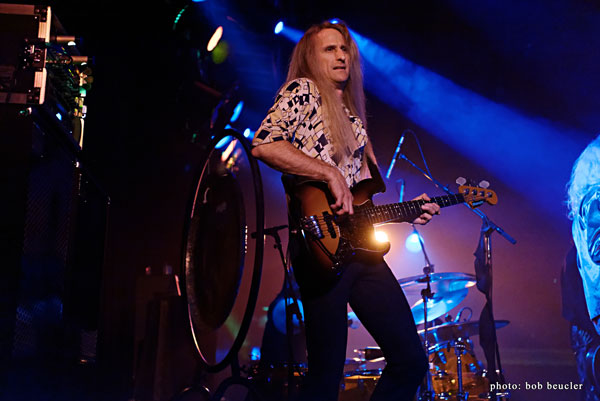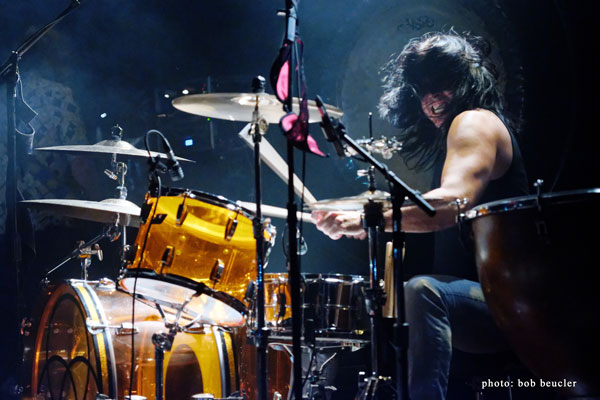 Zoso – The Ultimate Led Zeppelin Experience is for the hardcore Zeppelin fan.  The band plays various incarnations of the live versions that Zeppelin played, whether from The Song Remains the Same album and movie, the BBC sessions, the How the West Was Won live CDs and even bootleg versions.  The hardcore fan will be able to pick them all out, and it's great fun doing so.
The band thundered through a full collection of Zeppelin material and even included a sit-down acoustic set the way Zeppelin did during their shows.  Standouts of the night included Rock and Roll, The Ocean, The Immigrant Song, Heartbreaker, Kashmir, Achilles Last Stand, Whole Lotta Love and Stairway to Heaven with McDaniel playing a cherry Gibson EDS-1275 doubleneck guitar.
---
The article continues after this ad
---
---
Opening for Zoso were Triple Goddess, Ripped and Black Dawn. Triple Goddess got the night started with its heavy original guitar rock, pounding through its 30-minute set and getting the crowd going. This 4-piece formed in the suburbs between Atlantic City and Philadelphia.  Their hard-hitting sound stems from their working class South Jersey roots and a wide array of influences spanning virtually every era of heavy rock music. Triple Goddess includes Frank Sacco (vocals/guitar); Bobby Andrews (drums); Matt Peterson (guitar); and Joseph Sacco (vocals/ bass).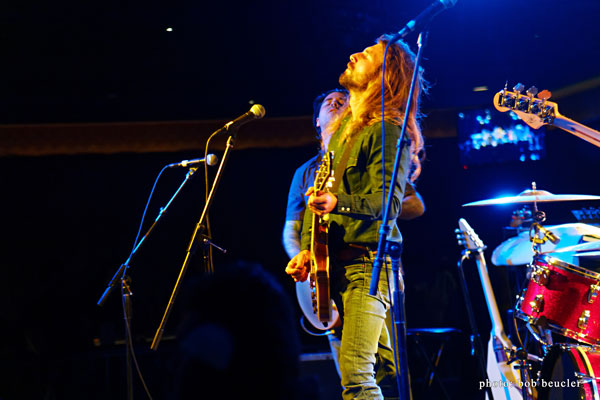 Next on the bill was Ripped, a longtime original New Jersey power rock band.  Ripped gets its sound from a two-guitar attack and songwriting that harks back to the heavy guitar rock of the 70s such as Alice Cooper, Mahogany Rush, Aerosmith, Budgie and April Wine. Ripped includes Steve Sroczynski (vocals); Steven Keller (guitar); Brian McGee (guitar); Colin Tisch (bass); and Bob Beucler (drums).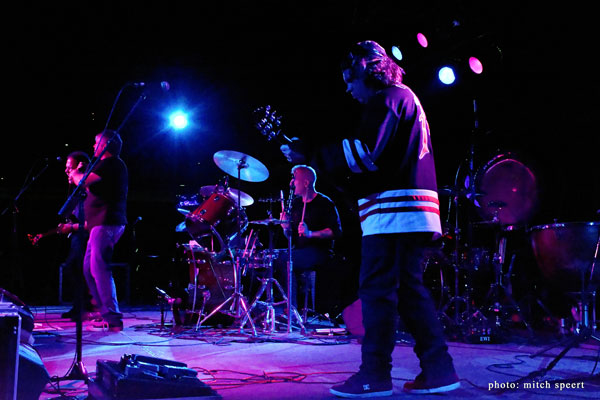 The final opener was Long Island, NY's Black Dawn, which blasted through a tight set of its original metal.  The heaviest band of the three, their sound crosses over to thrash. Black Dawn has been performing live music of the metal / heavy rock genre in the Long Island / NYC area since 1996 and cites Godsmack, Staind, Breaking Benjamin, Five Finger Death Punch, and Three Days Grace among their influences.  Black Dawn includes Matt Kotten (guitar/vocals); Tom Kelly (guitar); Shawn Cox (bass); and Enzo DiPaolo  (drums) -- apologies to Black Dawn for no photos… I had just finished my set with Ripped and was breaking down my drums during your set.
All photos by Bob Beucler except for the photo of Ripped, which was taken by Mitch Speert.  For more photos from the show, click here for the piece in NJ Stage Magazine.