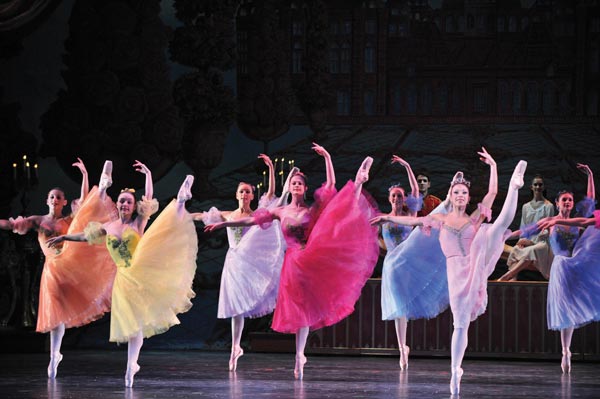 (MORRISTOWN, NJ) -- New Jersey Ballet's seasonal presentation of the holiday classic Nutcracker comes to Mayo Performing Arts Center for 14 performances from Friday, December 8 to Christmas Eve.  Tickets range from $29-69.  
New Jersey Ballet's Nutcracker is the longest running original professional production in the state. It debuted in Millburn in 1971 with international star of New York City Ballet Edward Villella as the Cavalier. Since then, the company has given approximately 900 performances in theatres throughout New Jersey, with more than 5,000 dancers and children, and more than a million viewers. Many in the audience who saw the production as children now bring their own children and grandchildren to see this cherished holiday tradition.
New Jersey Ballet's Nutcracker at MPAC will feature the New Jersey Symphony Orchestra under the baton of Gary S. Fagin. When the curtain rises, audiences in Morristown can expect the eye-popping special effects, brilliant dancing, glorious costumes, and the magic and pantomime that have inspired critics to call it "A spectacle that never seems to age, magic that should go on and on," and "One of the best, as good as it gets."
This season, New Jersey Ballet marks its 57th year as New Jersey's premier classical ballet company. It performs in 9 venues from Bergen to Cape May, and has performed internationally with tours to Russia, Taiwan, Bermuda, Italy, and India. Its programs have introduced countless children and adults to the magic of dance theatre and inspired in many a lifelong love of the arts. The company's extensive performance schedule is made possible in part by support from the New Jersey State Council on the Arts/Department of State, a Partner Agency of the National Endowment for the Arts, The Geraldine R. Dodge Foundation, and by other generous corporate, foundation, and individual contributors. New Jersey Ballet has been designated a Major Arts Institution by the New Jersey State Council on the Arts for "artistic excellence, substantial programming, and broad public service," and is a 3-time winner of the title New Jersey's Favorite Dance Company. For more information and a complete performance schedule, please visit New Jersey Ballet's Web site at www.njballet.org.

Nutcracker performances at MPAC:

Friday, Dec. 8 at 7:30 pm

Saturday, Dec. 9 at 1 pm

Saturday, Dec. 9 at 6 pm

Sunday, Dec. 10 at 1 pm

Sunday, Dec. 10 at 6 pm

Friday, Dec. 15 at 7:30 pm

Saturday, Dec. 16 at 1 pm

Saturday, Dec. 16 at 6 pm

Sunday, Dec. 17 at 1 pm

Sunday. Dec. 17 at 6 pm

Friday, Dec. 22 at 7:30 pm

Saturday, Dec. 23 at 1 pm

Saturday, Dec. 23 at 6 pm

Sunday, Dec. 24 at 1 pm

Mayo Performing Arts Center is located at 100 South Street in Morristown, New Jersey.
---
originally published: 2017-11-13 00:00:00

Dance On The Lawn 2018
(MONTCLAIR, NJ) -- Dance on the Lawn, Montclair, NJ's free outdoor dance festival, will return to the front lawn of St. Luke's Episcopal Church, 73 South Fullerton Avenue, on Saturday, September 8 from 3:00pm-5:00pm. Celebrating it's fifth year, Dance on the Lawn 2018 will feature performances by more than 13 New York and New Jersey dance companies and schools.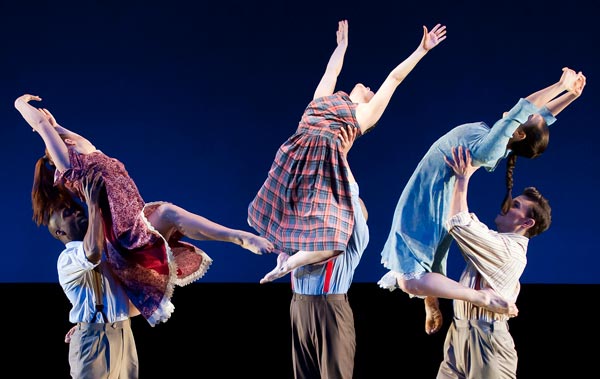 Carolyn Dorfman Dance To Perform At Monmouth University on Feb 25
(WEST LONG BRANCH, NJ) -- The Center for the Arts at Monmouth University will host a performance by Carolyn Dorfman Dance on February 25 as part of the Winter/Spring Performing Arts Series of events. Hosted in the auditorium of the Pollak Theatre, the 4:00pm performance is also being presented as part of the "Artful Explorations of Activism" series, under the Jewish Cultural Studies program at Monmouth.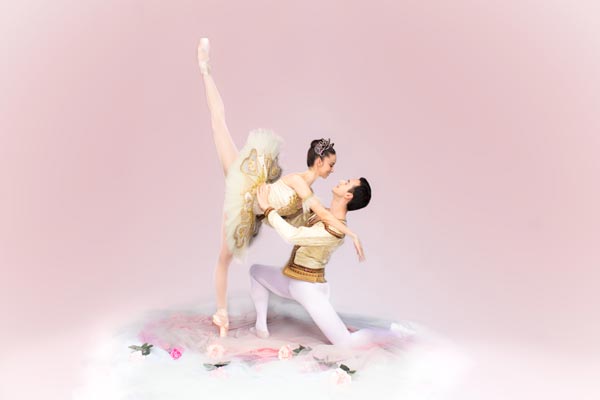 American Repertory Ballet To Perform "Pride and Prejudice" in Philadelphia
A pas de deux, or dance for two, can be full of heartfelt emotion, beauty and grace and leaves audiences in rapt awe and amazement. But for ballet couples – on stage and off—when the pas de deux is what Dance Magazine calls a "fairy tale moment, a life-imitates-art moment, a moment for ballet fans to remember" it makes for an unforgettable performance.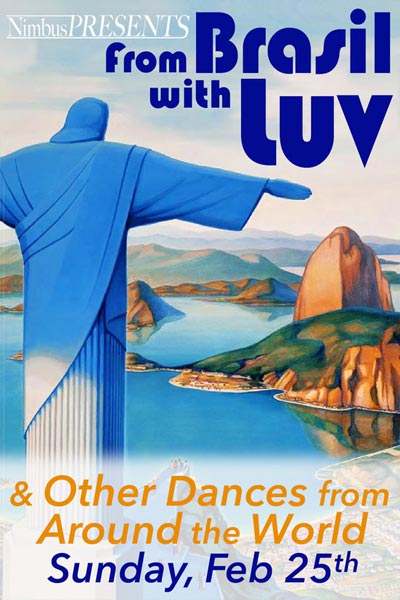 Nimbus Presents "From Brasil With Luv & Other Dances From Around The World"
(JERSEY CITY, NJ) -- Nimbus Dance Works presents from Brasil with Luv & Other Dances from Around the World on Sunday, February 25th in Jersey City.  The performance offers tales from around the world told through dance - featuring the world premiere of From Brasil with Luv - created by choreographer Elena Valls, and co-directed by by Chazz Giovanni Bruce.