By Gary Wien
originally published: 11/22/2017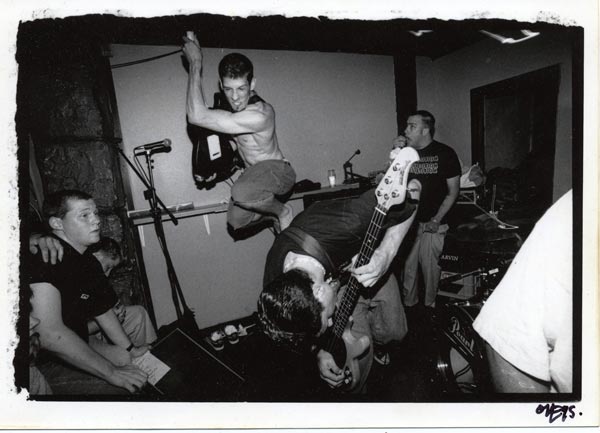 Hub City Sounds - New Brunswick's Live Music Series - wrapped up in early October.  The award-winning arts reporter Bob Makin was a big supporter, including being the driving force being the ROCK! New Brunswick festival, which took place at Boyd Park in September.  That event was intended to showcase some of the performers to come out of the Brunswick scene, while highlighting artists in the scene today.  
New Jersey Stage spoke with Makin about New Brunswick's music history, why it is so difficult for artists to find places to play today, and what he would like to see happen in the city.
Why is it important to celebrate the music and music history of New Brunswick?
No other city in the state has produced more national acts than New Brunswick, including Asbury Park and Hoboken combined. While none are as ginourmous or iconic as Bruce Springsteen or Frank Sinatra, the number of acts, especially those who are still active, is impressive. They include Glen Burtnik, The Smithereens, Bouncing Souls, Lifetime, Inspecter 7, Ensign, Thursday, Streetlight Manifesto, Hub City Stompers, The Ergs, Screaming Females, Night Birds, Mikey Erg, and Modern Chemistry. 
---
The article continues after this ad
---
---
And then there's Crossfire Choir, Chicken Scratch, Buzzkill, Nudeswirl, Deadguy, Catch 22, God Forbid, Midtown, One Track Mike & Little T, New Blood Revival, Hunchback, Gaslight Anthem, Roadside Graves and so many more who got started in New Brunswick and went on to tour and sell records nationally and even internationally. And top of all that, there's celebrity DJ Matt Pinfield, who founded Rutgers University radio station WRSU's "Overnight Sensations" local music program back in the early 1980s, became a local legend spinning at the Melody Bar before it was demolished, and went on to national acclaim at WHTG 106.3, MTV's "120 Minutes," Sirius-XM Radio, and now two nationally syndicated programs. It's a really impressive array of talent that those within the New Jersey music scene greatly respect and appreciate.  
Unfortunately, the City of New Brunswick doesn't embrace that history and its music, unlike the City of Asbury Park and the City of Hoboken, who use theirs to draw visitors to their cities. Instead, New Brunswick, at the behest of Johnson & Johnson -- otherwise they we're going to relocate to Princeton -- market their restaurants, jazz and fine arts to draw visitors. Rather than embrace and try to help market iconic venues, such as the Court Tavern, Melody and The Roxy, it let them fall to the wayside and in the case of the latter two, demolished them to help pave the way for New Brunswick as the health center of the state. The same fate soon awaits the Court Tavern unless someone or something steps in to right its course. 
And rather than embrace and work with its internationally recognized basement scene that launched more than half of the aforementioned national acts by creating viable, legitimate all-ages alcohol-free venues, the city shuts down house after house so that those shows can't be written about or promoted for fear of getting the house into trouble. And on top of that, the city created this asinine ordinance that nearly makes it physically impossible for venues that serve alcohol to host all-ages shows without jumping through such logistical hoops that no one bothers or can make any money with them. 
Amazing talent still comes out of the basement venues, but it would be great if it was a little easier to see than in a dingy basement. According to Screaming Females, who have toured across the country many times playing large college towns, New Brunswick is the only American city with a major university that doesn't have an all-ages venue. The music scene is desperate for one, and a perfect model is Flemington DIY, a nonprofit arts center that does a fantastic job in downtown Flemington, not only with music but also art exhibits, film screenings and more. A venue like that in New Brunswick would be a smash because there's so much young talent there and so many young people who would like to experience it. The lack of legitimate above-ground music venues in New Brunswick given the extent of its talent and history is pathetic. That's why it's important to celebrate the music and music history of New Brunswick, to show the powers that be that they are worth celebrating, as well as supporting and marketing! 
Why do you think New Brunswick has had such a long history basement shows as opposed to shows in clubs or bars/restaurants?
If you play jazz or practice fine performing and visual arts, as well as culinary arts, there are plenty of opportunities for you in New Brunswick. But because city authorities would rather bulldoze its local rock music scene than honor and support it, there is a severe lack of venues unless you want to sweat it out in a basement and take your chances with the cops or play across the Raritan River at Pino's in Highland Park for no money. And then there's the option to beg for a gig in the plentiful but cliquey Asbury Park music scene, which tends to be pretty snobby to out-of-town bands. Then again, so does New Brunswick's basement scene.
For a city that hosts 30,000 undergrads, it needs to have an all-ages venue! A few of them! The Souls and Lifetime started having house and basement shows because the city lacked all-ages venues, so that's been for a long time, but now it's just getting ridiculous, given the success of basement bands, so kids continue to take matters into their own hands by having shows. 
The networking in basement shows is incredible. New Brunswick basement bands who become popular with local fans and touring bands become a part of a network that spans the entire country and even overseas. Bands from as far away as Germany and Australia have sought out New Brunswick basement venues and subsequently, New Brunswick basement bands have gotten to tour the country and the world. 
Glazer are taking advantage of that right now on a tour, and Spowder just came back from one. Both Screaming Females and Night Birds have gotten to tour Australia because of that kind of networking. It's amazing and a good chunk of the reason why the basement scene should be embraced rather than shut down! Flemington DIY, The Meatlocker in Montclair, and Boontunes in Boonton also are a part of that network and examples of the kind of legitimate, above-ground, all-ages, alcohol-free venues that the City of New Brunswick and its authorities should try to replicate in much the same way that the Borough of Flemington helped DIY get off the ground. And now that it's flourishing, it's autonomous! 
By the way, one of the guys who plays in Glazer, Jeff Hersch, has done a magnificent job running Flemington DIY. He is the founder of it. If he wasn't so busy with that and his three bands, also Decoration and Casual, I know he would love to expand to New Brunswick.
Fortunately, there is a nonprofit organization called New Brunswick Cultural Center that produces the free Hub City Sounds concert series every summer and fall and co-produces the Hub City Music Festival in April with Iguana Music. New Brunswick Cultural Center are the producers of the fourth annual Hub City Sounds: ROCK New Brunswick festival, which this year was curated, expanded and promoted by the 18-member NJ Music Media Partnership, which includes you, me and so many others. Hopefully, we will be able to grow the festival in a way that will insure its growth and that can make a positive impact on the local music scene, especially in regard to the lack of all-ages venues and the marketing of its history and talent.
How important was it to you to have musical acts that showcase the city's diversity be part of ROCK! New Brunswick?
New Brunswick is one of the most diverse city's in the state, so Hub City Sounds very effectively reflects that. They produce festivals dedicated to the cultures of Mexico, India, the Caribbean, Latin America, as well as its talented rock music scene and strong jazz scene. It is important to them that ROCK New Brunswick reflect the city's diversity, so it was important to me.
One of the ways that ROCK New Brunswick reflected the city's diversity was with our warm-up party at NJ Skateshop, where the diverse and dynamic Neighborhood Watch DJ collective spun tracks during a three-hour show. Neighborhood Watch is like Louis Armstrong's "What a Wonderful World" come to life in that so many races and religions are represented by the four or five DJs and especially their enthusiastic crowd. It's a joy to seem them loving each other and the music, which unifies their differences and differentiates them from some of the racial horrors that are going on in this country right now.
Finally, who do you feel are among the most important artists with a New Brunswick background and why?
Oh, man, that's like asking me which one of my kids do I like best. Impossible question to answer. I will say New Brunswick always was a jazz town. At one point, it had about 20 jazz venues, all of which eventually closed. Jazz is huge in Hub City once again thanks to the tireless efforts of the New Brunswick Jazz Project, which holds many free concerts each month in the city's many acclaimed restaurants. In my opinion, after jazz waned in New Brunswick, The Smithereens hipped the rest of the state to the city's burgeoning rock music scene in 1986 when their major label debut album, "Especially for You," came out. After that, the flood gates of talent opened with Spiral Jetty, Wooden Soldiers, Tiny Lights, Whirling Dervishes, Spy Godz, Destroy All Bands, Mad Daddys, Raging Lamos, Walt Whitman's Beard and so many others that so many people, including me, would flock to see that it would take five minutes to get from the front of the Court Tavern's stage through the crowd to the bathroom. And it was only 50 feet away! 
Other music writers and I would try to get A&R guys from record labels in New York City to come down to New Brunswick to see all the amazing stuff that was going on, but rather than take a 45-minute train ride to New Brunswick, they would fly across the country to see what was going on in Seattle. Nudeswirl changed that. After Nudeswirl's self-titled debut came out in 1993 on Megaforce Records and they wound up on MTV's "Beavis and Butt-Head," suddenly the labels started paying attention, and you had bands like Buzzkill, Bouncing Souls, Lifetime, Deadguy, Ensign, Inspecter 7, Catch 22 and others getting record deals. 
After Bouncing Souls and Lifetime really codified and organized the New Brunswick house show and basement scene, you had even more bands getting record deals and garnering national and international audiences. That's why the city should embrace the basement scene, rather than demonize it; work and cooperate with it to find viable venue solutions to what is a danger and a hazard with illegal underage drinking, as well as structural perils, such as broken Bilco doors that have to be propped up to keep from slamming shut on a kid's head and steep, dark, rickety steps that have produced more than a few falls. 
The Smithereens, Nudeswirl, Bouncing Souls and Lifetime are historic bands whose history deserves better treatment than its getting. I hope that ROCK New Brunswick helps rights that wrong, especially the all-ages alcohol-free warm-up party at Volume IV that featured two great basement bands, Glazer and Spowder; a touring band from Kansas, Schwervon!, and Mr. Payday, led by the great Doug "Sluggo" Vizthum, whose first band, Pleased Youth, helped pave the way for the basement scene with shows in the basement of guitarist Paul Decolator's home throughout the mid-'80s. So this is our way of saluting the basement scene and its history, trying as best we can to replicate it with great music but no alcohol. In the early days, the basement scene was more about the music than the booze anyway.    
---
Gary Wien has been covering the arts since 2001 and has had work published with Jersey Arts, Elmore Magazine, Princeton Magazine, Backstreets and other publications. He is a three-time winner of the Asbury Music Award for Top Music Journalist and the author of Beyond the Palace (the first book on the history of rock and roll in Asbury Park) and Are You Listening? The Top 100 Albums of 2001-2010 by New Jersey Artists. In addition, he runs New Jersey Stage and the online radio station The Penguin Rocks. He can be contacted at gary@newjerseystage.com.
---