By Gary Wien
originally published: 08/22/2017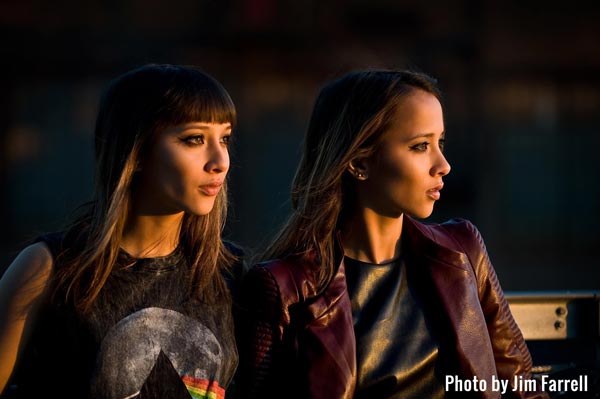 The first thing most people notice about Nalani & Sarina is that they are identical twins, but they are much more than that. The two are extremely confident, focused, and charismatic young musicians who are determined to carve out a musical career on their own terms.  And they recently discussed their goals and vision for their music during a TED talk in Delaware.
Nalani & Sarina Bolton hail from Flemington, NJ. They have released one EP and one full-length album with another in the works.  They will be performing at ROCK New Brunswick on Sunday, September 10th in Boyd Park.  It will be a great opportunity to hear their infectious blend of pop, rock, and soul. And ironically, this will be a rare appearance for them in New Brunswick.  While many Jersey acts have their radar set on playing Asbury Park, New Brunswick, and Hoboken, Nalani & Sarina have been building a much larger following.  Shows this summer have included gigs in New York City, Philadelphia, Wilmington, Bethlehem (PA), and Connecticut to go along with Garden State shows in Berlin, Clinton, and Seaside Heights. 
Between touring and appearances on Sirius Radio, profile shows on cable television, and music videos picked up nationally, Nalani & Sarina are on the verge of becoming one of New Jersey's next music exports.  New Jersey Stage spoke with the two sisters about how they got to this point and where they hope to go from here.
I enjoyed your TED talk and your discussion about the music industry's need to have more strong women like Carole King, Joni Mitchell, and Aretha Franklin.  What did you two learn from their careers?
Nalani — Oh gosh, what have we not learned! They're inspirational on so many levels and it's totally missing with today's world.  Those women actually spoke from the soul.  They were not seen as just sex figures; they were known for more than that.  They were known for their true abilities as songwriters and their ability to perform. They were able to captivate an audience and transcend their music on a wider scale; they didn't need to use the women card to win people's attention.
---
The article continues after this ad
---
---
Sarina - And the reason we picked those specific artists is that they are women of different races and different demographics that all capture that same thing, which was that the music was first.  Everything else came secondary to that.  The message that they were trying to get across was through their music.  That's what we admired the most from those specific women.  There are plenty of other examples, but those three stood out in our eyes.
Do you like the way those three all took charge of their careers in the way you said during the TED talk - "be proactive as opposed to reactive"?
Sarina - Absolutely.  We saw plenty of documentaries on all three of them, but especially on Carole King.  She started out purely as a songwriter and for her to take a stand for her music and have it come from her own voice and then with her business after that - she was a huge role model and someone we want to emulate.
You two are very confident performers.  Did that confidence come from years of performing and seeing the industry up close or from learning about the histories of artists like those three?
Nalani - It's a combination of all of those things.  Definitely being educated helps a lot, but honestly a lot of it comes from the support of each other as well as our family and our team.  Like we said in the TED talk, we try to surround ourselves with people who keep us grounded and push us to be better every day and challenge ourselves.  Our managers are a huge part of that and our family is a big part of that too.
We graduated high school early and decided to go all out in the music business, which is not the greatest conversation - it's not what every parent wants for their kids, but they were surprisingly supportive through it all.  They realized this is what we wanted to do and is something we love.
Was this your first TED talk?
Nalani - Yup!
You both seemed very fluid and natural in it.
Sarina - It's been a long time coming.  We've been prepping it in our heads for a while.  It look a lot of practice, but we tried to do it the same way that we perform live.  We honestly find it easier to sing as opposed to speak. That's always been a second nature to us, but it was a fun little challenge!
I know you've had record labels interested in you, but you've come quite a far way by doing things yourselves.  Do you think you even need a label these days?
Nalani - We recognize that the music business has evolved to a place where the business isn't there anymore.  I mean it is to a certain extent, but record labels aren't interested in taking a chance anymore.  It's very much a DIY (do it yourself) kind of world.  Not only do you get more control with not having a record label, but you keep all of your rights and have a lot more freedom.  We are in discussions, however, for an international distribution deal.  We're planning on doing everything self released ourselves.  We are putting together an awesome team to get our music out there and to more people, and we're excited about that.
Sarina - I think it's about having control. Not in the way of being a control freak, but making sure that your image and the vision that you see for yourself be as crystal clear as you want to present yourself.  There's always a chance of being with a label that tries to change you in different ways, which we have experienced and don't want to do.  We want to do it ourselves and make sure that our image is locked in tight - that's what I think is most important for a lot of young artists growing up in the industry.  A lot of people look at it as being a bad time in the music industry, but we actually think it's great for young artists that are trying to put their vision across.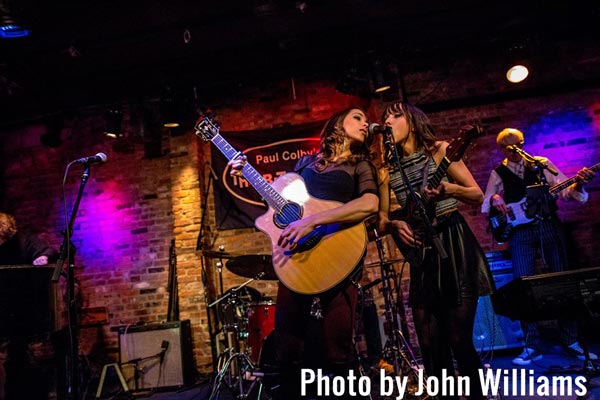 What do you see as your vision and image?
Nalani - We want to rule the world! Actually, we sort of want to restore the word "pop music."  Right now, people automatically dismiss the word "pop" because it's so fluffy nowadays.  But there was a time when pop music had strong songwriting and songs talked about things more than who they are dating or dancing or the crazy stuff that's distorted now.  We want to bring back the old version of pop music.
Sarina - We're huge fans of old soul music and funk music as well.  So, we like to put our genre into soul-infused pop rock.  That's kind of where we see our music.  It's putting a little of that old school flair into today's world - you see a lot of that in Bruno Mars.  But songwriting is where it's ultimately at.
Speaking of songwriting, your last release was more story-based songs than your first one.  I know you've been in the studio recently, what can people expect with your next record?
Sarina - We always say that each time we go to record a new package - every single presentation and every song is different and we like to keep it that way.  We don't like listening to albums where it's pretty much the same song just a different version.  That goes for stylistically as well as the songwriting.  Our first album was more about personal experiences. The second, as you said, was more storytelling.  This next one has influences of both.  The storytelling that we have in some of the songs are completely new topics for us.  As songwriters, we try to find inspiration wherever we can and it's very observational.  We always like to write songs about what we're surrounded by.  A lot of the songs on this new record are based on people our age, which we haven't really touched on before.  Right now it's pretty interesting what the Millennials are going through. Many are struggling to find work or being stuck in a job that they hate.  We're around a lot of our friends who are coming back from college and we see what they're going through.  As songwriters, it's hard not to write about what they're going through.  It's topical.
Both of you are big fans and were inspired by Sam Moore (of Sam & Dave fame) and not only got to meet him, but were able to perform alongside him.  What was that like?
Sarina — We were on Sirius Radio with a good friend of ours, Dave Marsh.  He told us a few weeks before, "I have good news and bad news.  The bad news is you have to share your time with another guest.  The good news is that guest happens to be Sam Moore." I wish you could have seen our expressions when he said that.  He gave us their greatest hits CD maybe a year or two before that and for that entire year we literally fell in love with that style of music - their voices and how they were both pretty much leads.  We thought that was so cool because a lot of the duos you see now have one singing lead and the other sings background, but they fed off each other so much.  
When he told us that we were genuinely freaked out and could not contain our excitement! We ending up singing "When Something Is Wrong With My Baby" on the air for him with Sam standing two feet away from us. We were shaking a bit, but man it was so much fun!
Nalani - In the last chorus of "When Something Is Wrong With My Baby" he actually joined in as a third harmony.  That totally threw me off because I did not expect to hear this soulful male voice.  I'm like, "That's Sam Moore singing with us!" By the end he invited us to come out and play with him at a City Winery gig.  Hearing him with a full band on stage play what we were hearing in our cars was heaven for us.  It was our dream come true.
Hate to do this, but I've to drag up a question about being twins… in your TED talk you mentioned that people early on tried pushing you to use that as a gimmick.  Did that really

happen?
Sarina - It was a little weird for us growing up because as we said in the TED talk music had always been a part of our lives and we purely saw the music.  It was at the point when we were getting into the music business where we didn't notice what other people were seeing.  We weren't trying to revolve anything around being twins, but when we were surrounded by certain people we definitely noticed it.  I think it's the business itself and how everything is so visual.  That's kind of what you see first.  It almost felt like people were taking advantage of that.  
That was our experience and it took a while for us to grow up and see that that's what the business is like and ultimately trying to overcome it.
Nalani - Being twins in general you kind of forget that people view you as one package.  They don't see you as two people, which you can understand to a certain extent if someone is meeting you for the first time.  But we got to a point where we felt like that was all people saw.  We don't want our music to be known for just being twins, we want to go beyond that gimmick.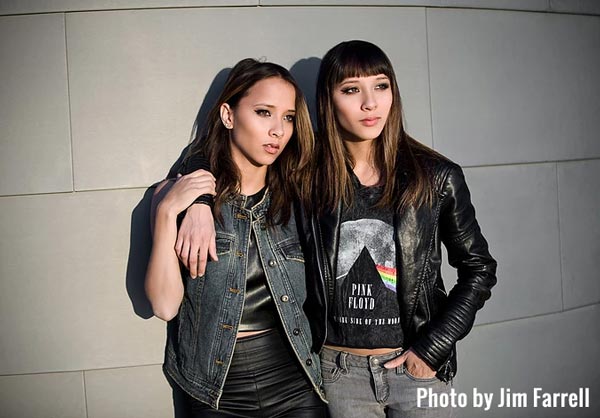 What's the weirdest twins-related question you've ever been asked?
Sarina - How long have you been twins? 
Nalani - The typical one is do you guys have telepathy? And I think you kind of get that just by being around someone that long in general.  Honestly, telepathy comes out in its truest form when we're songwriting or on stage.  
We also get a bunch of weird questions like do you feel the same pain when you're twins?
Finally, you've done several festivals again this summer.  Has playing festivals been a good way to grow your fanbase?
Sarina - On an audience level, festivals do have a lot more people.  So to some extent, I do believe that can grow a fanbase.  Honestly, for us, it's just about playing as much as we can.  Anywhere we can play is, in our eyes, what has the most impact.  Our favorite things is connecting with people in person so festivals are a great way to do that.  Just getting a chance to talk to people after shows is what means the most to us and connecting is the most important part.
---
Gary Wien has been covering the arts since 2001 and has had work published with Jersey Arts, Elmore Magazine, Princeton Magazine, Backstreets and other publications. He is a three-time winner of the Asbury Music Award for Top Music Journalist and the author of Beyond the Palace (the first book on the history of rock and roll in Asbury Park) and Are You Listening? The Top 100 Albums of 2001-2010 by New Jersey Artists. In addition, he runs New Jersey Stage and the online radio station The Penguin Rocks. He can be contacted at gary@newjerseystage.com.
---