By Gary Wien
originally published: 06/19/2017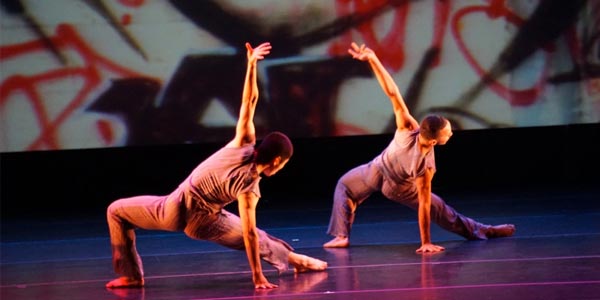 (NEW YORK, NY) -- Nai-Ni Chen Dance Company will present the New York Premiere of CrossCurrent June 22-24 at the Martha Graham Studio Theater in New York City. CrossCurrent is a collection of new works created on Nai-Ni's journey as an immigrant artist.  Choreographer/Dancer Nai-Ni Chen is an artist whose work defies categorization, as she is continually working on new ideas from influences around the world. 
Here is a look at the program followed by an interview with Nai-Ni Chen about CrossCurrent.
Way of Five - Earth, a 2010 work to the commissioned music from Gerald Chenoweth, in which she explores the essence of the Chinese Taoist's belief that the  physical world are made up of five elemental energies symbolized by Wood, Fire, Water, Metal and Earth.  These elemental energies both substantiate and annihilate each other.  Chinese medicine and Fengshui are both heavily influenced by this idea of the five elements.  The central element, Earth, can be used to annihilate the power of water, and substantiate the power of metal.    In this dance, Nai-Ni Chen uses the space on stage as her canvas to create a moving landscape that flows like lava in the center of the planet, waiting for an opening to explode.   The movement language she created for this dance is based on trance, breathing, and continuous spiral motion that is central to Tai Chi and other forms of Chinese Martial Art.
Calligraffiti Variations (New York Premiere) is a new work to the music of Huang Ruo, based on the common experience of many Chinese artist's first encounter with New York and its Graffiti art. The journey of an immigrant adapting to the new homeland is full of struggle and discovery.  In this new dance, Ms. Chen attempts to illustrate this by looking at the elegant and graceful line of Chinese calligraphy and the bold, colorful street art she sees on subways and buildings of New York City.  This contrast is a parallel of an immigrant's journey.  We strive to honor the tradition and at the same time advance the state of the art towards the future through our unique, everyday cross-cultural experience.

Bamboo Rap (New York Premiere), inspired by the amazing spoken work art form of Kuaiban originated in Beijing over 100 years ago and still practiced today.  It is a unique folk art where storytellers accompany their own vocal performance with the rhythmic sound of a pair asymmetrical bamboo clappers. In this dance, Nai-Ni explores the marvelous rhythmic innovations created by the exotic percussion instruments and the spoken Chinese language. The dance is choreographed by using the sound and rhythm as inspiration to create a movement language responding to the flow of spoken words.

Uncharted Destiny (World Premiere), is inspired by the human experience of migration, which is sometimes inspiring, sometimes unsettling but always arresting.  In an Untitled work of Nai-Ni Chen's favorite poet, Bei Dao: 

sorrow that comes from afar
is a form of power
that I used to saw tables
some people depart for love
while a palace in pursuit of storms
journeys past many kingdoms
Performances are Thursday, June 22; Friday, June 23; and Saturday, June 24 all at 7:30pm in the Martha Graham Studio Theater on the penthouse level of 55 Bethune St, New York, NY 10014. Tickets: $30 Reg; $15 for students/seniors/children 12 & under. Reservations: 800-650-0246 or online .
---
CrossCurrent is a collection of new works created on Nai-Ni's journey as an immigration artist, including the World Premiere of Uncharted Destiny.   What can you tell me about it? 
---
The article continues after this ad
---
---
Humans have always migrated into new lands to create and build new communities.  More importantly, for better well -being and safety for themselves, their children and the coming generations, immigrants would go on journeys that are enduring, unsettling, and full of challenge.  
Myself and most of my dancers are immigrant artists.  The program reflects my personal cross cultural experience.  The new piece, Uncharted, reveals different aspects of our adventure and some of the driving forces that each of us experienced on our journey.  
CrossCurrent also includes a pair of works having their NY premieres (Calligraffi Variations and Bamboo Rap) — Calligraffi Variations is set to the music of Huang Ruo.  Was the music created for this piece? If not, how was the music chosen?  
The music created a few years ago reflected Mr. Huang's experience as an immigrant composer coming from China to settle in the US.  The focal point is the comparison of two similar forms of visual art:  Chinese Calligraphy being revered as the ultimate elite artistic form that balances the abstract and emotional, and the embodiment of nature and humanity; Graffiti being the ultimate street art of protest representing rebelling of youth, urban decay, unrest and the inequity in society.   The extreme differences and commonalities in these two art forms can be unsettling.  To me, his music is a journey that reflects the quest for resolution for this contradiction.  And realizing that we, as artists in two cultures, have the capacity to embody the two extremes and finding different ways to resolve these contradictions.  It shows a path of growth for us and ultimately serves to advance a more equal, inclusive and artistic world view.
At first, I was attracted to the title, the idea behind it, then as I listened to the music I felt the tension and release in it, the repetition of conflict and settling throughout the piece until the end when the music finally reaches a boiling point and then settles into a beautiful, peaceful string solo which I could relate to emotionally and intellectually.  I added a little bit of heart beat sound and NY traffic sound to the beginning for a more personal touch to the piece.
Bamboo Rap was inspired by spoken word.  How important is it for Nai-Ni Chen to show various aspects of Chinese art forms?
I am very sensitive to cultural elements that offer contradictory or complimentary backgrounds and meanings.  In Calligraffiti, I found progress within contradictory cultural elements that share some similarities.  In the case of Bamboo Rap, the two art forms:  Chinese Kuaiban and contemporary rap, both share their roots in the street.  Similar to Rap, Kuaiban is a storytelling art form using folklore and social issues as its content.  Spoken Language represents the art, thoughts, tradition of the people.  In this work, I investigate the tones of the voice, the rhythmic pattern of the Chinese language, the varying intensity and emotion that come with the spoken lines.  I then bring it to contemporary streets of New York with a touch of hip hop spirit.  
How does Way of Five - Earth fit into the journey?
It is kind of the beginning.  I came to America with a set of pre-existing concepts, ideas and world view.  Gradually, I discovered the common humanity that we all have through working together with audience, collaborators, and most importantly, dancers and fellow choreographers.  But, equally as important, I learned about our differences, and how I can fit in despite those differences that sometimes can put us so far apart.  The five elements series is an embodiment of the Chinese idea of balance between destruction, renewal and progress.  They are constantly reminding me of the basis of my aesthetic.
Does performing a show about the immigrant experience take on a new light with the change in policies and attitude of the U.S. president?
I believe, me and my fellow immigrants brings positive energy, a desire to learn how to be better, a  hunger for a higher level of artistic freedom, a great desire to participate in a society that is open to a new artistic vision. I believe that making dance in America will have greater impact to the world than if I stayed in Taiwan.  I came to America because the country represents an ideal for new ideas and new collaborations. I am hopeful that this ideal can be maintained no matter the political climate. 
Are all of the works in Nai-Ni Chen's repertoire solely created by Nai-Ni Chen? Or do others in the company offer input?
The creative process always involves a lot of improvisation.  As a choreographer, it is important to inspire the dancers and to encourage them to give their voices to be part of the creation.  So we spend hours and hours experimenting in the studio.  However, choreography is much more than creating movement phrases.  It takes lots of hours to search, conceive, visualize,  prepare, research, plan out the structure, finding the music, work with collaborators, etc. I create all the work.  And dancers' input is very important in the process.  I need a good team to create great work.
Anything else you'd like to say about CrossCurrent?
My dances are complex.  I encourage my audience to see it more than one time.  I hope I create dances that each time will be a new experience.
---
Gary Wien has been covering the arts since 2001 and has had work published with Jersey Arts, Elmore Magazine, Princeton Magazine, Backstreets and other publications. He is a three-time winner of the Asbury Music Award for Top Music Journalist and the author of Beyond the Palace (the first book on the history of rock and roll in Asbury Park) and Are You Listening? The Top 100 Albums of 2001-2010 by New Jersey Artists. In addition, he runs New Jersey Stage and the online radio station The Penguin Rocks. He can be contacted at gary@newjerseystage.com.
---