---
Did you know NJ Stage offers FREE Event Listings? Nearly 100,000 listings were viewed in January. Be sure to add your events to our calendar and get your shows noticed!
---
Musicians on a Mission Presents
Jerry Garcia Birthday Celebration
originally published: 08/16/2016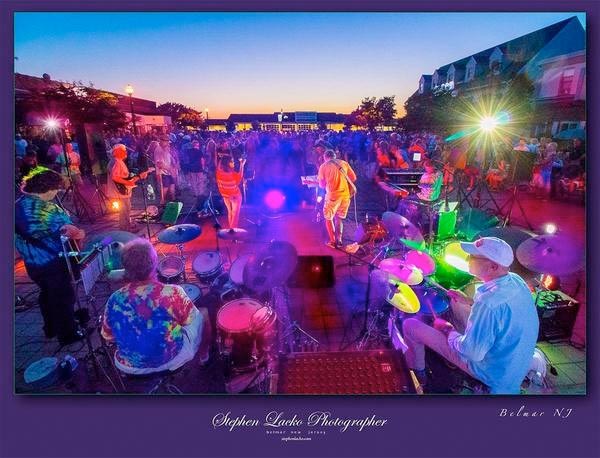 (LAKEWOOD, NJ) -- The Strand Theater will be host to a very special evening celebrating the music of Jerry Garcia on Friday, August 26. Proceeds from the evening will benefit The Strand Theater and The Jerry Garcia Foundation.  Performers include Rainbow Full of Sound, with a special reunion of the Jerry Garcia/Merl Saunders Band rhythm section, featuring Bob Steeler (former member of Hot Tuna) on percussion and Merle Saunders' son, Tony Saunders, on bass. Tickets are only $15 (plus $5 fee per ticket) and are available at the Strand's website.
Mr. Saunders, according to his website, "graduated from the prestigious Conservatory Of Music in San Francisco as a piano player, but soon after began honing his skills on the bass. He was influenced by the sounds of James Jamison, Stanley Clark, Jack Cassidy and others."

Plan on arriving by 7:00pm for a pre-party in the Gallery, featuring acoustic performances from members of Musicians On A Mission, and a raffle of three museum quality Jerry Garcia original art prints donated by the Jerry Garcia Foundation. Raffle tickets are $10 or 3 for $25. The Main Stage concert will be general admission and begin at 8:00 PM.
Live entertainment for the pre-party from local guitar heroes Mark Diomede of Juggling Suns and Solar Circus and Kevin Hill of Secret Sound.
The Jerry Garcia Foundation, a 501c3 nonprofit organization, serves to support meaningful causes through the beauty of art and music. The Foundation was established in 2015 as an expression of gratitude, by family members, Manasha and Keelin Garcia, in honor of musician, artist, and visionary, Jerry Garcia. "Staying true to Jerry's values, we embrace the idea that music and art bring great healing to the world."
---


Benefit Concert For Dina's Dwellings In New Brunswick On Friday
(NEW BRUNSWICK, NJ) -- Join the cast of The Vagina Monologues and some special guests for Ladies' Night, a benefit concert of fun and empowering songs celebrating and uplifting women. Co-directed by Mariella Klinger and Dave Seamon and produced by coLAB Arts, the concert takes place at First Reformed Church of New Brunswick for Dina's Dwellings on December 14 at 7:30pm.  It features a wide selection of pop songs and musical theatre selections from your favorite Broadway musicals will be performed along with a preview of an original musical by Dave Seamon and Molly Horan entitled A Universe Without Him. 
---
Audible and NJPAC Present "Jazz in the Key of Ellison"
(NEWARK, NJ) -- The New Jersey Performing Arts Center (NJPAC) and Audible have announced the first three national performance dates of "Jazz in the Key of Ellison," celebrating the musical world of the esteemed African-American novelist, critic and scholar Ralph Ellison and his remarkable collection of jazz recordings.
---
Centenary Stage Presents Michael Davis and the New Wonders
(HACKETTSTOWN, NJ) -- Centenary Stage Company's annual January Thaw Music Festival returns to the Lackland Performing Arts Center featuring three musical guest artists throughout the month of January. The series launches on Saturday, January 12, 2019 at 8:00pm in the Lackland Performing Arts Center with Michael Davis and the New Wonders.
---
Billy Joel to Celebrate 70th Birthday at MSG
(NEW YORK, NY) -- The Madison Square Garden Company announced that the 64th consecutive show by legendary musician and MSG franchise, Billy Joel, on Thursday, May 9, 2019 takes place on his 70th birthday! The  show will be Joel's 110th all-time performance at The Garden.
---
Hard Rock Hotel & Casino Presents Motor City Live: A Motown Christmas
(ATLANTIC CITY, NJ) -- Hard Rock Hotel & Casino Atlantic City has extended Motor City Live: A Tribute to Motown through the month of December with a special Motor City Live: A Motown Christmas. Along with your favorite Motown classics, you'll hear some Motor City versions of your favorite Holiday songs sprinkled in like "Rudolph the Red-Nosed Reindeer" from The Temptations, Aretha Franklin's "Winter Wonderland," "I Saw Mommy Kissing Santa Claus" and "Santa Claus is Coming to Town" from the Jackson 5, Smokey Robinson's "Jingle Bells" and much more.
---


An Interview with Chip Davis Of Mannheim Steamroller Christmas
You can experience the magic of the holidays — Steamroller-style — when Mannheim Steamroller Christmas by Chip Davis makes a tour stop this Thursday, December 6, 2018, at New Brunswick, NJ's historic State Theatre.
---
Max Weinberg's Jukebox LIVE! at the Grunin Center
Something is different about tonight's November 18, 2018 concert at Toms River, NJ's Grunin Center for the Arts starring Max Weinberg, celebrated drummer from Bruce Springsteen's E Street Band!
---
PHOTOS: Matt O'Ree Band at The Stone Pony in Asbury Park
(ASBURY PARK, NJ) -- The Matt O'Ree Band returned to The Stone Pony in Asbury Park on Friday, November 16 and photographer Estelle Massry of Coucou Photography was on hand to take some photos.  David Bryan from Bon Jovi was one of the special guests that night.
---
"How Could You Not Love Them?" The Buckinghams and Herman's Hermits LIVE! at BergenPAC
Although it's a chilly Saturday, Nov. 17, 2018 evening in Englewood, NJ, music lovers are lined up outside the Bergen Performing Arts Center waiting to hear classic songs of the '60s as performed by two quintessential groups of the era — The Buckinghams and Herman's Hermits starring Peter Noone!
---
If It Ain't Baroque... Bach's Brandenburg Concertos With Symphony in C
You know the old joke: If it ain't Baroque, don't fix it? Well, put away those tools, dear reader. Bach's Brandenburg Concertos ARE Baroque, so no fixing necessary. This Saturday, December 1, Symphony in C is performing Johann Sebastian Bach's Brandenburg Concertos Nos. 2 through 6 at the Rutgers-Camden Center for the Arts. Officially presented in 1721, these collective works are considered to be some of the finest orchestral compositions of the Baroque era (generally 1600 to 1750). These six concertos are among the most recorded, performed and beloved works by Bach. – And that's J.S. Bach, for those of you keeping score at home. There are a LOT of Bachs.
---
Event calendar
Thursday, Dec 13, 2018
---
MUSIC

---
---
JERRY BLAVAT

@ Lobby Bar at Hard Rock Hotel and Casino Atlantic City, Atlantic City - 12:00pm
---
---
---
---
---
---
THEATRE

---
---
---
---
---
FILM

---
On the Map

@ Pollak Theatre @ Monmouth University, West Long Branch - 7:30pm
---
MISC

---
---
View all events
---