By Gary Wien
originally published: 03/29/2017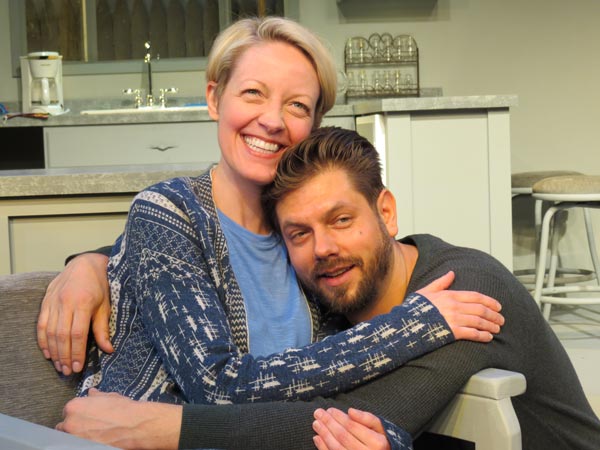 (LONG BRANCH, NJ) — Multiple Family Dwelling by James Hindman takes place in the present day in Mt. Clemens, Michigan - a rather downtrodden neighborhood where Kelly and James own a house they live in and rent upstairs.  They have just gotten rid of their current tenant and plan on having their friend Tia move in with her fiance Stuart.  It's the latest World Premiere at New Jersey Repertory Company and one that examines which is worse: telling a lie or living with one.
Directed by Alan Souza, the play stars Maria Couch (as Kelly), Dustin Charles (James), Dana Brooke (Tia), and Jared Michael Delaney (Stuart).
The play begins long after a birthday party for Kelly and James' daughter has ended, and the two couples remain drinking and playing games. Tia and Stuart are excited to be moving in upstairs and Kelly is happy her best friend will be living in the same house.  The couples begin removing the Disney party favors and cleaning up while the booze flows.
"There is nothing more fun than getting drunk at an 8 year-old's birthday party!" exclaims Tia who rapidly runs through her hopes of getting pregnant and having a daughter just like Kelly's.
It's a roller coaster opening as the inebriated adults talk about their hopes and dreams and dig into their fears.  The conversations range from light-hearted to disturbingly serious.  At one point James reveals the nightmares he has of seeing his daughter on top of a very large building - something like the Empire State Building - and watching her fall, unable to catch her.
---
The article continues after this ad
---
---
Things take a strange turn when Tia and Kelly start reminiscing about a boy everyone liked in high school.  The name sounds familiar to Stuart and he is certain it's the name of someone who called the other day.  As his jealousy moves to the forefront, we learn that his first wife cheated on him and that he has severe anger management issues.  James comes to Tia's rescue by saying that he was the one who called.  He merely disguised his voice and gave a false name because he was getting a golf club for Tia to give Stuart as a wedding gift.  She explained that they were soon going to get many wedding presents mostly for the wife, so she wanted to make sure he had something nice too.
Stuart doesn't buy the story at all.  When he and Tia abruptly leave, James and Kelly are in shock.  Part of them wonders if they still have new tenants moving in; part of them hopes they don't.
The ride home is about as tense and scary as one could imagine.  Tia tries to talk to Stuart, but he remains stone-faced and doesn't say a word.
"Couples are going to fight Stuart," she says.  "If you don't fight, you end up on Dr. Phil."
Stuart brings the car to a sudden stop on the side of the road and begins forcing himself on her.
In my opinion, this would have been a great place to end Act One, but as with many plays these days, Multiple Family Dwelling is one long act (90 minutes) without intermission.  It's a shame because a pause at this point would have peaked the audience's curiosity over what was going to happen to the two couples.  Instead, we quickly move to the next day when Tia tells Kelly that they won't be moving in after all.  They're moving into an apartment over Stuart's parents' garage. And before we know it, we're at that apartment for a barbecue where all hell breaks loose aided once again by large amounts of alcohol.  
The play is like a modern day version of Who's Afraid Of Virginia Woolf.  It's a difficult play to love because none of the characters are worth rooting for and the subject matter is very disturbing.  It's also a difficult play to pan because the playwright does a good job of diving into the choices we make, the actions we think are best kept secret, and the lies people tell. The actual plot could seem like a soap opera, but the play never feels like one.  While some scenes have dialogue that feels a bit forced, others sounds spot on.  As with most World Premieres, there are places that can be touched up to make the play better.  The potential is there.
Leaving the theatre, I wondered what was it that made Who's Afraid of Virginia Woolf such a classic.  None of the characters in that play are innocent.  In both plays, you're simply a fly on the wall, watching four people tear their worlds apart. Maybe Virginia Woolf shocked people because television at that time did not have daytime shows like Jerry Springer and Dr. Phil where we see deep, dark secrets exposed, destroying couples every week. If you're a fan of that drama, this play will definitely entertain you.  If not, it will pose some serious questions and it might make you feel a little better about your relationship.  It's not a feel good kind of play, but it's a "at least my life isn't as screwed up as their lives" kind. Many people believe theatre is supposed to be dangerous, raise disturbing questions, and make the audience a bit uncomfortable.  This play certainly does that.
Multiple Family Dwelling runs now through April 9th at New Jersey Repertory Company (NJ Rep), 179 Broadway in Long Branch, NJ.
Photo: Maria Couch and Dustin Charles. Photo credit: SuzAnne Barabas
---
Gary Wien has been covering the arts since 2001 and has had work published with Jersey Arts, Elmore Magazine, Princeton Magazine, Backstreets and other publications. He is a three-time winner of the Asbury Music Award for Top Music Journalist and the author of Beyond the Palace (the first book on the history of rock and roll in Asbury Park) and Are You Listening? The Top 100 Albums of 2001-2010 by New Jersey Artists. In addition, he runs New Jersey Stage and the online radio station The Penguin Rocks. He can be contacted at gary@newjerseystage.com.
---