By Gary Wien
originally published: 06/16/2015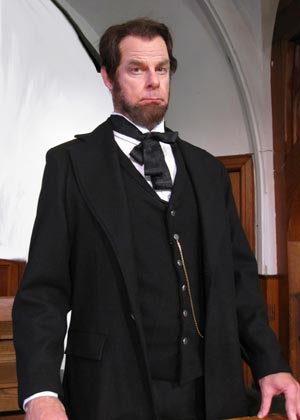 "Lincoln was a man who was President of the United States during the bloodiest conflict in this country," said Gayle Stahlhuth, Artistic Director of East Lynne Theater Company.  "He tried to prevent war, but once in it, he did all he could to win the war and reunite the country.  The mounting loss of lives on both sides deeply affected him.  At the same time, he had to deal publicly with accusations by those who thought his wife, Mary, was a spy for the South, living in the White House."
East Lynne Theater Company kicks off its 35th season with Mr. Lincoln by Herbert Mitgang.  The one man show, which stars Tom Byrn and is directed by Stahlhuth, runs June 17 through July 25.  The play was selected to commemorate the 150th Anniversary of Lincoln's assassination.  
Mr. Lincoln begins on April 14, 1865, as the President is watching Our American Cousin at Ford's Theatre in Washington, D.C. just days after General Lee had surrendered to Grant, ending the war.  As John Wilkes Booth enters the President's box and aims his pistol, Lincoln's life flashes before him — taking him back to his humble beginnings in Kentucky, soon after he was born in 1809. The play covers his rise in politics and aspects of his personal life including his courtship with Mary Todd and his bouts of melancholia. Virtually the entire script comes from Lincoln's own words.    
Much is known about Lincoln, and he remains one of the most popular U.S. Presidents of all-time (if not the most popular).   According to abebooks.com, at least 15,000 books have been written about Abraham Lincoln.  In recent years, releases such as Doris Kearns Goodwin's Team of Rivals: The Political Genius of Abraham Lincoln to the fantastical world of Abraham Lincoln: Vampire Hunter have found their way from bookshelves to the silver screen. According to Stahlhuth, this play serves as a reminder of Lincoln's ability to frame arguments with his words and storytelling prowess.
"Most people know about Lincoln's sense of humor and storytelling, and this play cleverly highlights just how effective his humor could be when trying to win an argument," she said. "The play is also a reminder that Lincoln wrote his own speeches and letters, and took complete responsibility for his beliefs and actions. For the past fifty years, at least, many in public office have speech writers and pundits."   
---
The article continues after this ad
---
---
Lincoln's place in U.S. history is one reason his legacy endures.  He was President during the Civil War, a period in which the nation was torn apart and needed a true leader as never before.  He ended slavery and was the first president to be assassinated.  Any one of these things would have left his mark on history, but Stahlhuth believes Lincoln's legacy endures because of his complexity — something that continues to draw scholars in for further analysis.
"Debates are still being waged on his beliefs about race," explained Stahlhuth.  "Is he 'the Great Emancipator' or was he out for his own political gain?  Whatever the debate, he was the right man at the right place at the right time, and I do believe he meant 'malice towards none' after the Civil War.  Had he not been assassinated, I believe Reconstruction would have been handled differently, and perhaps there would have been less of a racial divide today.  We'll never know."
East Lynne Theater often does historical plays by design because Cape May itself is a town that is a reminder of the past.  Stahlhuth says that the town's uniquely historic architecture and destinations such as The Mid-Atlantic Center for the Arts and Humanities, Historic Cold Spring Village, and Naval Air Station Wildwood, offer the opportunity for visitors to truly step back in time — something that separates it from being just another beach town along the Jersey Shore.
Each year's season is built around a specific theme and this year's theme is "Unexpected Encounters" although Stahlhuth admits it could just easily have been called "North vs. South."
"This [theme] is pretty obvious with Mr. Lincoln and our world premiere of Huckleberry Finn adapted by James Rana from the Twain classic," said Stahlhuth.  "But even in our fall show, Strictly Dishonorable, an innocent Southern belle from a plantation in Mississippi, and her fiancé from West Orange, NJ, step into a Manhattan speakeasy where they encounter its gracious manager and his employees, a clever judge, and a worldly Italian opera star. This screwball Broadway 1929 comedy by Preston Sturges explores the conflict between playing it safe and expanding one's horizons and the Southern and the Northerner who have to confront each other! Is marriage in their future or not?"
For history buffs or admirers of President Lincoln, there's no better place to dive into history than  a trip to Cape May.  It's a great summer weekend destination in New Jersey.
Mr. Lincoln runs June 17 through July 25 with performances Wednesdays through Saturdays.  There is no performance on Saturday, July 4 but will have a performance on Sunday, July 5.  For more information visit www.eastlynnetheater.org
---
Gary Wien has been covering the arts since 2001 and has had work published with Jersey Arts, Elmore Magazine, Princeton Magazine, Backstreets and other publications. He is a three-time winner of the Asbury Music Award for Top Music Journalist and the author of Beyond the Palace (the first book on the history of rock and roll in Asbury Park) and Are You Listening? The Top 100 Albums of 2001-2010 by New Jersey Artists. In addition, he runs New Jersey Stage and the online radio station The Penguin Rocks. He can be contacted at gary@newjerseystage.com.
---