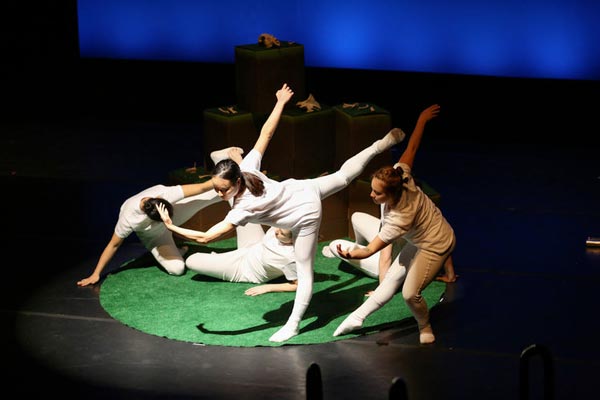 (NEW BRUNSWICK, NJ) -- coLAB Arts, with new presenting partner Mason Gross School of the Arts - Department of Dance, presents its annual dance concert titled MOTION: New Dance Works. The event features six new short works and will be held on Friday, December 8 at 7:30pm, and Saturday, December 9 at 2:00pm, at Loree Dance Theater (70 Lipman Drive, New Brunswick, NJ 08901).
The featured choreographers include Kiri Avelar, Esther Baker-Tarpaga, Camille Moten, Jessica Featherson, Stephanie Beauchamp, and Hillary-Marie,  who will all be showcasing new work developed with local social advocacy organizations Esperanza Neighborhood Project, NJ Spark, MyGOAL Autism, Food & Water Watch, Churches Improving Communities, and Literacy Volunteers of America - Essex and Passaic Counties. 
Tickets are $15 for the public, $10 for Seniors, Rutgers Alumni, and Employees, and $5 for Rutgers students. Tickets are available in advance through the Mason Gross School of the Arts box office at 848-932-7511.
Motion: New Dance Works is funded in part by the New Jersey State Council on the Arts/Department of State, Middlesex County Board of Chosen Freeholders/Office of Culture & Heritage, and Johnson & Johnson.
The Featured Choreographers:
---
The article continues after this ad
---
---
Kiri Avelar with Esperanza Neighborhood Project - Kirsten (Kiri) Avelar is a graduate of the BA dance degree program at New Mexico State University in Las Cruces NM where she received the Outstanding Dancer, Outstanding Performance, Leadership and the Choreographic Excellence Awards. She is currently the Associate School Director of Ballet Hispanico in New York City. Kiri was the founder, director and resident teaching artist of the Academia de Ballet Emmanuel dance school at the Hogar de Niños Emmanuel orphanage in Ciudad Jaurez in Chihuahua, Mexico. Subsequently, she has been a performer for the Milwaukee Ballet Company, and is a master teacher in Spanish dance, flamenco, and Mexico and Spanish folk dance, as well as ballet, modern and jazz dance. Kiri is interested in deepening her practice in teaching methodologies and investigating the intersections of various dance forms and social justice advocacy.
Esther Baker-Tarpaga with NJ Spark - Esther Baker-Tarpaga is a performance artist and choreographer. She co-directs Baker & Tarpaga Dance Project, a transnational performance company based in Burkina Faso and Philadelphia. Her performance work has recently toured to Tamadia Arts Festival France, Bali Spirit Festival Ubud, InOut Festival Bobo Dioulasso, CECUT Tijuana, El Lechon Illustrado Guanajato, LabBodies Baltimore, The Wassaic Festival NY, and Kelly Strayhorn Theatre Pittsburgh. Her dance films have screened internationally and she is a published scholar. She has taught at University of the Arts, The Ohio State University, and was a Grant Wood Fellow at University of Iowa. She is a member of International International Interdisciplinary Artist Consortium, toured with David Rousseve/REALITY, and collaborated with Guillermo Gomez-Pena/La Pocha Nostra. An Artist in Residence at Marin Headlands in 2013, she is also a recipient of a NY Live Arts Suitcase Fund, BETHA Grant, and was a US Cultural Envoy in Guinea, Botswana, and South Africa. She is a member of Philly Dance for Justice and co-founder of Meredith School Anti-Racist Group. She has a BA from Bowdoin College and an MA and MFA from World Arts and Cultures UCLA.  
Camille Moten with MyGOAL Autism - Camille Moten is a graduate of Temple University's BFA degree in dance, in Philadelphia PA, where she was awarded the Rose Vernick Most Promising Performer Award and Scholarship upon graduation. She is trained in contemporary, ballet and jazz dance as well as Latin styles of dance. Camille is interested in developing a choreographic voice that tells stories about human connections within a sustainable professional career in dance, including further explorations in dance education.
Jessica Featherson with Food & Water Watch - Jessica Featherson is a graduate of Temple University BFA dance degree program, with a minor in Latin American Studies. She has had extensive study and practice with the contemporary African dance technique, Umfundalai and performed with Kariamu & Company: Traditions, under the direction of mentor and founder, Dr. Kariamu Welsh. Jessica has performed with NYC based companies, Laurie M. Taylor/Soul Movement and Eyrc Taylor Dance at festivals such as Jacob's Pillow Inside/Out, Harlem Stage E-moves, and the International Festival Avante Garde in Merida, Mexico.  Her interest in arts management landed her a position with the New York Dance and Performance Awards aka The Bessie's, where she served as Assistant to Senior Staff and Development Assistant.  She is an original cast member of the theatrical production, The Clothesline Muse, a collaboration by Grammy nominated jazz singer and composer Nnenna Freelon, choreographer, Kariamu Welsh, and visual artist Maya Freelon Asante. Jessica has studied abroad in Mexico and Brazil, and is especially focused on the relationship between music and dance in specific cultural regions. She has also traveled to Havana, Cuba, with choreographer Ronald K. Brown, to study folkloric and contemporary dance under the auspices of the Joyce Theater Foundation travel program. Jessica is a part of the inaugural MFA in dance cohort  at Rutgers University/Mason Gross. She is interested in deepening her inquiry, study, and practice of sacred, social, folkloric, and contemporary dances within Afro-Latino communities in the Caribbean and South America.
Stephanie Beauchamp with Churches Improving Communities - Stephanie Beauchamp is a dance artist based in Jersey City, NJ.  She is thrilled to have been awarded a coLAB 2017-2018 Resident Choreographer position!  The current direction of her work focuses on combining improvisation with choreographic structures.  She finds it exhilarating to be onstage or watch her dances on stage and not really know what is going to happen.  Stephanie's very first choreography was when she was in junior high school, as a pom pom girl for the Fondren Fillies.  (Even then there was an improv section.)  Since then, she has created choreography for modern and ballet companies, independent artists, theater, opera, and school groups all across the country.  As a performer, Stephanie has worked with companies and artists throughout the south and tri-state area, most recently with Accidental Movement, Freespace Dance, Nimbus Danceworks, and in her own work.  She has been teaching dance and somatics for over 25 years, holding teaching positions at New Jersey City University, Raritan Valley Community College, Texas Woman's University, The Mill Ballet School and the Jersey City Board of Education.  She received her M.F.A. from Texas Woman's University and her B.F.A. from The University of Texas at Austin.  
Hillary-Marie with Literacy Volunteers of America, Essex and Passaic Counties - HILLARY-MARIE is one of the most accomplished tap dance artists and producers in America. She is an internationally acclaimed soloist and ensemble member and at age 17 founded the Jersey Tap Fest, New Jersey's sole dance festival featuring world-class tap faculty and extravaganza. Hillary-Marie's dancing has been described as 'like feathers with steel bones' due to her combination of strength and grace. A native of New Jersey currently based in NYC, Hillary-Marie's high energy classes and sophisticated performance have brought her to studios and stages around the world.
---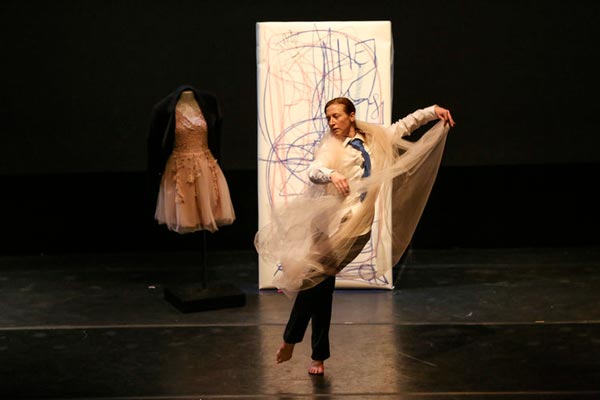 Collaborating Organizations:

Esperanza Neighborhood Project - Home is where the heart is, and there's no better way to show your love for home than by working to improve the community that surrounds it. The Esperanza Neighborhood Project is a comprehensive neighborhood improvement and revitalization initiative focused on a 57-block area of New Brunswick. It is coordinated by New Brunswick Tomorrow in partnership with Puerto Rican Action Board (PRAB) and the City of New Brunswick. But most of all, it is guided by the residents and stakeholders of the neighborhood!
NJ Spark - NJ Spark is a social justice journalism lab at Rutgers University. We bring students together with media makers and journalists to create media for and with underserved communities.
MyGOAL Autism - Our Mission is to Support Families Facing Autism. We do this through education, marriage counseling, and advocacy as they navigate through the complex challenges associated with the journey of autism from diagnoses to recovery or a better quality of life. MyGOAL Autism is a 501 c(3) non-profit organization with a vision to restore lives and families affected by Autism through Education and Empowerment. MyGOAL Inc® is a gateway to information regarding Prevention, Treatment(s), Advocacy, Support Services for families, and Enabling Families to have a Sound and Solid Life. The foundation for the recovery of individuals affected by autism is a solid family. It is based on the principle that the family unit has to sustain through the journey for recovery from Autism. MyGOAL Inc will support and promote family focused education, counseling, and advocacy. The incidence of divorce among families with special needs children is significantly higher than in other populations due to the impact of stress in the family. MyGOAL Inc® provides the resources and tools for families caring for individuals with autism. We believe when we RESTORE a CHILD with Autism, we RESTORE the FAMILY. Our focus is to reach out everyone especially those with lower socioeconomic means or in underserved areas.
Food & Water Watch - Our Mission: Food & Water Watch champions healthy food and clean water for all. We stand up to corporations that put profits before people, and advocate for a democracy that improves people's lives and protects our environment. Our Vision: We are working to create a healthy future for our families and for generations to come-a world where all people have the resources they need, including wholesome food, clean water and sustainable energy. Making this happen requires organizing people from all over the country to build a large movement with the political power to make our democratic process work. Large numbers of people are a countervailing force to corporations "buying" public policy.
Churches Improving Communities - Churches Improving Communities' mission is to help the 29 churches within the New Brunswick Classis of the Reformed Church in America meet the social, educational and economic needs of their communities through the development and expansion of  justice and mercy service projects. We do this by pooling skills and expertise to leverage funding, staff, volunteers, and community support. Churches Improving Communities (CIC) is a 501(c)3 non-profit community development corporation, and its programs are non-discriminatory and open to the public.
Literacy Volunteers of America, Essex and Passaic Counties - LVA believes that, regardless of ability, each adult student has an innate capacity to develop intellectually, physically, socially, and emotionally and will develop at different rates, utilizing different styles and in different environments. LVA believes that education is the process by which this development occurs and must be individualized and interactive to meet the learner's needs. The LVA Basic Literacy (BL), English for Speakers of Other Languages (ESOL) and Family Literacy programs are the vehicles for delivering this process, and literacy is its outgrowth. LVA believes that to achieve the highest level of success, it is important to provide each adult student with a supportive environment for learning. For this reason, a partnership between the community and LVA is essential.
About coLAB Arts

coLAB Arts' mission is to engage artists, social advocates, and communities to create transformative new work. coLAB Arts facilitates creative conversation through innovative programs and artist infrastructure, connects artists with community partners and mentors, and executes productions that challenge perceptions and inspire action. coLAB Arts' vision is to create more livable, sustainable, and exciting environments through art.
coLAB Arts generates community-powered projects and seeks to create an art scene using new and established spaces. Its work takes place in community rooms, houses of worship, parking lots, schools, bars, and backyards. A "let's get it done" work ethic and flair for mischief colors coLAB Arts' aesthetic and an emphasis on community engagement and professional development defines its commitment to the arts.
coLAB Arts believes that artistic expression is civic engagement and that collaboration is an active and creative process. coLAB Arts draws energy and inspiration from working with emerging artists and finding new platforms and audiences for established creative voices. coLAB Arts engages communities to ask questions, develop relationships, and come together to create new work across socio-economic, ethnic, and generational lines.
coLAB Arts is a tax-exempt nonprofit 501(c)(3) organization.