originally published: 07/11/2017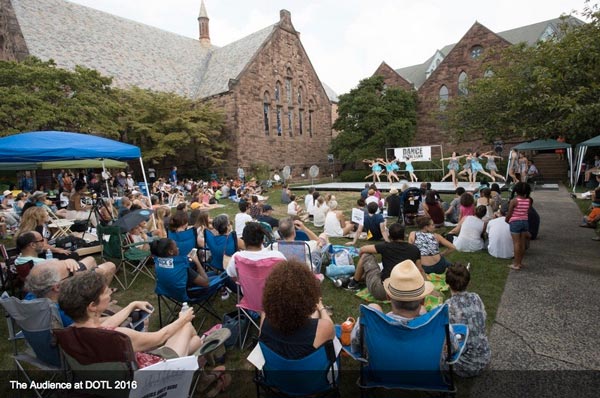 (MONTCLAIR, NJ) -- Dance on the Lawn (DOTL), established by Montclair resident Charmaine Warren in 2014 to increase New Jersey's exposure to dance, has received a $2500 grant from the Montclair Foundation in support of the organization's efforts to bring professional and emerging companies, plus students of dance from around the state, together to perform in a community setting.
The Montclair Foundation grant program is intended to support a broad range of activities and organizations that contribute to the quality of life in Montclair and its environs.

Dance on the Lawn will return for the fourth consecutive year on Saturday, September 9 from 3:00pm-5:00pm. This free, public event will take place on the front lawn of St. Luke's Episcopal Church, 73 South Fullerton Avenue, Montclair, New Jersey.  
The New Jersey State Arts Council has given four awards this year to Dance on the Lawn artists: Nancy Turano, Artistic Director, NJ Dance Theatre Ensemble, DOTL artist since 2014; Kyle Marshall, DOTL 2016 "Emerging Commissioned New Jersey Choreographer" recipient; Lauren Connolly, DOTL 2017 "Emerging Commissioned New Jersey Choreographer" recipient; and Hillary-Marie, Choreographer/Director FutureSTEP Tap Company, who is participating in the Festival for the first time this year.
In addition to offering presentation opportunities, Dance on the Lawn has created an Emerging Commissioned New Jersey Choreographer and mentor program to help support young, emerging artists.

*The 2017 Dance on the Lawn line up:

NEW JERSEY SCHOOLS: FutureSTEP Tap Company - (Hillary-Marie /Choreographer/Director); Sharron Miller's Academy for the Performing Arts' (SMAPA) - (Sharron Miller/Director); DanceWorks & Co. (Kathy Costa/Director); New Jersey Dance Theatre Ensemble (NJDTE) - (Nancy Turano/Director)

LAUREN CONNOLLY - DANCE ON THE LAWN'S 2017 "EMERGING NEW JERSEY COMMISSIONED CHOREOGRAPHER" 

NEW JERSEY COMPANIES: FreeSpace Dance (Donna Scro - Artistic Director/Montclair); "Dance Therapy" (Maurice Chestnut - Artistic Director/Newark);  10 Hairy Legs(Randy James - Artistic Director/Highland Park); Robert Mark Dance (Robert Mark Burke - Artistic Director/Hoboken). *Robert Mark Burke will present through the auspices of the Dance on the Lawn ongoing mentorship program. 

                                                             

NEW YORK COMPANIES:  Special choreography by Troy Powell (Artistic Director - Ailey II); PROJECT 44 DANCE (Gierre J. Godley/Director) & Stephen Petronio Company.

 
Photo credit: Tony Turner
---