---
Did you know NJ Stage offers FREE Event Listings? Nearly 100,000 listings were viewed in January. Be sure to add your events to our calendar and get your shows noticed!
---
Montclair Foundation Grant Awarded To Dance On The Lawn
originally published: 07/11/2017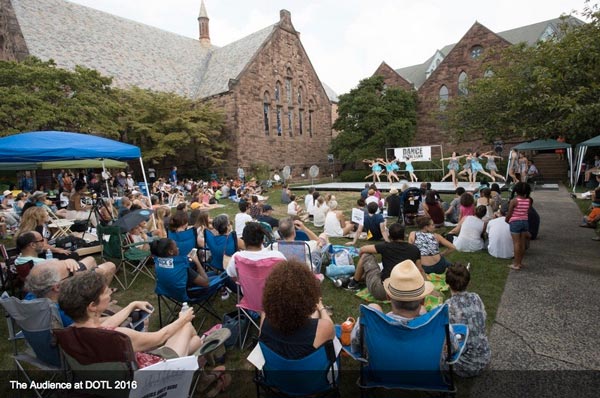 (MONTCLAIR, NJ) -- Dance on the Lawn (DOTL), established by Montclair resident Charmaine Warren in 2014 to increase New Jersey's exposure to dance, has received a $2500 grant from the Montclair Foundation in support of the organization's efforts to bring professional and emerging companies, plus students of dance from around the state, together to perform in a community setting.
The Montclair Foundation grant program is intended to support a broad range of activities and organizations that contribute to the quality of life in Montclair and its environs.

Dance on the Lawn will return for the fourth consecutive year on Saturday, September 9 from 3:00pm-5:00pm. This free, public event will take place on the front lawn of St. Luke's Episcopal Church, 73 South Fullerton Avenue, Montclair, New Jersey.  
The New Jersey State Arts Council has given four awards this year to Dance on the Lawn artists: Nancy Turano, Artistic Director, NJ Dance Theatre Ensemble, DOTL artist since 2014; Kyle Marshall, DOTL 2016 "Emerging Commissioned New Jersey Choreographer" recipient; Lauren Connolly, DOTL 2017 "Emerging Commissioned New Jersey Choreographer" recipient; and Hillary-Marie, Choreographer/Director FutureSTEP Tap Company, who is participating in the Festival for the first time this year.
In addition to offering presentation opportunities, Dance on the Lawn has created an Emerging Commissioned New Jersey Choreographer and mentor program to help support young, emerging artists.

*The 2017 Dance on the Lawn line up:

NEW JERSEY SCHOOLS: FutureSTEP Tap Company - (Hillary-Marie /Choreographer/Director); Sharron Miller's Academy for the Performing Arts' (SMAPA) - (Sharron Miller/Director); DanceWorks & Co. (Kathy Costa/Director); New Jersey Dance Theatre Ensemble (NJDTE) - (Nancy Turano/Director)

LAUREN CONNOLLY - DANCE ON THE LAWN'S 2017 "EMERGING NEW JERSEY COMMISSIONED CHOREOGRAPHER" 

NEW JERSEY COMPANIES: FreeSpace Dance (Donna Scro - Artistic Director/Montclair); "Dance Therapy" (Maurice Chestnut - Artistic Director/Newark);  10 Hairy Legs(Randy James - Artistic Director/Highland Park); Robert Mark Dance (Robert Mark Burke - Artistic Director/Hoboken). *Robert Mark Burke will present through the auspices of the Dance on the Lawn ongoing mentorship program. 

                                                             

NEW YORK COMPANIES:  Special choreography by Troy Powell (Artistic Director - Ailey II); PROJECT 44 DANCE (Gierre J. Godley/Director) & Stephen Petronio Company.

 
Photo credit: Tony Turner
---


NimbusPRESENTS Jersey City Nutcracker
(JERSEY CITY, NJ) -- For the 9th consecutive year, NimbusPRESENTS its local holiday favorite: Jersey City Nutcracker. Set to Tchaikovsky's renowned orchestral score, Jersey City Nutcracker tells the story of two children's city adventure, following them through fantasy, adversity, and celebration with lessons about friendship and community along the way. This year's performances feature two exciting new components: video mapping and projection design by award-winning video artists Laia Cabrera & Isabelle Duverger. Also new: families can enjoy a pre-show Winter Carnival with games, concessions, and holiday craft vendors. Public performances run from Friday, December 14 to Saturday, December 22.
---
NJPAC Presents Bring It! LIVE - The Dance Battle Tour
(NEWARK, NJ) -- New Jersey Performing Arts Center (NJPAC) presents Bring It! LIVE- The Dance Battle Tour, Saturday, July 13, 2019 at 8:00pm. Back by popular demand, legendary Coach Dianna Williams and the Dancing Dolls of Lifetime's hit series Bring It! return with their 2019 live tour, an all-new, hotter-than-ever evening jam-packed with heart-pounding dance routines, lively audience interaction, and much more. Tickets range from $33.75 to $63.75.
---
State Theatre presents The Nutcracker performed by American Repertory Ballet With a live orchestra and choir
(NEW BRUNSWICK, NJ) -- State Theatre New Jersey presents American Repertory Ballet's Nutcracker for five performances from December 21 through December 23. American Repertory Ballet (ARB) brings the beloved classic Nutcracker to the stage with Tchaikovsky's magnificent score, stunning sets, thrilling choreography, and a cast of more than 100 performers.  All five American Repertory Ballet performances include a live orchestra and the Princeton Girlchoir.Tickets range from $25-$65. 
---
Peak Performances Presents "Smashed"
(MONTCLAIR, NJ) -- Peak Performances' 2018-2019 season of genre-and-convention-defying performances continues with Smashed, Gandini Juggling's acclaimed work inspired by the choreography of Pina Bausch, directed by Sean Gandini and assistant directed by Kati Ylä-Hokkala. Smashed comes to the Alexander Kasser Theater at Montclair State University (1 Normal Ave., Montclair, NJ) December 13-16.
---
Atlantic City Ballet To Perform The Nutcracker In Galloway, AC, and Lakewood
(ATLANTIC CITY, NJ) -- For the 36th year, the Atlantic City Ballet will once again bring their spectacular holiday theatrical production of The Nutcracker to Atlantic City, Galloway, and Lakewood. The Nutcracker is a treasured classic that tells the story of a little girl named Clara who is given a magical nutcracker doll on Christmas Eve. Embarking on a wondrous journey through the Kingdom of Snow and the Land of Sweets, Clara encounters many unforgettable and timeless characters. Young and old alike will experiencethe many magical moments, of this beloved holiday ballet. 
---


It's a Shore Holiday: The Atlantic City Ballet LIVE! at Caesars
On Saturday, November 24, 2018, The Atlantic City Ballet celebrated Christmas early with a production of It's a Shore Holiday at the Circus Maximus Theatre located inside Caesars Hotel and Casino in Atlantic City, NJ.
---
Dracula: The Atlantic City Ballet LIVE! at Lakewood's Strand Theater
On Saturday, Oct 21, 2018, The Atlantic City Ballet celebrated Halloween early with their production of Dracula at The Strand Theatre in Lakewood, NJ.
---
Ballet, Boxing and Street Dance Gangs?! An Artist Profile of Mark Roxey
Mark Roxey's been thrown in a garbage can, part of street dance gangs (who knew those were really real?!) and spends a whole lot of time in the boxing gym. He is also the founder and director of the Roxey Ballet Company, associate director of The Mill Ballet School, and has had a distinguished career with numerous American dance companies, including The Joffrey Ballet. You have to hear Mark's story in our latest artist profile.
---
Swan Lake: The Atlantic City Ballet LIVE! at The Strand Lakewood
On Saturday, September 22, 2018, The Atlantic City Ballet presented their version of Tchaikovsky's Swan Lake at The Strand Theatre in Lakewood, NJ. Featuring spellbinding choreography by Phyllis Papa, the talented members of the ACB transported an enthusiastic audience of all ages to another world, and Love Imagery was on hand to capture the magic in this photo-essay.
---
A New Ballet Company Launches At The Shore
Monmouth County has long been a hub for the arts, with a celebrated music scene, thriving original theatre and artists throughout the area, but one thing was missing – the area did not have its own professional ballet company.
---