By Gary Wien
originally published: 01/23/2019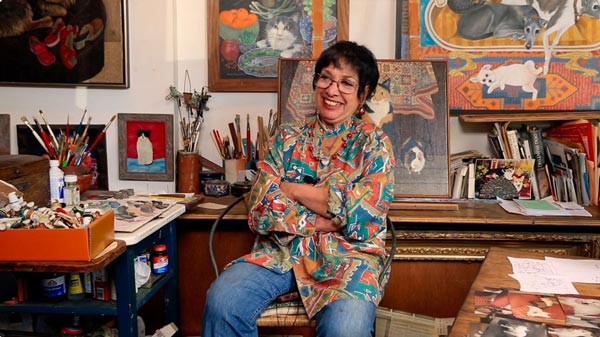 Within two minutes, I knew I wanted to write about Mimi Vang Olsen: Pet Portraitist.  It's a wonderful film - just over a half hour long - that chronicles the last West Village painter with her own storefront as she enters the lives of several eccentric clients and immortalizes their pets.  
Mimi has a simply wonderful personality.  She's quirky about life, but serious about her work.  She doesn't just paint portraits of pets, she captures their essence.   We spoke with director Anthony Maranville to learn more.
Had you or your wife known about Mimi before you walked into her shop? 
We had no clue who Mimi was.My wife, Shana, started work on a TV series that filmed in New York during the summer. Our family needed a place to stay and a friend's mother recommended her friend Mimi's apartment (Mimi spends her summers in Denmark and rents out her place above the shop.)
We instantly fell in love with the apartment and for two summers we rented it, but never met.  It was like living in a Wes Anderson movie.  Everything was so carefully curated – down to irregular folk art coffee mugs and kitchen utensils.   The walls were filled with Mimi's art and the art of her friends who also have a naïve or primitive style.  
---
The article continues after this ad
---
---
Every time we went outside we would notice people staring into her shop window with grins on their faces --  they were hypnotized by a display of postcards that showed off many of her pet portraits.
We started to wonder, who is the magical artist who paints them?
Did you go there with the purpose of shooting a documentary or just to check it out?  
By the time the third summer came around we decided we had to meet Mimi and she was everything we hoped she would be – fun, quirky, smart and very opinionated. She talked to us about her career and showed us her family portraits and we felt we had to document her and her process and find out more about her clients. 
One of my favorite aspects of the film is how you showed the unveiling of artwork for a few of her customers.  That's a bit of a risky shot.  Was Mimi on board with that from the beginning?
Mimi was completely on board to shoot the unveiling and confident she would deliver what they were looking for.  She told us she never had a return portrait… and she did not disappoint. 
I knew there were photographers who worked with pets, but I couldn't imagine any with a city storefront.  In many ways, it makes sense that she's in the Village.  Could you picture her shop anywhere else? 
No. It couldn't exist anywhere else.   The Village has been home to freethinkers, artists and radicals for hundreds of years – it was built for people like Mimi… And now the Village has people with money who can afford these paintings. 
Even though the Village has changed so much over the years, it's nice to know that something artsy and unique is still able to survive there.
We felt similarly.  She is one of the last artists with her own storefront in the Village.  It allows her to interact directly with potential clients, rather than through a gallery, and keep her prices comparatively low.
If things continue to evolve the way they have been, there might not be too many quirky shops like hers around the Village much longer.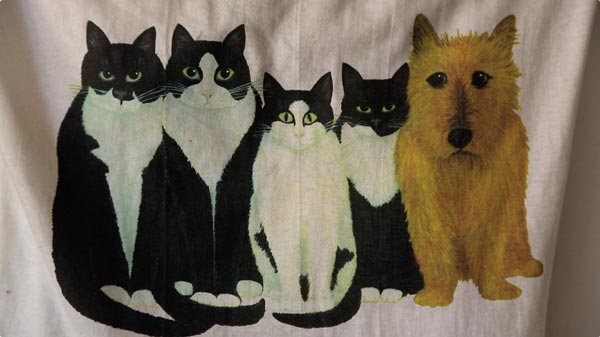 I found the way she approached each painting to be rather fascinating - the way she wanted to know much more about the family, their relationships, and the world the pets belonged in.  What was something that you didn't expect that you learned about Mimi from shooting this film?
I didn't expect the fact-finding missions she goes on before she paints a portrait.  She will go stay with people for days sometimes and study their habits and uncover their family dynamics.   
When she does a pet portrait, it's the same process, she will befriend the animal and play with it and watch it and connect with it–-   it might seem eccentric, but her insights are always spot on and she's able to capture the essence of people's lives and pets at the time of the portrait.  And these pictures mean so much to families – they get passed between generations and grown siblings houses.
By the way, I have never seen an animal who didn't love Mimi.  She's like Snow White.  She walks outside and birds and squirrels and dogs gravitate towards her.   
There were some truly interesting bits of wisdom from Mimi like "people are what they surround themselves with."
That was certainly one of the big nuggets that stayed with me – and something I felt rang true, having lived in her house with her things for several summers before we met.  I felt like I knew Mimi before we even said hello because in a sense we were surrounded by her.
Tell me about your own career.  I saw online that you are a researcher for Star Trek: Discovery and have "an encyclopedic knowledge" of everything related to Star Trek.  Are you a writer on the show too?
Yes.  I am a researcher and writer on Discovery and the upcoming untitled Picard show, as well as a Consulting Producer on the Pharrell William's produced Brain Child on Netflix.  I'm in nerd heaven and love every second. Prior to that I was a stay at home dad.  
Of all of the Star Trek incarnations and movies, what is your favorite?
I will always be a Next Gen fan-boy.  That was my gateway.   That was what I grew up watching.  Picard can do no wrong.  Beyond that – the stories we are telling in the new TV series are taking the universe into some pretty spectacular places. 
I saw your vimeo page and a few of the works.  Are those done by you or your wife? Or both of you?
The stuff on the Vimeo page is me having fun.  Lotta random things I did without my wife.   The exception being Fat Girl, which my wife wrote and directed when she was at AFI.   
Now she's directing and producing Power, which couldn't be further away in tone from Mimi.
It was kind of funny seeing the warped comedic angles of something like the traffic cone assassin when "Pet Portraitist" is such a nice (I'd even call it delightful) film.
Thanks! We agree.  We have such affection for Mimi and the work she does and her clients  -- the whole experience makes us smile, and we are so excited to share the film with people and show people the magic we saw.
What is your main focus right now? Writing, acting, or directing?  Would you ideally like to do one or all three?  Or producing?
My focus at the moment is on Star Trek all day everyday and I'm very okay with that.   As far as future writing, producing, directing, acting goes … yes to all.  
Finally, will you be at the screening for a Q&A?
We do plan on being at the screening.  This is our "premiere" and we are so excited to see it with an audience. 
---
Mimi Vang Olsen: Pet Portraitist will be screened at the New Jersey Film Festival in New Brunswick on Friday, February 1 at 7:00pm.
---
Gary Wien has been covering the arts since 2001 and has had work published with Jersey Arts, Elmore Magazine, Princeton Magazine, Backstreets and other publications. He is a three-time winner of the Asbury Music Award for Top Music Journalist and the author of Beyond the Palace (the first book on the history of rock and roll in Asbury Park) and Are You Listening? The Top 100 Albums of 2001-2010 by New Jersey Artists. In addition, he runs New Jersey Stage and the online radio station The Penguin Rocks. He can be contacted at gary@newjerseystage.com.
---